24 thousand under 5 children die of pneumonia in Bangladesh annually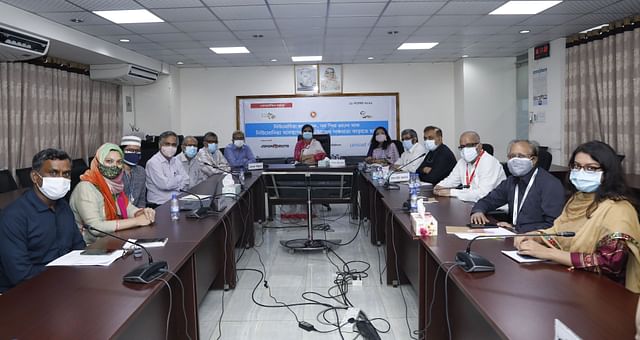 Dhaka, 15 November, 2021: Every year 24,000 children under five years of age die of pneumonia in Bangladesh. And 13 per cent of them die due to oxygen deficiency. In the hospitals, 45 per cent of under 5 cdeaths are due to this disease.
These figures on pneumonia-related under 5 children's deaths were presented at a roundtable of the health directorate on Thursday. The meeting was organised jointly by the Directorate General Health Services (DGHS), UNICEF and Save the Children, with Prothom Alo as media partner.
The roundtable on 'Stop pneumonia, keep children well: Increase oxygen capacity in pneumonia management', was organised on the occasion of 12 November, World Pneumonia Day.
The roundtable was attended by senior officials of DGHS, child specialists, public health experts, UNICEF and WHO representatives, and representatives of the international non-government organisation Save the Children. Speakers at the event said oxygen is not easily available in hospitals. The hospitals are not prepared to provide oxygen when required.
Chair of the meeting and additional director general (planning and development) of DGHS Meerjady Sabrina said, the demand for oxygen came to light once again globally with the outbreak of the Covid pandemic. It has now been understood that providing oxygen is the basic treatment.
Oxygen is the drug

Child specialist and president of BMDC Mohammad Shahidullah said the national technical advisory committee on coronavirus has held 47 meetings and the matter of oxygen was discussed at most of these meetings. Oxygen supply has increased and the situation has improved.
At the start of the roundtable, manager of the DGHS maternal, neonatal and child health programme Muhammad Shariful Islam presented the state of pneumonia in the country and what the government was doing in this regard. He said that the main cause of death of children below the age of five in the country, was pneumonia. The main problem of pneumonia treatment in the country was that the disease is not diagnosed initially.
Line director of the DGHS maternal, neonatal and child health programme Md Shamsul Haque said health workers are being trained to determine whether a patient arriving at a hospital requires oxygen. However, UNICEF's health expert Shamima Sharmeen said that the immediate oxygen screening system at hospitals must be strengthened.
Deputy director, hospital services of DGHS, Sheikh Daud Adnan, said an oxygen production plant is being installed so that there will be no oxygen deficiency in the next five years.
Symptoms and wrong treatment

Professor of paediatrics at Dhaka Medical College Hospital, Shakil Ahmad, said a pulse oximeter can measure whether a child is suffering from oxygen deficiency. But it is difficult to get this machine to monitor a child's condition. But this can also be understood from certain symptoms such as an indent below a child's ribcage, a child's head falling forward, persistent crying due to less oxygen in the head, rapid breathing and swollen throat muscles. He said, a child's lungs and respiratory system is not wholly formed and so they are at higher risk.
Director of the family planning directorate's maternal and child health programme Mohammad Sharif said virus is the cause of 50 per cent of pneumonia. Air pollution and smoking also contribute to pneumonia.
Partnerships

Chief of heath, UNICEF Bangladesh, Sanjana Bhardwaj, stressed the need for partnerships in tackling pneumonia or any health situation. She said every 39 second a child somewhere in the world is dying of pneumonia. But these deaths are preventable.
Taking part in the discussion, Save the Children's Sabbir Ahmed said multi-sectoral initiatives are required to tackle pneumonia. WHO consultant Nurul Islam Khan said that the Dhaka office of WHO was working with the health ministry on the neonatal programme. The main objective was to tackle pneumonia.
Presiding over the programme, Meerjady Sabrina said if any organisation or agency provided special pulse oximeters for children on the occasion of World Pneumonia Day, this would be a significant contribution.
Prothom Alo associate editor Abdul Quayum made the opening presentation at the roundtable. The almost two-hour event was moderated by Prothom Alo assistant editor Firoz Choudhury.
Posted by
admin
on Nov 15 2021. Filed under
Health
,
Kids Page
,
News at Now
,
Uncategorized
. You can follow any responses to this entry through the
RSS 2.0
. You can leave a response or trackback to this entry