Bangladesh Plans Walkout in Paris Climate Summit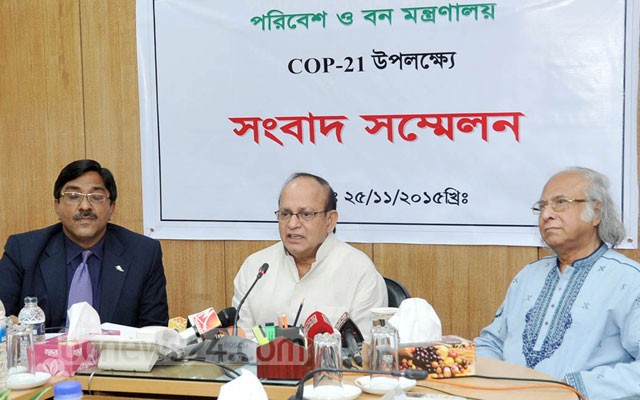 Environment and Forests Minister Anwar Hussain Manju said on Wednesday Bangladesh would seek money from the climate fund not as loans but as grants.   The minister made this statement at a press conference in the Secretariat, having in mind the upcoming United Nations Climate Change Conference 2015, or COP-21, which will be held in Paris from Nov 30 until Dec 11.  He said Bangladesh would highlight the damages it would suffer due to climate change.
"The money given to us must be in the form of grants. We can get loans from anywhere. We will insist that the money come as grant.  "Besides, the global warming level must not reach 1.5 degrees Celsius by 2050. We will have to stage a walkout with the developing nations to have these demands met," Manju said.
The developed countries had promised developing nations $30 billion by 2010-12 at the Copenhagen summit in 2009.   It was also decided to put in $100 billion every year towards the creation of funds within 2020.But Bangladesh had not yet received any compensation for climate-change induced damages, Finance Minister AMA Muhith said recently, adding that even soft loans would be welcome to cope with the emerging crisis.When asked to comment on Muhith's statement, Manju said, "We will ultimately have to accept that. Here we are stating our policy approved by the prime minister."
Posted by
admin
on Nov 26 2015. Filed under
Bangladesh Exclusive
. You can follow any responses to this entry through the
RSS 2.0
. You can leave a response or trackback to this entry