Climate project is being implemented by cutting down trees !!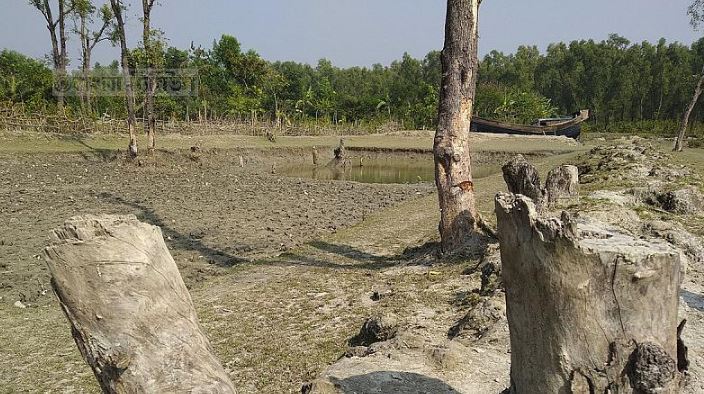 Dhaka, 4 January, 2020: Climate project is being implemented by cutting down trees !!
While the government is giving more priority to planting trees to deal with the harmful effects of climate change, it is unbelievable that climate projects are being implemented by cutting down trees.
A serious allegation has been levelled against the Implementation Committee for implementing a project titled Coastal Forestry and Reforestation Community Based Adaptation under the initiative of the Ministry of Environment and Forests and in collaboration with the Upazila Fisheries Department and UNDP.
Where it is being said that the construction of ponds under the project was supposed to plant different species of plants including fish, vegetables and fruits, but it did not happen. The opposite ponds are full of water hyacinth instead of fish. This is being observed in the coastal protected forests of the government under the two range offices of the forest department of Hatia upazila of Noakhali.
The objective of the project was to diversify livelihoods to alleviate poverty, increase adaptation capacity and reduce dependence on coastal forests for climate-vulnerable coastal communities. Under the project, ponds will be constructed inside the protected forests, fish farming will be done there and vegetables will be grown on the banks of the ponds and training will be provided there to make the local people self-reliant. Which will alleviate the poverty of the coastal people endangered by climate change as well as enable them to develop the local population as entrepreneurs.
Apart from this, climate tolerant livelihoods will be built by bringing diversity of species through afforestation and reforestation through establishment of co-management with the participation of local people. Through this project, sixty thousand people out of ten and a half thousand families will be provided livelihood assistance and training to enhance their skills and provide financial assistance.
A special model of this project was called 'Forest-Fruit-Fisheries Model' abbreviated as "3F". Each model or pond is 252 feet long and 49 feet wide. The pond will be eight feet deep and the bank height will be eight feet. The model is to be built in an abandoned forest in the middle of a mangrove forest.
A pond project of the climate project states that by digging ponds under the model and constructing dams around it, it is possible to change the quality of life of the coastal people by adopting adaptation process considering the risk of climate change through short, medium and long term reproduction or year round crop production.
Under the agreement signed with the forest department, each beneficiary is allotted a pond and three dykes for twenty years. In the financial year 2018-2019, the project has created about one and a half hundred 3F models in eighty hectares of abandoned forest land.
Of these, 100 models were made on 20 hectares of land in Hatia upazila of Noakhali and 40 models were made on the remaining 8 hectares of land in Tajmuddin upazila of Bhola. Authorities say they are benefiting from the allocation of each model to 1 landless poor family.
For the purpose of the project, it has been further stated that twenty forest and twenty fruit climate tolerant trees will be planted in each model. Besides, by planting forty papaya trees, it will be possible to produce nutritious food at a cost of fifteen to twenty thousand rupees in a short and medium term.
The depth of the ponds of the project was supposed to be at least two meters. Inside which it will be possible to produce about two hundred kg fish. Moreover, with the fresh water centred on this pond, vegetables and fruit trees will be planted on the banks of the pond, dyke and macha.
But none of this was seen in the project area. Instead, it has been alleged that a pond has been made by cutting down trees in the middle of the protected forest. There are no fish in the ponds. No plants or vegetables were seen on the banks of the pond. In some ponds, the water of Taitambur in Kachuripana has dried up and the water of hoped others has become a field.
Shamsuddin, a resident of Saguria Ward 8, said, "My father bought a pond from a local for Tk. 70,000. He took allotment of this pond from Forest Department and UNDP. The forest department then to provide us with fruit and timber trees, fish farms, vegetable gardens and seeds. But so far nothing has been found. We have suffered huge losses.
Abdul Jalil, a local resident, said, "I got a pond, but I was not given any money to dig it, and I dug the whole pond with my own money." My father also bought a pond. I have farmed fish in two ponds at a total cost of one lakh and thirty five thousand taka. I got only 16 thousand taka. The Forest Department and UNDP did not get anything of the dream. After explaining the location of the pond, no one looked for us.
Local fisherman Akbar Hossain said, "If you look at the base of the Keora tree (mangrove apple tree) in the middle of the pond, it is clear that there were trees here which have been cut down and made into a pond." We knew there would be fish in the pond and vegetables on the shore, but none of that.
Asked about the matter, the recently departed Saguria Range Officer Nazmul Islam said, "We are not cutting down any trees and constructing a pond." The project is being implemented for those who have been affected by the effects of climate change. People are benefiting from this.
SM Saifur Rahman, Jahazmara Range Officer of the local forest department, said the 3F model project has been implemented well. The project is being implemented by three departments. The forest department will plant trees there after digging the pond. The fisheries department will cultivate fish and the agriculture department will grow vegetables and other crops.
When Divisional Forest Officer (Noakhali) sent a question to Bipul Krishna Das to inquire about the matter, he did not reply. However, project advisor and Hatia upazila chairman Mahbub Morshed told the Bengali Tribune, "We have received some complaints about the project." I am checking them.
Mizanur Rahman, Community Development Associate of UNDP Bangladesh's ICBA-AR Program in charge of the project, said it is a good and successful project. The project also received the Earth Care Award in 2013 and the People's Choice Award in 2014 in recognition of its adaptation to climate change and the sustainable development of the livelihoods of coastal communities.
Asked about this, Zakir Hossain Khan, senior program manager of Transparency International Bangladesh's (TIB) Climate Funding Good Governance Cell, said about 3.5 crore people in 19 coastal districts of the country are at risk. Due to global warming, 10 to 15 percent of the land in these areas could be submerged by 2050. The districts may have about two and a half crore climate refugees. It is unfortunate if the project is implemented by cutting down trees with planting money where it is necessary to plant trees to survive this impending danger.
Saber Hossain Chowdhury, chairman of the parliamentary committee on the Ministry of Environment, Forests and Climate Change, said, "I would like to know the details of the project on behalf of the parliamentary committee at the next meeting." If necessary, I will take initiative to hold a committee meeting in that area.
Stamford University, Bangladesh Air Pollution Specialist and Chairman of the Department of Environmental Sciences Professor and Bangladesh Environmental Movement (BAPA) Joint Secretary Professor. Kamruzzaman Majumder said that many times the projects are done sitting in the secretariat.
As a result, if we go to implement it in the field, we will not be able to find a match. This can happen in this project too. They probably thought there were a lot of vacancies. The project will be implemented there. But he went there and saw a full garden. Implementing climate projects by cutting down trees is by no means desirable.
.
.
Posted by
admin
on Jan 4 2021. Filed under
Climate change
,
News at Now
. You can follow any responses to this entry through the
RSS 2.0
. You can leave a response or trackback to this entry