Cocoa farms spring back to life in Sierra Leone A training programme for youth in Sierra Leone brings 4,500 hectares of land back to life through cocoa farming.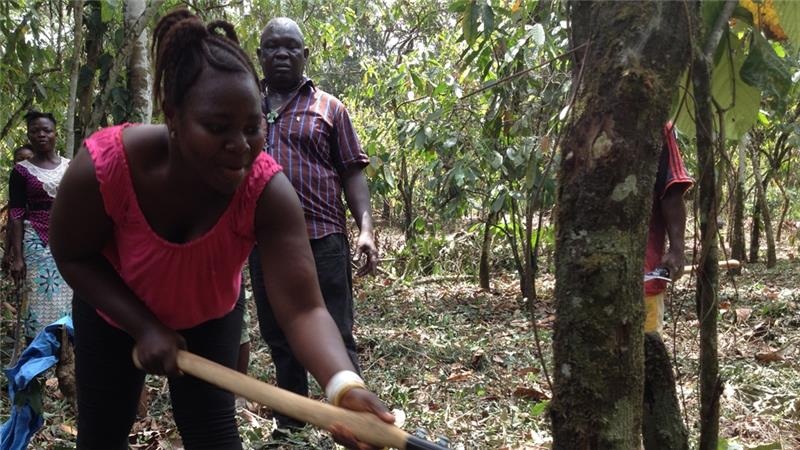 As Mary Sia Kombo walks through the trees and shrubs of her family's cocoa farm, images of her father flood her memory. "He used to carry me to the farm with him," recalls 23-year-old Kombo. "It was a special time spent with my father. I learned a lot." Though her father died in 2007, she remembers how he encouraged her to pursue farming – and to work hard at it. "He showed me many techniques of farming. I'm always missing him," she says. However, the farm her father owned could not be maintained after the devastation of the country's 11-year civil war. When the war ended in 2002, he father tried to revitalise the farm, but it was difficult. After his death, there was still a lot of work to be done. Despite agriculture accounting for almost half of the country's gross domestic product, farms neglected owing to the war are common. A project initiated by the German government is hoping to revive the cocoa industry by offering a programme known as the Integrated Farmers Training to youth like Kombo, who has been involved with the programme since its launch in February 2014.
Teaching business

The project is implemented by the German Federal Enterprise for International Cooperation (GIZ) with funding from the German Federal Ministry for Economic Cooperation and Development. Currently, about 5,000 young people from the eastern districts of Kailahun and Kono are learning about the cocoa farm trade, many of them owning the plantations upon which they learn to farm. "So many [farmers] died, and younger generations were not able to take care of plantations. The knowledge was lost and interest was not there," says Ralf Zimmermann, the team leader of the cocoa component of the programme. "And now they don't have the resources. Many of these plantations are overgrown, neglected. It isn't enough to make a living," Zimmerman says. Zimmermann notes that Sierra Leone has never been a major exporter of cocoa. "[For the programme promoting employment], cocoa as a high-demand cash crop is an ideal vehicle to create self-employment in the rural areas. All the plantations are already in place – they just have to be rehabilitated and rejuvenated," he says, adding that the climate and soil are ideal for cocoa farming. With the right training and enough interest from younger farmers, he believes the programme could be a success. "This is where we come in." Through the initiative, GIZ helps these farmers to finance a small portion of their own plantations which, due to years of neglect and damage, essentially must be restored from scratch. GIZ provides the farmers with resources such as tools and equipment, to revive and then maintain the land. Once they start generating an income, the farmers can fully take over management of the farm. About 4,500 hectares of land is being rehabilitated under the programme. Taught by local instructors who are led by a German training expert, the programme is divided into eight modules, which include skills such as plant cropping, plant nutrition and replanting seeds. There is also a business training component so that trainees can develop trade skills and sell directly to buyers. Zimmermann adds that the project focuses on helping youth because of the high unemployment rates in Sierra Leone – another hard-hitting impact of the civil war. The youth population, aged 15-35, comprises a third of the population of the country, of whom about 70 percent are underemployed or unemployed. Umaru Jusu is just one of the thousands of youth who fought in the civil war. He's now in his 30s and says the experience was traumatising. Members of the rebel group, Revolutionary United Front or RUF, killed his parents and siblings after his father could not give them money. Jusu was captured and forced to join the group. "There was no way for me to live, so I joined the war … Without doing that, they [the RUF] would have killed me," Jusu says. When the war was over, he was at a loss with nothing to do. After living on the streets for years, selling bread to make ends meet, Jusu happened upon a childhood friend who advised him to learn about cocoa farming. He took that advice and started working on his friend's farm. When he heard about the training from GIZ, Jusu was eager to join.
Read More: http://www.aljazeera.com/indepth/features/2016/04/cocoa-farms-spring-life-sierra-leone-160422083303758.html
Posted by
admin
on May 2 2016. Filed under
News at Now
. You can follow any responses to this entry through the
RSS 2.0
. You can leave a response or trackback to this entry