Consultation with Rohingya Children about COVID-19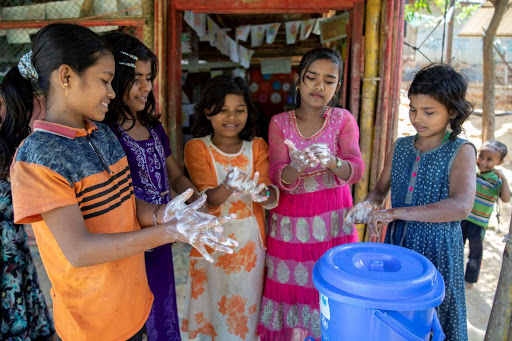 Dhaka, 9 July, 2020: Since March 2020, child protection actors in the Rohingya refugee camps together with other sectors have been engaged in COVID-19 risk mitigation activities including the prevention and response to violence, abuse, neglect and exploitation of children. All of these areas of concern have been heightened by the pandemic. The modifications to the child protection response were initially developed and implemented based on previous public health emergency experience and its impact on children and their families. In an effort to have a more accountable and Rohingya focused response, as well as understand from the children's perspective their concerns and views, a children's consultation was organized. On 5 May 2020, the Child Protection Sub-Sector created a task-team on consultation with children to seek their understanding of COVID-19 and the response in order to improve the ongoing interventions.
The findings from the survey with children established that:
▪ 93% of the children surveyed had heard about COVID-19. ▪ Children's three top concerns regarding COVID-19 were:
1) A fear of getting infected (64%);
2) distress over the closure of child protection facilities and learning centres (MPCs/LCs) (48%);
3) and fear of losing their lives (39%).
▪ The three most common ways in which children are currently protecting themselves from contracting COVID-19 were:
1) Frequently washing their hands for 20 seconds (66%);
2) staying at home (56%);
3) and wearing a mask (54%).
It should be noted that while more than half children mentioned wearing a mask as a prevention mechanism, the majority of children surveyed did not have a mask during the time of the survey. ▪ Children suggested the following as ways of protecting their families from contracting COVID19:
1) Not letting family members go outside of home except in the case of emergency (63%);
2) ensuring frequent handwashing for 20 seconds (76%);
3) and asking their family members to keep social distance if they go out (52%). ▪ Support requested by children includes:
1) Access to medical support (57%);
2) home-based recreation materials (53%);
3) and access to child protection services (33%).
1. BACKGROUND AND OBJECTIVES OF THE SURVEY
COVID-19 was declared a global pandemic by WHO on 11 March, 2020 requiring a global response. On 24 March, 2020 the Government of Bangladesh closed non-formal and formal schools and educational institutions, and imposed limitations on movement within the Rohingya camps. In Cox's Bazar district, the Office of the Refugee Relief & Repatriation Commissioner initially provided guidance for essential services that may continue in the camps followed by critical services that may continue. On 16th April,2020 the Office of the Director General, Directorate General of Health Services of Bangladesh declared the 'whole of Bangladesh, as per the section 11(1) of Infectious Disease (Prevention, Control and Elimination) Act, 2018, (no 61 law of 2018) as 'infection risk area'.
.
Posted by
admin
on Jul 9 2020. Filed under
Bangladesh Exclusive
,
Health
,
Kids Page
,
News at Now
. You can follow any responses to this entry through the
RSS 2.0
. You can leave a response or trackback to this entry