Dangerous Level of Pesticides in Vegetables, Prawn and Dry Fish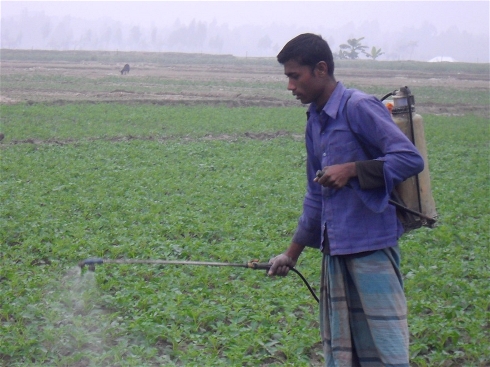 Bangladesh Agriculture Research Institute (BARI) has found alarmingly high content of pesticides in vegetables, pawn and dry-fish with pesticides. Among these, the grade of dry fish is the worst. BARI has published this report from a result of testing 454 samples from markets of 12 districts between 2011 and 2014. It says that, if proper steps are not taken to watch out the widespread use of pesticides, it will risk the public health very badly. The report of BARI"s research, "Khadye Keetnashoker Obosesh: Bangladesh Poriprekkhit" was presented at the One Health Bangladesh 8th Conference last Monday. There were another three research reports on food safety in the conference. Institute of Epidemiology, Disease Control and Research (IEDCR) organized this conference. Researchers said in this summit, if foods are washed properly before consuming, such risk would be minimizing by 60% to 80%. They also recommended pealing up fruits to minimize the risks. Three people in Dhamrai died in 2009 and fourteen children died for a strange reason in Dinajpur and Thakurgaon in 2013. According to IEDCR, pesticides in foods were resulted those deaths. A group of scientists collected 362 samples from Jessore, Jamalpur, Bogra, Norshingdi, Gajipur and
Comilla from 2011 to 2014 led by Sultan Mahmud, senior researcher of BARI. of this set of samples, 23% were found containing pesticides at a dangerous level.
The research was conducted on beans, brinjal, beater ground, cabbage, cauliflower, snake guard, parval, cucumber, okra, and coriander. Forty three dry fish samples were collected from the markets of Chittagong, Khagrachhori, Rongpur, Bogra, Dinajpur, Jamalpur, Jessore, Mymonsing, and Lalmonirhat.
The dry fishes are of small fish, mola Carplet (mola), gangetic hairfin anchovy (faissa) and putia barb (puti). Seventy four percent of this sample contained pesticides like DDT, aldrin, and dieldrin whereas DDT is banned worldwide. Dry fishes from Chittagong and Khagrachhori contained the highest amount
of pesticides. Dry fish of putia barb from Rongpur contains the similar dangerous. From Khulna and Chittagong, 49 samples of prawn were collected. Dangerous level of pesticides was present in seven of this samples.
The BARI researcher tested the samples in microbiology lab. Chlorpyrifos, dimethoate, fenitrothion and malathion were found in vegetables. Mohammad Sultan Mahmud, the researcher, "pesticides are used in crop production without following any regulation. There are 2, 811 brands of legal pesticides in Bangladesh. Also, the efforts to limit the use of pesticides are not enough. Only 2 percent farm land are under Integrated Pest Management in Bangladesh. Professor A. B. M. Faroque, Department of Pharmaceutical Technology of Dhaka University informed The Prothom Alo, "People eat vegetable to maintain a healthy life. But, if they are poisoned with an
alarming level of pesticides, they can damage liver and kidney. Pesticides can"t get their way out of human once they enter. Thus, they harm someone for his entire life. Bone marrow which produces blood in human body can be malfunctioned due to the presence of pesticides. Besides these, pregnant mothers
are give birth to physically and mentally retardant children if they consume foods contaminated with pesticides. Chief Technical Advisor Dr John Rider of Food and Agriculture Organization (FAO) said, "To farm better, farmers use excessive amount of pesticides. Otherwise, they face loss. If they are provided with
subsidiaries, they will probably quit this practice." Another three research reports were presented at the first session of the conference. One of these was about the presence of lead in food in Bangladesh. Researchers showed that they have discovered lead in the staple food rice. Dr. Stephen Luby, Professor of Stanford University, was the head of this research group. The research report on arsenic contamination in food was presented by Mir Misbahuddin, Professor of  Bangabandhu Sheikh Mujib Medical University. It said that arsenic contamination is highest in colocasia. Sridhar Dharmapuri, food analysis expert of FAO presented a report regarding the concept of risk in food. It said, formalin has been applied in foods, especially in fruits for several years. He remarked on the emergency need for collecting specific and systematically data in every aspect and act likewise.
Reference
Alom, Shaikh. " Alarming Level of Pesticides in Vegetables, Prwan and Dry Fish." The Daily Prothom
Alo. 31 March 2015. Prothom Alo Bangladesh. http://www.prothomalo.
com/bangladesh/article/490897/শাকসবজি-জ িংজ়ি-ও-শুঁটজকতে-ক্ষজেকর-মাত্রায়-কীটনাশক?. Accessed: 31
March 2015.
Translated