Educate girls to save the planet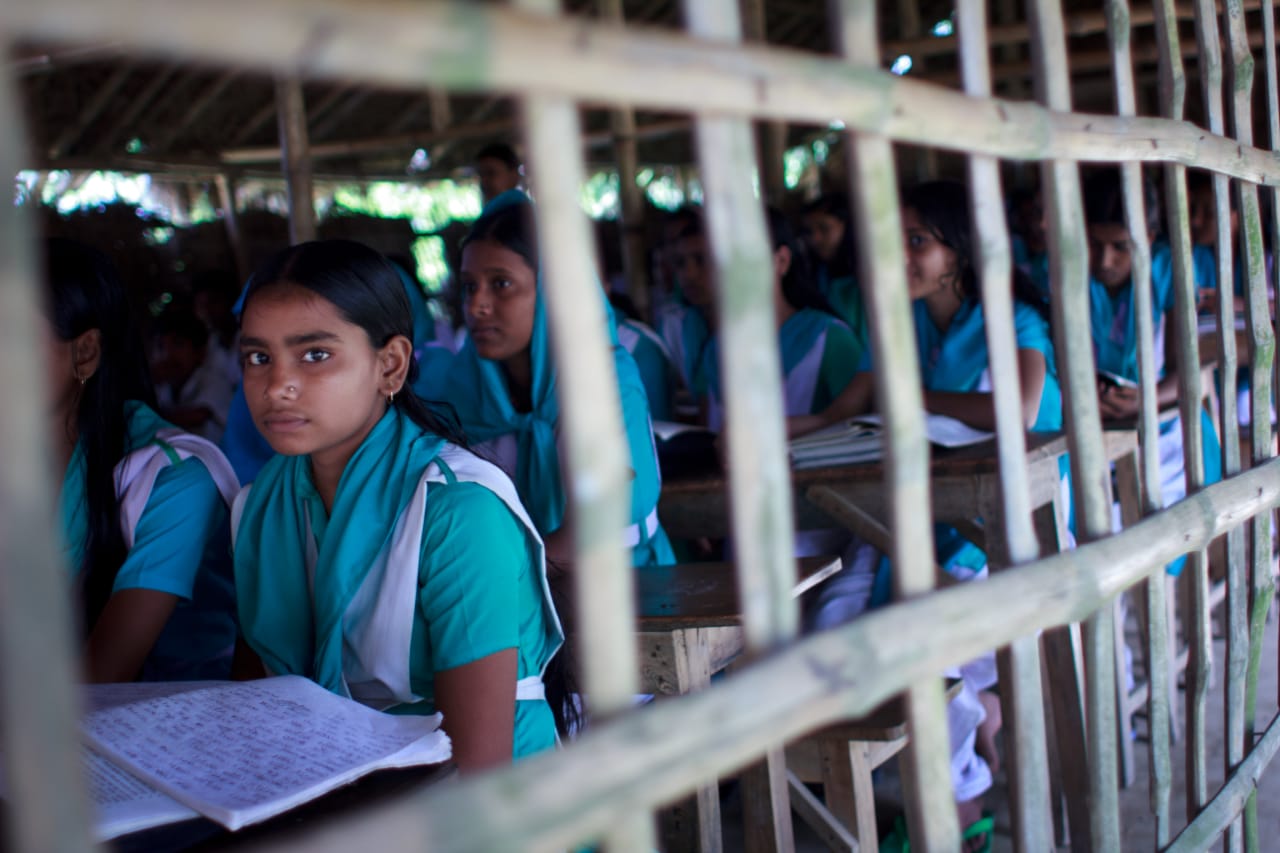 Dhaka, 21 November, 2021: It is a key component to combatting climate change
If we take a look at the origins of the climate crisis, we must mention the unsustainable economic growth model.
This unprecedented extraction and consumption model has impaired planetary boundaries by affecting human livelihoods, food security, water security, ecosystems, and everything around us.
On the other hand, the footprint of colonization and racial discrimination have led to poor access to education and infrastructure, and biodiversity loss. This also intensifies gender inequality by safeguarding unequal gender roles; socially prescribed unpaid work as homemakers and caregivers; wage gap; lack of access to education and technology; and intergenerational poverty.
Climate related hazards like flooding, storms, droughts, heat-waves, and exposure to zoonotic diseases are getting severe, and becoming a barrier for girls, especially in the least developed countries and marginalized communities.
During climatic hazards, girls in vulnerable households are more likely to skip/leave schools to get married off and help with household chores. As per research by Hayward and Ayeb-Karlsson in 2021, in Bangladesh, the dowry rate falls during cyclones and storms, which convinces parents to marry their daughters off and reduce their burden.
This easy and unjustified solution of marginalized families to end their intergenerational poverty risks the girls' lives and increases their chances of facing gender-based violence and interrupts their education.
Malala Fund estimates that in 2021, climate change will halt around 4 million girls from low and lower-middle-income countries from completing their education. If this phenomenon continues, it can be a prime factor in preventing around 12.5 million girls from completing their education by 2025.
What should be done to disrupt this trend?
Accommodating 12 years of quality education for girls can solve the issue. Girls who are literate and have qualification in numeracy, critical thinking, and problem-solving tasks can be instrumental in adapting and mitigating the impacts of climate change.
Teaching girls to make decisions and giving girls access to education correlates with a country's ability to sustainably and cost-effectively ameliorate society's resilience to climate change., . Research analysis also shows that fruitful exercise of sexual reproductive health and rights could minimize carbon emissions by almost 85.4 gigatons by 2050.
Consistent investment in girls studying science, technology, engineering, and mathematics (STEM) subjects can lead to innovation in green technologies by bringing a gender perspective that reinforces inclusivity. Girls in STEM can hone their skills and can join the workforce to support a transition to a low-carbon economy.
Young activists like Greta Thunberg, Archana Soreng, and several others are already in the frontline of climate activism. They are jointly challenging the root causes of injustice, racial inequality, and gender discrimination.
Therefore, participatory learning can support future young activists to focus on critical thinking and enhance their political agency in foreseeing an intersection and sustainable future for all. This modality of learning can help to recognize that climate change and its solutions are political, technocratic, and should adopt a circular economic model.
Education policymakers in developed countries are teaching girls skills and attitudes that will help them adopt more sustainable behaviours for a greener tomorrow. For instance, effective climate education is transforming behaviour and decision-making related to waste management, usage of energy-efficient home suppliers and transportation, and choosing vegetarian and vegan food.
Since climate change is disproportionately affecting girls in low-income and vulnerable communities, more evidence-based research is needed to evaluate the non-economic loss and damage on girls' education, mental wellbeing, and culture.
The Loss and Damage agenda can bolster the intersectional climate justice perspective to promote girls' education by allowing co-production of knowledge and reinforcing appropriate values for climate justice activism. COP26 should have been an impetus to global communities in fulfilling the commitments to climate education made at the Rio Summit in 1992.
The least developed countries can make climate change a mandatory curriculum subject within their national education strategies. In order to build back better after the Covid-19 pandemic, a strategy incorporating girls' education and climate justice can be beneficial.
Hence, it is vital to make sound economic choices that align with public investment. Multidisciplinary solutions from diverse actors, such as local governments, teachers, professors, private sectors, and national NGOs can and must play a key role to provide quality climate education to girls.
In this now or never situation of tackling climate change, girls in all nations should be aware about their fundamental rights to climate education.
Afsara Binte Mirza is Junior Research Officer at International Center for Climate Change and Development (ICCCAD). She is also the Lead of Climate Change and Environment Network at Youth Policy Forum.
Posted by
admin
on Nov 21 2021. Filed under
Blog
,
News at Now
,
Uncategorized
. You can follow any responses to this entry through the
RSS 2.0
. You can leave a response or trackback to this entry