Floods bring losses to farmers in 29 districts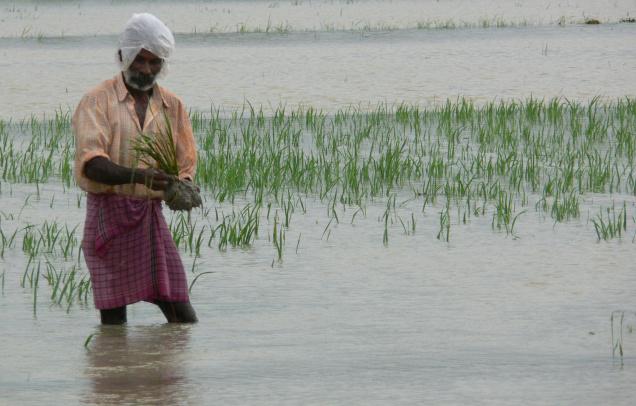 Floods have destroyed crops on nearly 2.75 lakh hectares of land in 29 districts, causing losses to thousands of farmers, according to the Department of Agricultural Extension.
About 95 percent of the affected crops are aman, with some farmers saying that losses from the floods would be huge.
Bangladesh experienced more rains than usual this year after two consecutive dry monsoons, according to the weather office.
The monsoon-based aman is the second biggest rice crop after boro, accounting for 38 percent of the country's annual rice production of 3.44 crore tonnes.
DAE Director General Md Hamidur Rahman has a different forecast that the damage would not affect the overall production of aman rice. The yield is forecast to be higher this year for proper distribution of rainfall.
Except for the submergence-tolerant varieties, the other high-yielding varieties of aman will not survive being under floodwater for more than five days, said Tamal Lata Aditya, chief scientific officer and head of plant breeding division of Bangladesh Rice Research Institute.
But farmers can grow photoperiod-sensitive HYVs such as BR 22, BR 23 and BRRI Dhan 46, she said.
The DAE is aiming to ensure aman acreage on 52.6 lakh hectares of land to produce 1.34 crore tonnes of rice this season.
There will be scope for transplantation if water recedes from land by September 10, according to Rahman. "I think the farmers will try to utilise that opportunity."
However, many farmers like Ruhul Amin do not have such scope due to a dearth of seedlings and incapacity to make fresh investments for aman cultivation.
"My aman and sweet potato crops have gone under water from the Dharla river. All are damaged. I have no scope of replanting," said Amin, a 25-year-old resident of Mogalbasha in Kurigram, one of the worst affected districts.
Amin planted aman on 1.2 acres of land and sweet potato on 66 decimals. He now plans to cultivate early mustard after the floodwater ebbs.
Floodwaters began to decline from yesterday in Kurigram. Abu Bakar Siddique, another farmer from Kurigram, also plans to sow mustard, or pulse.
He spent Tk 38,000 for transplanting aman on four acres of land but the paddy field has been damaged for inundation of water for the last 20 days.
The DAE and other government agricultural agencies have prepared aman seedlings on 100 acres of land and the seedlings would be handed over to farmers in the affected areas once the floodwater recedes, Rahman said.
Apart from aman, a portion of aus rice crop and vegetables have also been affected by heavy rain-induced floods that began to inundate crops and homesteads, mainly in the north, from the third week of August.
During July, heavy shower and Cyclone Komen caused crop losses on 39,000 hectares of land. The damage was higher in the southern coastal districts at that time.
The agricultural extension office also advised farmers to go for winter crop on those lands from where crops cannot be recovered.
Farmers in Bangladesh depend on the monsoon rains for irrigating summer crops including aman rice.
Seasonal rains swell rivers and recharge water bodies, underground water reserves and aquifers.
Poor rains force farmers to go for additional irrigation to ensure good yields. But torrential rains, like the recent ones, damage crops by causing flash foods and water logging.
Source:
Sohel Parvez and Abdul Wahe. Sept 8, 2015. The Daily Star. http://www.thedailystar.net/business/floods-bring-losses-farmers-29-districts-139558
Posted by
admin
on Sep 8 2015. Filed under
News at Now
. You can follow any responses to this entry through the
RSS 2.0
. You can leave a response or trackback to this entry