Hubble Spots Hazy Worlds With Watery Atmospheres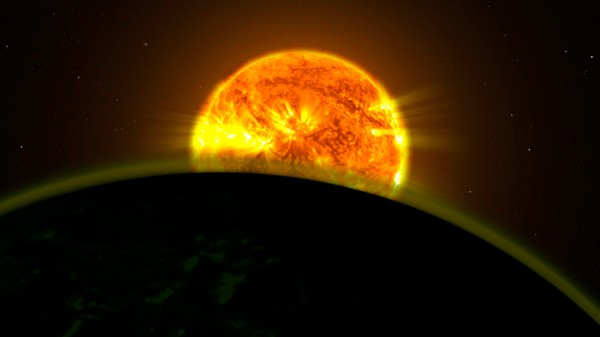 The Hubble Space Telescope has spied five alien worlds around distant stars that show clear signs of water vapor filling their atmospheres, according to a new study. The find represents the first conclusive detection and comparison of water vapor in the atmosphere of planets orbiting nearby stars.
While they all have unromantic names like WASP-17b, HD209458b, WASP-12b, WASP-19b, and XO-1b, they also all orbit nearby stars and show signs of water vapor in their atmospheres.
These "exoplanets" are no place for life, since each is classified as a hot Jupiter—gas giants that circle very closely to their parent suns. However, clear chemical fingerprints of water vapor were detected in light reflected off their uppermost cloud decks and seen by the storied space telescope.
"To actually detect the atmosphere of an exoplanet is extraordinarily difficult. But we were able to pull out a very clear signal, and it is water," co-author Drake Deming, an astronomer at the University of Maryland, said in a statement.
The orbiting observatory was able to tease out the faint telltale signals of water by examining the amount of starlight that is absorbed in infrared wavelengths as it passes through the planetary atmospheres while it transits in front of their host star.
To determine what's in the atmosphere of an exoplanet, astronomers watch the planet pass in front of its host star and look at which wavelengths of light are transmitted and which are partially absorbed.
Credit: NASA's Goddard Space Flight Center
"We're very confident that we see a water signature for multiple planets," said lead author Avi Mandell, a planetary scientist at NASA's Goddard Space Flight Center in Greenbelt, Maryland.
What tricked astronomers into initially missing out on the fainter-than-expected water signatures was that a blanket of haze surrounds the planets, blocking the absorption lines of water from coming through. These findings now suggest to exoplanet researchers that hazy clouds may be common on worlds with water-filled atmospheres that orbit their parent stars tightly.
"This work really opens the door for comparing how much water is present in atmospheres on different kinds of exoplanets—for example, hotter versus cooler ones," added Mandell.
The exoplanet watery atmosphere study was published this week in the Astrophysical Journal.
Follow Andrew Fazekas, the Night Sky Guy, on Twitter and Facebook.
Posted by
admin
on Dec 5 2013. Filed under
News Worldwide
. You can follow any responses to this entry through the
RSS 2.0
. You can leave a response or trackback to this entry