Human Chain at National Press Club Demanded Ban on Lead Paints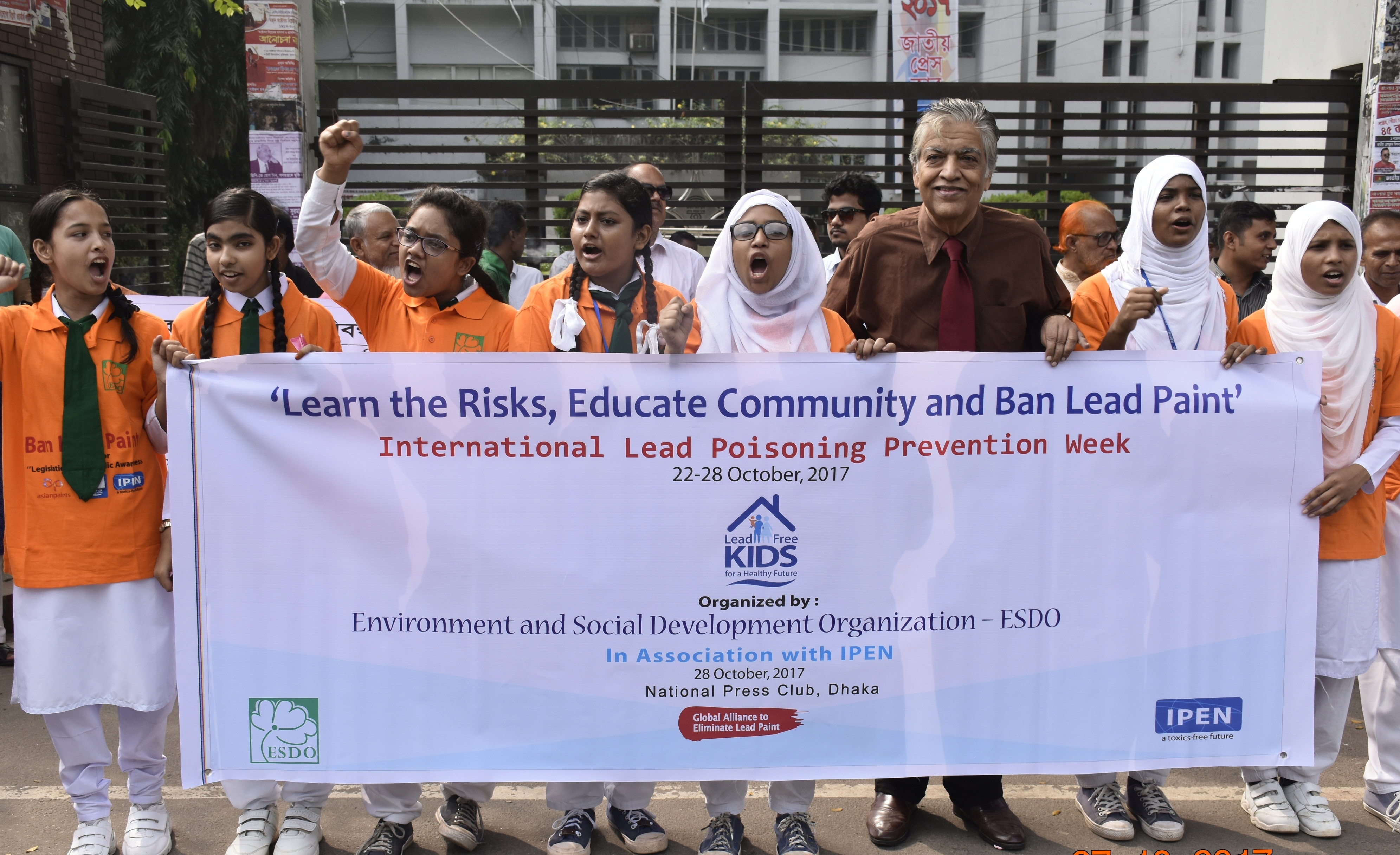 On the eve of International Lead Poisoning Prevention Week-2017 (22 to 28 October) a huge crowd of youths demanded ban of lead paint production in Bangladesh. Environment and Social Development Organization-ESDO in association with IPEN organized the human chain and a rally under the theme 'Learn the Risks, Educate Community and Ban Lead Paint' in front of the National Press Club on 28th October to ban lead paint in Bangladesh by 2018 and to phase out lead containing paints globally by 2020.
The human chain was formed by around 80 girls guide members along with 20 youth members of ESDO Green Club. These teenagers were from various Bangla and English medium schools, colleges and universities who joined the campaign to demand for a ban on lead paint. They also conducted a rally. Many other people of different ages participated in the rally. They said that they don't want to live in a leaded environment any more.
Lead paint is a major source of potential lead poisoning for young children. The International Lead Poisoning Prevention Week of Action, co-led by the World Health Organization (WHO) and UN Environment, was established to raise awareness of the widespread availability of lead paint. IPEN and Partners have taken part in awareness-raising activities and other actions during the Week of Action since 2013.
ESDO has been working for a specific regulation of lead free paint in Bangladesh and thus, has been conducting policy advocacy since 2010. In 2011 a four-year SWITCH-Asia regional project was launched, to decrease production and use of lead paint in different countries including Bangladesh. European Union (EU) Switch Asia Program started their lead paint elimination project in Bangladesh through ESDO in 2012.
Read More: http://esdo.org/human-chain-at-national-press-club-demanded-ban-on-lead-paint/
Posted by
admin
on Oct 28 2017. Filed under
News at Now
,
No Lead Paint
,
No Toxic
,
Uncategorized
. You can follow any responses to this entry through the
RSS 2.0
. You can leave a response or trackback to this entry