'It is our future': children call time on climate inaction in UK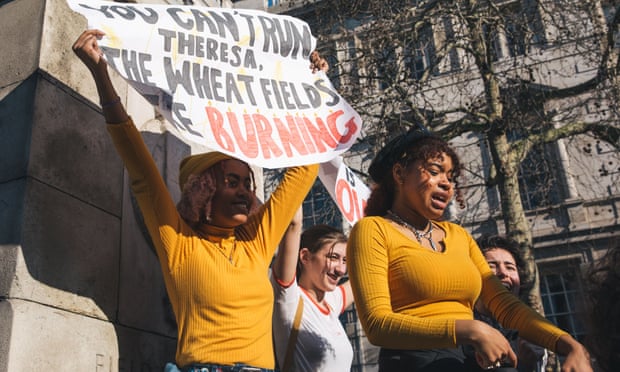 Some wore school uniform, with ties askew in St Trinian's fashion, others donned face paint, sparkly jackets and DM boots. The youngest clutched a parent's hand as people gathered in the sunshine in Parliament Square in London, a few metres from the politicians they say are letting down a generation. They carried homemade placards, with slogans full of humour, passion and hope that the voices of thousands of children and young people would be heard.
"March now – or swim later", "I've seen smarter cabinets in Ikea" and "denial is not a policy" read the banners, as chants for action on climate change grew and strengthened with the passing hours into a deafening roar. "What do we want? Climate action! When do we want it? Now!"
Across the UK it was a day for thousands who are not normally heard, as children took time out of their lessons to attend the strike. "As students we don't have the vote, and it is really unfair because this is going to impact on us the most. It is our future," said Evie Baldwin, 15, from north London. In Manchester, the students came with handwritten notes from their parents giving authorisation for their photos to be taken, and bullet points to explain why they felt compelled to strike.
For More: https://www.theguardian.com/world/2019/feb/15/children-climate-inaction-protests-uk
Posted by
admin
on Feb 16 2019. Filed under
Climate change
. You can follow any responses to this entry through the
RSS 2.0
. You can leave a response or trackback to this entry