Navigating COVID-19 impacts on climate change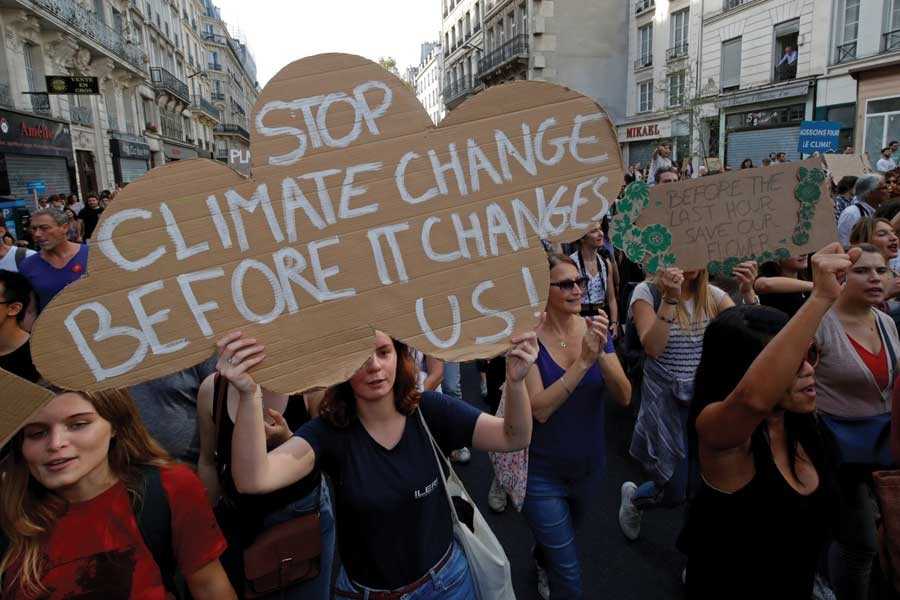 Dhaka, 12 May, 2020: COVID-19 shutdowns have many unintended climate benefits. With economic activities brought to a halt accompanied by suspension of most modes of transport, there has been a substantial impact in reducing GHGs (carbon dioxide, methane, nitrous oxide, and other gases) emission. Pollution-monitoring satellites operated by NASA and the European Space Agency observed drastic decreases in air pollution in many countries now enforcing lockdowns. In the same way, scientists find similar reductions in emissions in other points of history where economic slowdowns occurred, such as World War II and the Great Recession. However, these GHGs emitting events in the past did not affect the overall climate crisis.
Researchers at the Columbia University demonstrate that traffic levels in New York were estimated to be down 35 per cent compared with a year ago. Emissions of carbon monoxide, mainly due to automobiles, have fallen by around 50 per cent in March. Likewise, there had been a 25 per cent drop in energy use and emissions in China, the world's biggest GHGs polluter, over two weeks in March, the climate website Carbon Brief shows. This less energy use is likely to lead to an overall fall of about 1 per cent in China's carbon emissions this year, experts say. With aviation grinding to a halt and millions of people working from home, a range of emissions across many countries is likely to follow similar slides.
Anecdotal evidence suggests the world would see an opposite figure of GHG emissions whenever the pandemic eases. Back in 2008-09, after the global financial crash, carbon emissions increased by 5 per cent as a result of stimulus spending that boosted fossil fuel (including coal, petroleum, natural gas, and bitumen) use. This stimulus spending mostly meant investing in carbon-intensive development. Economic growth would be an even higher priority in the months and years ahead as the governments around the world would work to stabilise the economies while recovering from CODIV-19.
Governments can play cautious roles in how they re-stimulate their economies, mindful of not locking in fossil fuels again. For instance, the European Commission, the European Union's executive body, doubled on its plans for a $1 trillion "Green Deal" last week, which is intended to reduce emissions and foster growth. Experts say if the COVID-19 pandemic goes on for a long time, any stimulus would more likely focus on promoting any economic growth regardless of the impact on the environment. For that reason, many climate policymakers have long-advocated for "green" stimulus measures in times of economic uncertainty to achieve a dual purpose of expanding and decarbonising the economy. Such means of economic stimulus for COVID-19 should be implemented in this country. The central bank has a crucial role to play in this regard.
COVID-19 lockdown has positive impacts on reducing water and sound pollution. Evidence suggests suspending mechanised water transport services reduces water pollution. Italy's efforts to limit the coronavirus meant an absence of boat traffic on the city's famous waterways. As a result, in Venice, the often murky canals recently began to get more transparent, with fishes visible in the water below. Noticeably, lockdown in Dhaka city has reduced overwhelming sound pollution to a large extent as plying of public buses, trucks, trains, motorbikes etc., are suspended.
The COVID-19 pandemic could set back efforts to tackle climate change. Some climate experts opine this pandemic can destroy the momentum that the climate movement has built up through a series of the United Nations programmes, namely, Climate Summit and COP25. Climate experts predict we might miss a long-waited joint commitment for climate actions made by China and the US, the world's largest emitters, for reducing GHGs. Due to the current lockdown, UK's COP 26 international climate summit has been postponed until 2021.
Due to COVID-19, many crucial negotiations of COP26 have already been disrupted that could determine the Paris Agreement's success in reducing emissions. Many climate experts warn that the COVID-19 pandemic might supplant climate concerns in the minds of the public, weakening political will at a critical moment.
Post-pandemic economic activities might encourage burning fossil fuels in hopes of restarting the (global) economy. Experts expressed concern that economic fallout would push the climate issue down the list of priorities for governments, and travel restrictions would force a delay to the UN climate programmes. Climate advocates find COVID-19 as the latest roadblock to a prominent climate breakthrough.
Overall, the corona crisis has created lessons that help us to tackle climate change. Firstly, this pandemic is a unique crisis that creates vast awareness and behavioural differences among people on sanitation, hygiene, water, and waste management. Ensuring good and consistently applied WASH (Water, Sanitation, and Hygiene) and waste management practices in communities, homes, schools, marketplaces, and healthcare facilities would help prevent human-to-human transmission of the COVID-19 virus. Best practices, awareness, and behavioural changes certainly provide good learning for tackling other virus-related challenges such as Hantavirus-a virus that spread mainly by rodents and can cause various disease syndromes in people worldwide.
Secondly, coronavirus outbreak highlights critical gaps in academic institutions (including schools, colleges, and universities) emergency preparedness. Unfortunately, we have never realised the importance of contingency planning. In essence, it is a management tool to analyse the impact of potential crises and ensure appropriate arrangements to respond in a timely and effective way. This planning enables us to establish working relationships that can make a critical difference during a crisis.
Proponents underscore academic institutions' contingency planning for COVID-19 as essential to ensure that these institutions can manage future uncertainty by developing responses based on different outbreak scenarios. The UNICEF and Save the Children, two leaders in the education emergency field, can assist us in this regard.
COVID-19 is a global challenge that transcends borders, religions, classes and gender considerations — like climate change. The coronavirus outbreak reminds us that no one is geographically immune to climate change.
.
Posted by
admin
on May 12 2020. Filed under
Climate change
,
News at Now
,
News Worldwide
. You can follow any responses to this entry through the
RSS 2.0
. You can leave a response or trackback to this entry