Organic pesticides catching on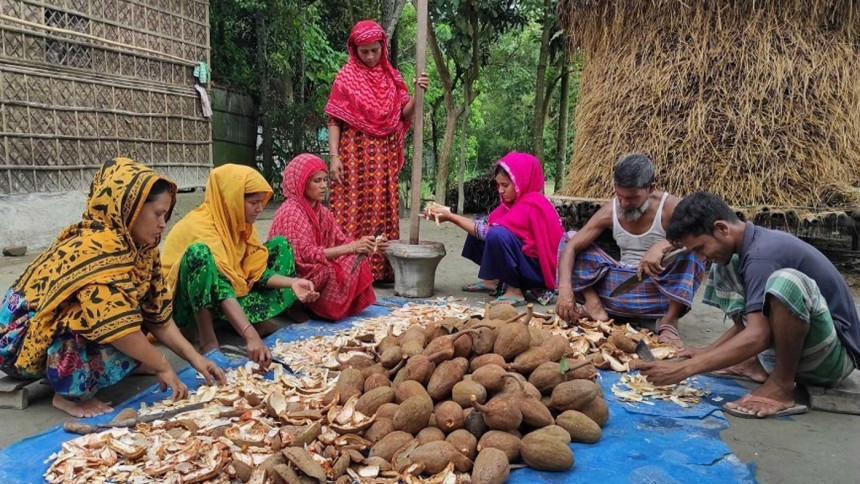 Dhaka, 10 October, 2021: Use of organic pesticides on crops is gaining popularity among farmers in Uttar Kalikapur village in Kishoreganj upazila, as their insecticidal ingredients are non-toxic to consumers as well as to honey bees and many other beneficial insects.
Besides, easy preparation methods and low-cost ingredients of organic pesticides help reduce cost of agricultural production, farmers in the village said.
Ever since they started applying organic pesticides, more and more health-conscious consumers are visiting the village to buy organic produce from them, the farmers also said.
While visiting Uttar Kalikapur recently, many of the villagers were seen busy preparing organic pesticide with fruits plucked from mahogany trees found in the village.
Most of them were peeling off outer shells of the fruits while a woman was mashing the inner flesh of the fruit in a traditional wooden hand mortar.
Farmer Ataur Rahman said initially, a paste would be made by mixing some water with about five kilograms of the mashed fruit.
The paste would be left in a bucket for five to seven days. Once it is fermented, some detergent powder and more water would be added to make it into a solution to be sprayed on crops, he added.
The homemade organic pesticide effectively kills various crop pests such as grasshopper, swarming caterpillar (leda poka), stem borer (mazra poka) and leaf roller (pata morano), said Abdul Mannan, a farmer from the village.
He said he saw the result first-hand after using it in his aubergine field on one bigha land.
Powdered neem, papaya and tobacco leaves can also be used to prepare organic pesticides, said several other farmers.
Inufa Begum, a farmer from the village, said she got good results after she applied organic pesticide four times on her Aman rice field on 24 decimals of land.
This saved her Tk 1,000 that she would otherwise spend on harmful chemical pesticides, she also said.
Officials at the Department of Agricultural Extension (DAE) in Kishoreganj said they have been getting good response from farmers when they arrange training programmes on preparation of organic pesticides. They have been organising the training programmes to ensure production of safe food for all by reviving the age-old practice of using natural ingredients to kill pests, said Tushar Kanti Roy, an agriculture officer at the DAE.
Posted by
admin
on Oct 10 2021. Filed under
Bangladesh Exclusive
,
News at Now
,
No Toxic
,
Uncategorized
. You can follow any responses to this entry through the
RSS 2.0
. You can leave a response or trackback to this entry