Overuse of chemical fertilizers threatens Kushtia soil fertility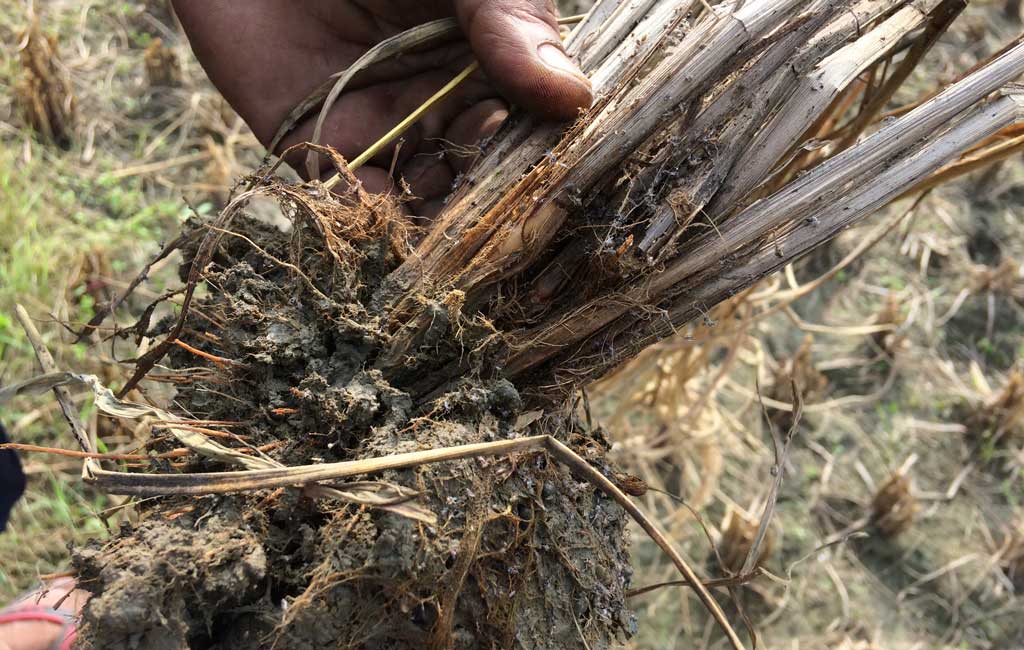 Dhaka, 31 May, 2020: The district was always acclaimed for its fertile soil and high productivity with a recent trend of overusing chemical fertilizers instead of organic ones, to grow larger batches of crops, thus ruining the soil
Cultivating with chemical fertilizers is increasing crop production in Kushtia but threatens the fertility of the soil to a great extent.
Kushtia is known for its agrarian enterprises and production of cash crops such as paddy, wheat, jute, and vegetables, which contribute greatly to the country's economy.
The district was always acclaimed for its fertile soil and high productivity with a recent trend of overusing chemical fertilizers instead of organic ones, to grow larger batches of crops, thus ruining the soil.
According to Kushtia Soil Resource Development Institute (SRDI), of 1,62,120 hectares, around 1,15,978 hectares of lands are suitable for farming. And with a food demand of almost 3.40 lakh tons, the district can provide for 4.60 lakh tons of crops.
Though soil organic properties are declining drastically, deteriorating to almost 1.14 percent in the last 15 years (2.75 percentile in 2013, 1.97 percentile in 2016, and 2.10 percentile in 2018).
Locals say the excessive use of chemicals, pesticides, and cultivation of tobacco on croplands, are contributing to the problem.
In line with the allegations, farmers Jalal Uddin, Maruf, Amirul said that not only is the soil losing its potency, but they are also having to spend much more money, almost twice as much to get a rich crop, as the soil is not as fertile as it used to be.
Abdul Halim, a farmer from Mirpur upazila said: "The soil has lost all its richness and only works if larger bands of fertilizers are applied.
"I poured 75kgs of chemical fertilizers in 1.5 bighas of land which has cost me a fortune," he added.
Deputy Assistant Agriculture Officer Saddam Hossain said farmers opted for the chemicals because it provides a good yield and said: "We are constantly warning the farmers about the long term effects of these fertilizers on the soil but it seems they are more interested in short term profit."
Officials of the district and upazila Department of Agricultural Extension, Agriculturalists Ramesh Chandra Ghosh and Shyamol Kumar said, the excessive presence of these detrimental substances in the soil will eventually make the soil barren and production costly.
Ramesh said: "We are encouraging farmers to use organic fertilizers and pesticides alongside specific training programs to raise awareness and protect these lands."
Afroza Naznin, senior scientist of SRDI, blamed the higher temperatures due to global warming, and highly dense crop-beds, alongside other reasons, and said: "Although at least 5 percentile of organic properties should be present in the soil, it is alarming that only 1.61 percent was found in Kushtia's croplands."
She also hoped for prompt steps to raise awareness among farmers and asked the concerned authorities to train the farmers to gain a high yield with organic fertilizers.
.
Posted by
admin
on May 31 2020. Filed under
Bangladesh Exclusive
,
News at Now
,
Organic agriculture
. You can follow any responses to this entry through the
RSS 2.0
. You can leave a response or trackback to this entry