Polluting A Possibility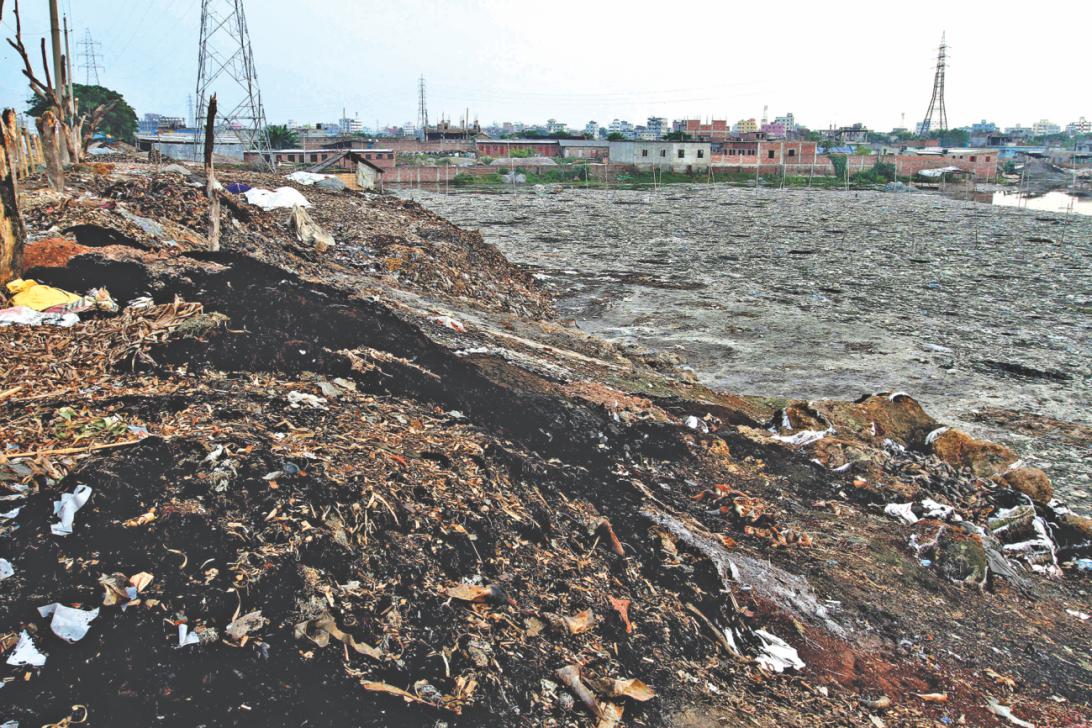 Leather is one of Bangladesh's booming industries. But dreadful working conditions in tanneries save for a few, and the devastating environmental pollution they cause, are spoiling its potential in the global market.
Bangladesh's leather industry is one of the very few industries if not the only one for which Bangladesh does not have to import the main raw materials. Cheap labour, top quality raw materials that is hides of Bangladeshi cattle and global demand for luxury leather products has made it one of the most productive industries and foreign currency earners of Bangladesh. In 2014, Bangladesh's leather industry set a record for increasing exports up to 32.12 percent; for the first time it reached the US$1 billion mark for annual export.
The price of such remarkable progress, however, is quite heavy.  The raw materials of this thriving industry are processed and produced in Hazaribagh, which has been declared as the fifth most polluted place in the world by two renowned research organisations called Blacksmith Institute and Green Cross Switzerland. Hazaribagh, an area of only three square kilometres, is the home of more than 1,000 tanneries of different sizes that produce 95 percent of the total tanned and furnished leathers. An appalling reality is that the area called Hazaribagh is situated right in the heart of Dhaka, Bangladesh's capital, and it is also a densely populated residential area. Around 200,000 people share their homes with these tanneries which have been using highly toxic chemicals, producing hazardous wastes posing the threat of fatal health conditions to these people.
Suffocating stink from the congested tanneries and tons of toxic wastes disposed in the open sewers have made this area a living hell. Tens of thousands of tannery workers along with the residents of Hazaribagh are highly vulnerable to diseases like cancer, asthma and a wide range of skin conditions. After collecting animal hides from all over the country, the tanneries of Hazaribagh treat the hides with the toxic chemicals to produce the tanned rawhide called 'wet blue.'
Abdul Mazid has been working in a wet blue factory for ten years. He says, "At first we treat the animal hides with sodium salts and then dunk them in the pits full of caustic soda to separate hairs and flesh from the hide. Then we gather the hides into huge drums and pour sulphuric acid and other chemicals on it. After washing them with acid, we treat them with synthetic colours and chromium. Thus we produce wet blues, the main raw material for the leather industries."
Even worse, these workers are using these chemicals without any kind of protective clothing. Mohammad Shajib, a young man of around 20 years, has been in charge of acid treating the raw hides. "I have burn injuries and bruises caused by the acid all over my body. I have also been suffering from acute breathing problems. But there is no other job and I have to do it to feed my family," says Shajib. He gets only Tk 4000 salary per month. Besides corrosive chemicals, chromium, used to tan rawhides, is a highly carcinogenic substance. Exposure to chromium can cause chronic breathing problems that can result in lung cancer.
Apart from the tens of thousands of tannery workers, the residents of Hazaribagh are also leading miserable lives.  "I can still remember the day when we first came to this area. The stink was unbearable. My wife started vomiting and my daughter fainted after throwing up several times. We were all sick for a month," says Asadullah, a resident of Hazaribagh.
Tanneries of Hazaribagh are largely responsible for the extreme pollution of Buriganga River. Thousands of tons of toxic waste produced by these tanneries are discharged into Dhaka's main river completely untreated. This makes the river water absolutely unusable making millions of Dhakaites mostly dependent on ground water. Md Mizanur Rahman, the owner of Samota Leather Complex and the treasurer of Bangladesh Tanners' Association, says, "In Hazaribagh we have not adequate space to install any kind of treatment plant. We are waiting to be relocated at Leather Industrial Park at Savar and then we shall be able to refine the wastes."
However, this tannery relocation project was first started in 2003 and still it is far from complete. After ten years of procrastination and large scale modification, the massive construction work first gained pace in 2013. In the Leather Industrial Park of Savar developed by Bangladesh Small and Cottage Industries Corporation (BSCIC), 155 tanneries have been allotted plots to relocate their factories from Hazaribagh and the work of installing a Central Effluent Treatment Plant (CETP) is on the way. However, the deadline to complete the project and relocate the tannery is December, 2015.
Tannery workers handling toxic chemicals without any protective gear. Photo: Prabir Das
Md Sirajul Haider, the project director of Leather Industrial Park, Savar says, "80 percent task of installing the CETP has been completed. We are expecting that we shall be able to run the CETP within this December." Nevertheless, the scenario is quite the opposite in the industrial estate. Many of the plots are still vacant. Large containers full of CETP's equipment are seen lying on the ground under open sky. A construction engineer says anonymously, "We are yet to complete the civil construction works to install the CETP equipment. After completing the civil works, a Chinese company will install the machinery. If everything goes smoothly, I think it will take around two more years to fully complete the project."
It is evident that we have to wait for a couple of years more to see this much needed relocation project implemented. Although the construction work is going on, no matter how slow, there are still some questions to be answered. Despite the fact that there are more than 1000 tanneries in Hazaribagh only 155 tanneries (Only 10 percent of the total tanneries) have been allotted plots in the estate for relocation. When asked  why this happened, Sirajul says, "Plots have been allotted only to the real owners of the factories. Other manufacturers or exporters have not been included."
In Hazaribagh there are many businessmen who have no factories of their own but they are also producing quality leather. In 1990s when the then government put embargo on exporting wet blues, a lot of tanneries were forced to shut down and became bankrupt. Then many small entrepreneurs started to use the closed factories collectively to produce wet blues and finished leathers. There are at least 700 small manufacturers in Hazaribagh who have been producing tanned leather for more than 20 years using the closed down factories.
Md Masud, one of these manufacturers, says, "We contribute 35 percent of the total export of leathers from Bangladesh. We pay source tax and all other taxes to manufacture and export our goods. However, we do not get any facility or recognition from the government."
"The government did not even give us any plot to build our factories. After the deadline we shall be banished from Hazaribagh. Then, we will be left with no choice but to beg on the street," adds a disappointed Masud.
It is very unfortunate that due to the  government's negligence one of Bangladesh's booming industries is entering into an uncertain future. Extreme pollution and inhumane working conditions have already created worldwide controversy. Now, government's reluctance to relocate all the tanneries in Savar and inattention to the small entrepreneurs and exporters can cause irreparable damage to this industry.
However, amidst all these negative incidents we have promising examples to be inspired. A Bangladeshi entrepreneur named Aniruddho Roy, the owner of RMM Leather Industries, has been producing eco-friendly leathers for years. In his factory, rawhides are tanned with vegetable and syntan based materials instead of chromium. As the first Bangladeshi manufacturer of eco-friendly leather, RMM Leather Industries was awarded at the Asia Pacific Leather Fair in Hong Kong in 2014.
Bangladesh's promising leather industry has been attracting a lot of foreign investors and recently at least 51 foreign companies have expressed their interest to establish a joint venture in Bangladesh. If Bangladesh can ensure an environmentally sound leather industry and if it can create opportunities for new entrepreneurs, it has the potential to play a major role in the global export market and can become a main instrument for the nation's development.
Source
Chandan Shahnawaz. The Daily Star. 24 October, 2015. http://www.thedailystar.net/in-focus/polluting-possibility-161716
Posted by
admin
on Oct 24 2015. Filed under
Bangladesh Exclusive
. You can follow any responses to this entry through the
RSS 2.0
. You can leave a response or trackback to this entry