Professionals demand for Policies to ban import and use of Lead Dryer, Pigment and Cromate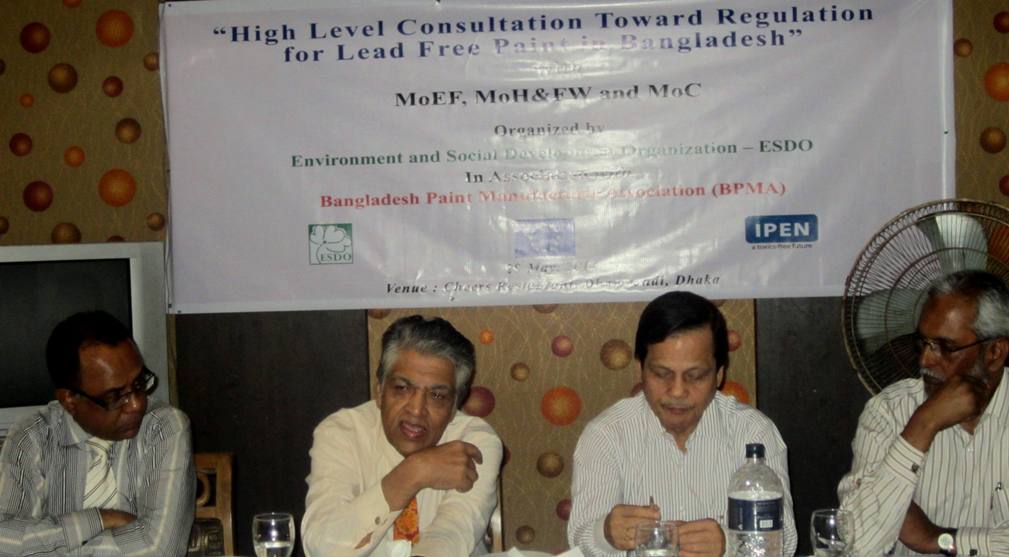 ESDO and BPMA support to phase out lead in household decorative paints and urged the government to formulate a policy. Lead based paint in Bangladesh have been creating serious environmental and public health problem. They also demanded a standard of safe limit and third party certification for local and international paints to marketing in Bangladesh. These two organizations express their concern yesterday on May 29, 2014 at a "High Level Consultation towards Regulation for Lead Free Paint" at Dhanmondi, Dhaka.
Environment and Social Development Organization (ESDO) in association with Bangladesh Paint manufacturer Association (BPMA) organized this consultation with representatives from Ministry of Health & Family Welfare and Ministry of Commerce, and Department of Environment. Former Environment Secretary, Govt. of Bangladesh and ESDO Chairperson Syed Marghub Murshed presided over the consultation session and urged BPMA & Government of Bangladesh to come forward in building a lead free environment for healthy and toxic-free future in Bangladesh.
Mr. A N Shamsuddin Azad Chowdhury, Additional Secretary of MoH&FW strongly support and encouraged the initiative taken by ESDO and said, "For Government Incentives, ESDO and BPMA both needs to submit a joint petition to the Government with proper documentation so that Government can take a step for environment and public health and better future."
Mr. S.M. Showkat Ali, Additional Secretary , Ministry of Commerce were present in the program and he urged for a proper regulation to stop import of lead paint in Bangladesh as there is no regulations for lead in paints. BPMA President, Mr. BB Saha Roy focused for lead free paint in Bangladesh. He said, for 100 % lead free paint production, Government need to eliminate the duty fee of import of zirconium dryer in Bangladesh so that, all companies can produce lead free paint. ESDO Secretary General and
Expert in UNEP Dr. Shahriar Hossain and Executive Director of ESDO Siddika Sultana were also present in the workshop.
Since 2010, ESDO has worked diligently to formulate specific rules and regulation to stop using lead in paints for securing human health and environment. This consultation was an advance step for ESDO to discuss on the regulations which will phase out the import, manufacture and sale the lead based paint in Bangladesh with the Govt. This consultation came up with fruitful discussion among representatives from Ministries and BPMA along with ESDO team.
ESDO has approached to all the ministries in collaboration with BPMA against leaded paint. The need of proper regulations to ban the import of lead in Bangladesh is being presented. In this consultation the issue of stopping the import of Zirconium Drier to zero (0) percent from existing 5 % and also impose ban on the import of lead drier.
Posted by
admin
on May 31 2014. Filed under
News at Now
. You can follow any responses to this entry through the
RSS 2.0
. You can leave a response or trackback to this entry