Rabbits, chickens and Tin Tin the goat: the backyard farms of Nairobi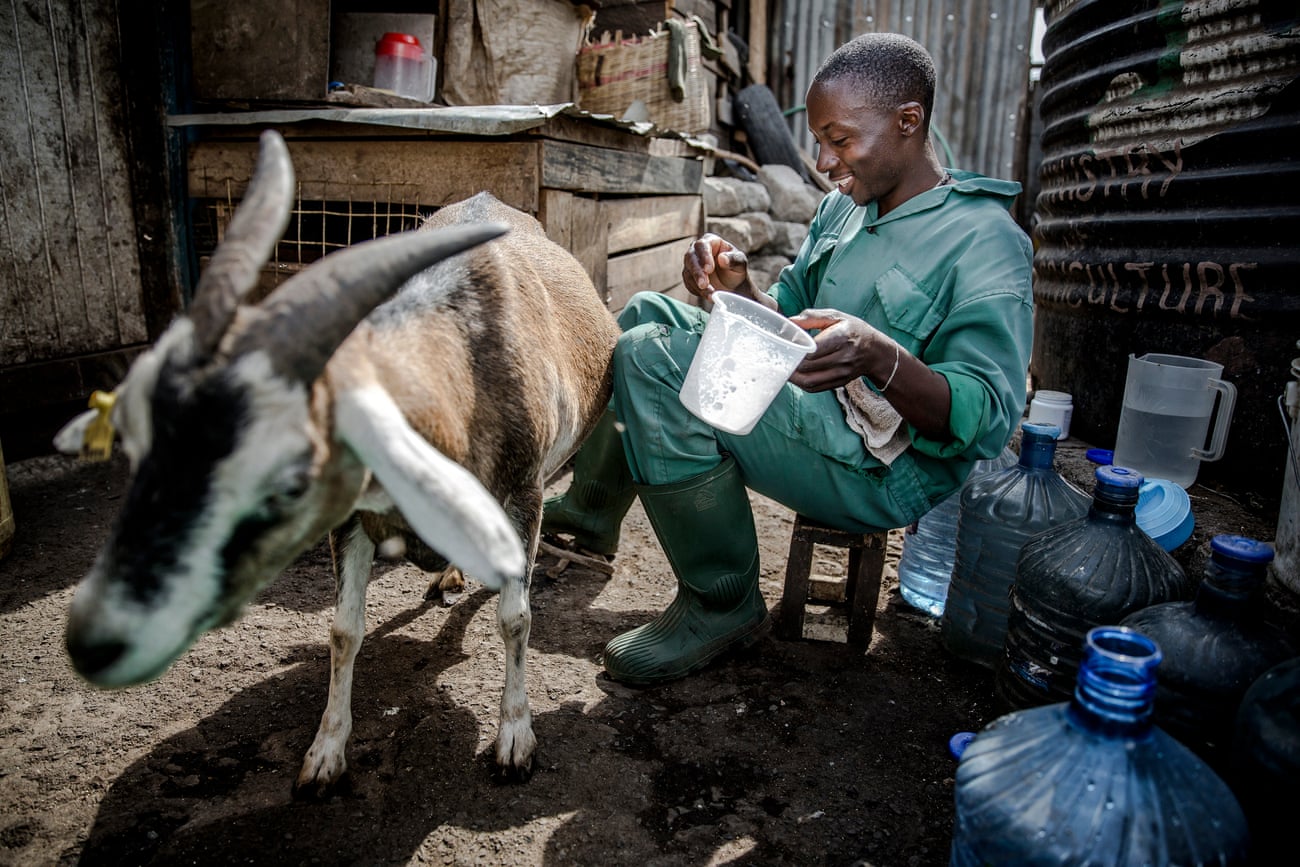 In a space of less than an eighth of an acre in Huruma, a small informal settlement in north-east Nairobi, is a tiny farm housing 19 goats and 286 birds – chickens, doves and guineafowl. Pens and cages have been cobbled together with discarded wood and corrugated iron. Goats hop from a pen curious to see their new visitors, passing day-old chicks who squeak from inside a cage. There's a goat skin drying out in the sun as a bunch of flies swarm above it. Moments of calm can only be found inside the group's office, where a small goat sits quietly under a chair. Her name is Olivia, and she is blind.
This farm, as small and chaotic as it is, is a lifeline for Kevin Uduny and the rest of the Huruma Town Youth Group (HTYG) who manage it. Uduny and four others co-founded the group a decade ago to get away from the problems of unemployment and poverty in the slum. This small plot was once wasteland, a spot for young people to hide and take drugs, Uduny says.
They began by keeping chickens, and in 2014 acquired three dairy goats through a grant from a government initiative to help eradicate food poverty in slums. The project (though not the size of the farm) has grown from there. Now, eight members of the youth group work here, along with young kids from the area who volunteer.
Urban farming has become a vital resource for Kenyans living in areas with high levels of food insecurity. Almost half of Nairobi's citizens are malnourished, and an estimated 73% of Nairobi's slum population live below the poverty line.
For More:
Posted by
admin
on Feb 11 2019. Filed under
Food security
. You can follow any responses to this entry through the
RSS 2.0
. You can leave a response or trackback to this entry