Termites mitigate effects of drought in tropical rainforests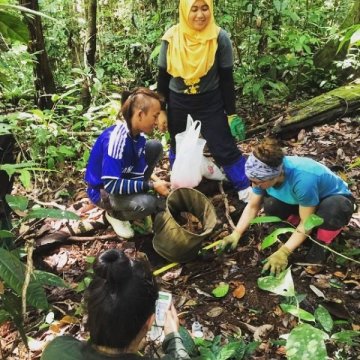 Termites are commonly regarded as one of the most destructive insect pests, but in fact only 4% of the 3,000 termite species known globally are pests. Its unknown side was recently revealed by a major new study published in the journal Science — the collaborative research co-led by Dr Louise Ashton of the University of Hong Kong, with researchers from the University of Liverpool and the Natural History Museum, London, has discovered that termites actually help mitigate against the effects of drought in tropical rain forests.
Termites are highly abundant in tropical ecosystems. They are one of the few living creatures that can break down cellulose found in plant material. They create temporary above-ground protective structures called "sheeting" which allows them to move about in the forest even during drought conditions. They are thought to be important for soil processes including decomposing and soil moisture, however the roles of termites in these processes in tropical rainforest have not been fully quantified using real-world experiments. This is because it is quite difficult to suppress the activity of termites. The research team developed novel suppression techniques using toilet paper rolls and regular monitoring of termite communities to understand what termites are doing in tropical rainforests.
For More: https://www.sciencedaily.com/releases/2019/01/190110141753.htm
Posted by
admin
on Feb 14 2019. Filed under
Forest & Land
. You can follow any responses to this entry through the
RSS 2.0
. You can leave a response or trackback to this entry