Bringing animals back from the edge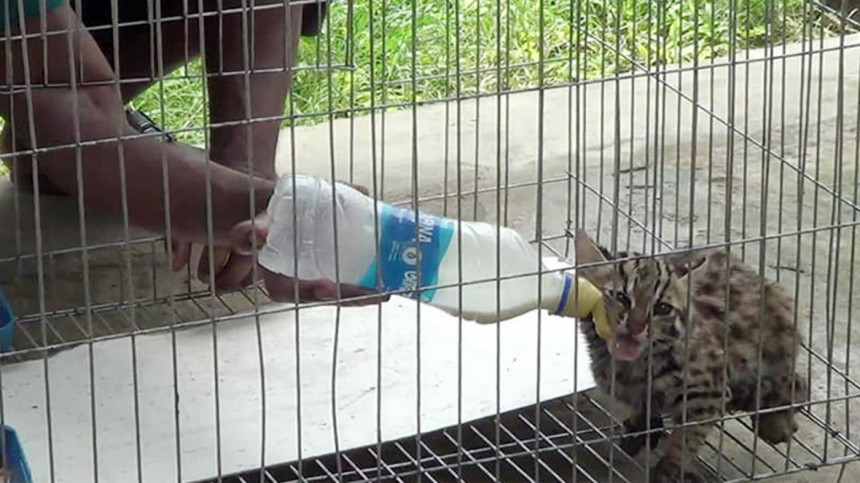 Dhaka, 11 November, 2021: Netrakona's Durgapur upazila is home to a forest area that stretches across both sides of the border with India. Also known as Susang Durgapur, it plays host to a diversity of wild animals.
As Susang is some five kilometres away from the Indian Border, the smaller of the forest animals and reptiles make frequent forays into different areas of Durgapur, such as Ranikhong, Chandigarh, Bagichapara, Char Muktarpara, Chak Lengura, Gopalpur, and Teribazar.
Once upon a time, Susang used to be a sanctuary for wild animals. But as deforestation set in and its forest area started to disappear, it has started to lose all sense of serenity it once provided to its inhabitants, said local journalist Rifat Ahmed Rasel.
Another reason behind their displacement and loss of habitat is flash floods, during which many animals have to flee from their shelters on the Indian side, getting washed away through Durgapur's Someswari river.
Tragically, in many cases, locals capture the animals and either torture them — sometimes to death — or sell them, Rasel said.
Faced with their predicament, Rasel and a bunch of his cohorts started a forum called "Save the Animals of Susang" in August last year.
So far, they've rescued some 25 animals, including six pythons, four endangered slow loris monkeys (locally known Lojjaboti Banor), several wild cats and a fox, said sources.
Talking to this correspondent, Rasel, also president of the forum, said it all began with a view to protecting the wild animals that come over to Bangladesh crossing the adjacent Border at Meghalaya's Baghmara area.
"During the early stages of our operation, we faced tremendous opposition from catchers when we went to rescue the animals. But the scenario has changed somewhat now. People are more aware of our efforts and the importance of it. These days, locals themselves inform us whenever they come across an animal in distress," said Masum Billah Ovi, secretary of the forum.
Recalling a memory from August this year, Ovi, a school teacher by profession, said they rescued an injured Gangchil from Someswari river that got beat-up by locals. "We tended to it for three days, but it still succumbed to its wounds," he said despondently.
Afrin Jahan Beauty, a councillor of Durgapur Municipality and member of the forum, said she is impressed by the forum's work and finds it a necessity for a balanced ecosystem. She said they have been campaigning against the practice of catching and beating up these wild animals.
"We have good contacts with the local administration, police, forest and livestock officials. As a result, they respond to our calls whenever it's needed," she said.
The rescuers publicise their activities through a Facebook page. Concurrently, they distribute leaflets and put up banners to make people aware of the animals' plight.
Forum members said they do all this from their own coffers.
Though a stressful job, their efforts have started to make an impression on everyone. Md Saidul Islam, forest officer of Durgapur Range, said he appreciates the forum's work and has supported them in rescue and release operations.
Contacted, Rajib Ul Ahashan, upazila nirbahi officer of Durgapur, said when the wild animals come out of the Indian side of the forest and go into neighbouring localities, people catch or torture them, without knowing the necessity of these animals from an ecological standpoint.
"It's great that we now have forum members to come rescue such animals who find themselves in a tight spot," the UNO said.
Posted by
admin
on Nov 11 2021. Filed under
Biodiversity
,
News at Now
,
Wildlife
. You can follow any responses to this entry through the
RSS 2.0
. You can leave a response or trackback to this entry