Climate justice for all demanded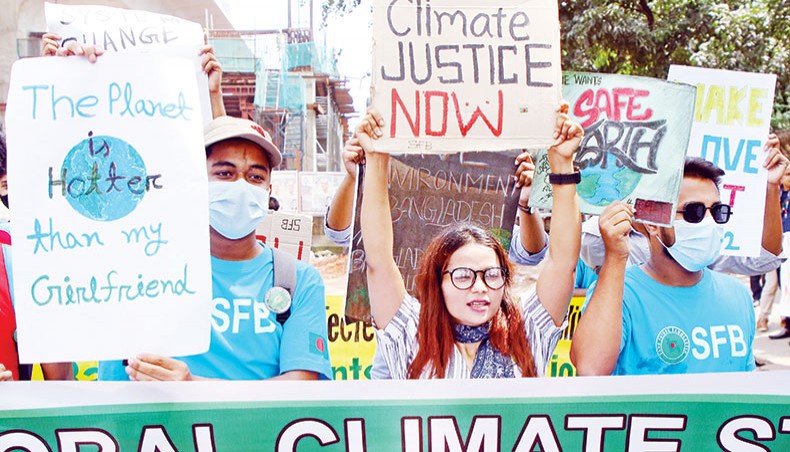 Dhaka, 7 October, 2021: Different rights organisations on Friday demanded climate justice for all, especially for the most vulnerable people, including the poorest, youngest among the people living in the coastal areas as well as farmers and indigenous people and women in the areas.
As the organisations held a countrywide strike, at a rally in Dhaka they said that they called the strike as they had no choice.
'We are fighting for our own future as well as for the future of the next generations,' said a press release issued by ActionAid Bangladesh.
ActionAid Bangladesh, in cooperation with young people, organised the Global Climate Strike for the third time in front of the National Press Club in the capital demanding climate justice for all.
More than a hundred representatives of young people including 15 transgender people joined the programme.
On the same day, young people from nine local rights programme and two youth platforms — YouthNet for Climate Justice and Bindu — organised the strike in 19 districts of Bangladesh.
In the capital, programme participants said that even half a degree rise of temperature will significantly worsen the risks of droughts, floods, extreme heat, higher sea level, causing destruction and poverty for hundreds of millions of people, particularly for the people from the global south.
These effects would impact everyone — both rich and poor.
They would deal a devastating blow to the most vulnerable people, especially the poorest, youngest as well as women and children in the coastal areas while farmers, indigenous people would be the worst hit, they said.
Climate change is also affecting the habitats, health, livelihoods and exacerbating food insecurity, they said and urged all to keep the global temperature rise below 1.5°C compared with pre-industrial levels and ensure climate justice and equity.
Farah Kabir, ActionAid Bangladesh Country Director said in a statement that young people around the globe want to take the upcoming Conference of the Parties as an opportunity to highlight the climate issues and bring them to the attention of the global leaderships.
Many countries of the world have not been able to vaccinate their population and the majority of those not vaccinated are young people because of age bars and other factors, she added.
Posted by
admin
on Oct 7 2021. Filed under
Bangladesh Exclusive
,
Blog
,
Climate change
,
News at Now
,
Uncategorized
. You can follow any responses to this entry through the
RSS 2.0
. You can leave a response or trackback to this entry