COVID-19 and domestic tourism development in Bangladesh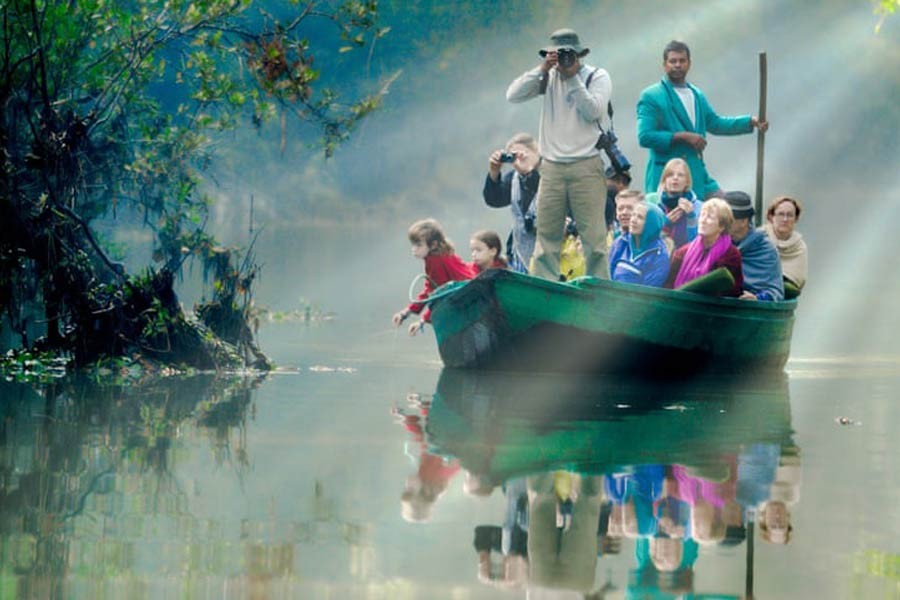 Dhaka, 27 April, 2021: Today, September 27, is World Tourism Day (WTD). About 159 member countries of the World Tourism Organisation (UNWTO) celebrate this day every year to foster awareness on the importance of tourism in terms of cultural, social, environmental and economic perspectives. Two African cities namely Djibouti and Addis Ababa have been selected as official hosts to celebrate WTD this year.
This year WTD is going to be observed in a situation that the world never experienced before. The COVID-19 pandemic makes tourism one of the most vulnerable sectors due to lockdown and the need for social distancing.
UN Secretary General said that tourism sector which is accountable for 7 per cent of global commerce is affected seriously due to the pandemic. World Travel and Tourism Council (WTTC) estimated that the pandemic has reduced 50 million tourism jobs and 75 million jobs are at risk globally. UNWTO's Report on COVID-19 highlighted that around 96 per cent of destinations worldwide have imposed travel restrictions in to response to the pandemic. About 90 destinations have implemented travel bans from other destinations that have been affected by Corona Virus. About 56 destinations have suspended their function completely or partially due to international flights shut off.
International organisations suggested that domestic tourism is one of the potential weapons to recover the losses of tourism sector due to COVID-19 pandemic. The size of the domestic tourism market is six times larger than international tourism. About 9 billion domestic trips were conducted around the globe in 2018, of which over 50 per cent is in Asia and the Pacific. The largest domestic tourism markets are China, India, USA, Brazil, France, Japan and Spain due to their large populations, geographical size, and tourism amenities and infrastructure. The OECD countries like USA, Germany, UK, and Japan are spending three times more on domestic tourism than inbound tourism. The tourism developed countries are prioritising domestic tourism as a first step to restart tourism activities and promote travel within the country through promotional activities for domestic tourists. The main objectives of these initiatives are enhancing domestic travels and rebuilding the confidence in the tourism sector.
Bangladesh is one of the most affected countries in the world due to COVID-19. According to UNWTO prediction, the country has faced a loss of about TK. 40 billion (USD 470 million) this year. The Tour Operators Association of Bangladesh (TOAB) has estimated that tourism sector may lose up to Tk. 60 billion in 2020 due to the pandemic. Again, the Pacific Asia Travel Association (PATA) predicted that COVID-19 has encountered a loss of approximately TK. 97 billion Bangladesh's tourism sector.
Bangladesh has a host of natural treasures such as beaches, lakes, rivers, hills, forests, wildlife, tribal life, archaeological remains, historical monuments, religious and cultural heritages, handicrafts that offer great value for tourist attractions. Tourism at Sundarbans, hill forests (Sylhet, Chattagram, CHTs and Cox's Bazar), wildlife sanctuaries, national parks, game reserves, safari parks, eco-parks, water bodies (haors, baors, lakes and rivers), islands (e.g. Saint Martin's, Kutubdia, Sonadia, Nijum Deep etc.) are potential tourist attractions in Bangladesh. These facts and features have developed Bangladesh as a suitable tourist destination for the local people. About 10 million domestic tourists visit these places every year.
Bangladesh is one of the densely populated countries of the world having about 170 million of people in 147 thousand square kilometers of land. The country can develop domestic tourism based on a large number of population and potential tourism attractions. Domestic tourism can improve the livelihood of local communities as well as tourism service providers who are directly affected during the pandemic. The government and other stakeholders as well can initiate and implement various strategies to promote domestic tourism in Bangladesh which may help to ensure the recovery of COVID pandemic loss.
Domestic tourism can improve the livelihood of tourism stakeholders who are directly affected due to the pandemic. The government and private stakeholders can develop and implement several initiatives to promote domestic tourism in Bangladesh.
MONETARY INCENTIVES: The government can arrange monetary incentives for local visitors to promote domestic tourism establishments such as, special holiday bonus to stay in local accommodations, reduction of VAT on domestic flights and other transportations. Moreover, the government can allocate special funds for the domestic tourism industry to make up the leakage for pandemic situation. The Malaysian government has allocated USD 113 million of travel discount vouchers to encourage domestic tourism. The government of Thailand announced a subsidy for 5 million nights of hotel accommodation at 40 per cent of normal room rates.
PROMOTIONAL ACTIVITIES: Bangladesh can launch new domestic tourism campaigns through digital platforms, social media, television and radio advertisements. Various initiatives such as arranging promotional contests, creating new blog/platform for sharing tourism experiences using online tools can also help domestic tourism businesses. Using both digital and print media, Bangladesh Tourism Board (BTB) can highlight the less-known attractions in rural and urban areas.
DOMESTIC TOURISM PRODUCT DEVELOPMENT: Bangladesh Tourism Board (BTB) can also develop tourism products along with other government and private stakeholders to boost the domestic tourism. These tourism products include natural, riverine and cultural areas, adventure in lucrative landscapes, ecotourism, culinary tourism, rural tourism, and urban tourism.
PARTNERSHIP OF STAKEHOLDERS: The partnership of public and private stakeholders is essential to boost up the domestic tourism with joint initiatives. Bangladesh Tourism Board (BTB) can take initiatives as the key government stakeholder of tourism to develop partnership among other public and private stakeholders of the country. Among the government stakeholders, Ministry of Finance, Ministry of Culture, Ministry of Environment, Forest and Climate Change, Ministry of Chittagong Hill Tracts Affairs, Bangladesh Parjatan Corporation, Tourist Police Bangladesh, Municipalities' and District Commission can contribute to domestic tourism development in Bangladesh. The private stakeholders such as tour operators, travel agencies, tourism service providers, educators can be included in the domestic tourism development.
Finally, the government should emphasise public-private partnership to promote domestic tourism in the country for recovering the losses due to COVID-19. This partnership can enhance marketing and promotion campaigns, market access for tourism businesses, and develop strategic alliance among the stakeholders.
.
Posted by
admin
on Apr 27 2021. Filed under
Eco-tourism
,
News at Now
. You can follow any responses to this entry through the
RSS 2.0
. You can leave a response or trackback to this entry