Dengue surge rings alarm bells in Bangladesh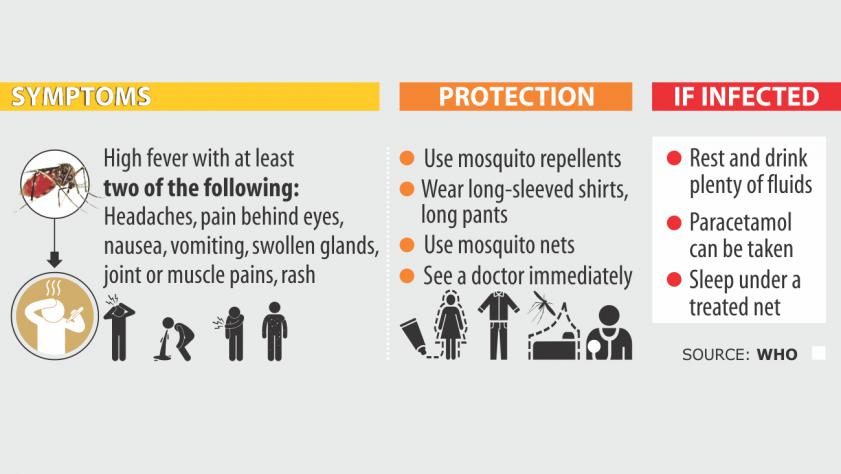 Dhaka city is seeing a rapid rise in the incidence of dengue, a mosquito-borne viral infection that can be fatal at times. Last month, 727 dengue cases were reported in the capital and elsewhere. The number was 558 in the first 20 days of this month, according to the Institute of Epidemiology, Disease Control and Research (IEDCR). Of around 1,400 dengue cases this year, most were reported in Dhaka city, IEDCR Director Prof Mahmudur Rahman told The Daily Star yesterday.
In the capital, four of the patients, including 35-year-old Aman Moudud, son of BNP leader Moudud Ahmed, died in the last one and a half months. At least 375 and 1,749 dengue cases were reported last year and in 2013, but there was no report of death from the flu-like illness."We saw a sudden rise in dengue cases this year. It is mainly because of intermittent rain, high temperature and moisture," said Mahmudur. Contacted, Dr Saif Ullah Munshi, associate professor of virology department at Bangabandhu Sheikh Mujib Medical University (BSMMU), said the first case of dengue was reported in the country in 2000, and at least 98 people died from the disease in 2000-2003.
But since then, there were only a few reports of death from dengue. It means the four deaths from the disease this year demand attention, he said. Mosquito species like Aedes aegypti albopictus transmit dengue virus to humans through bites. There are four serotypes of the virus — DEN-1, DEN-2, DEN-3 and DEN-4. If one serotype causes dengue to a person, he becomes immune to the same serotype. But if he is infected by any other serotype the second time, the infection may be fatal. In 2000-2003, DEN-2 serotype was dominant. At that time, fatality rate was very high as doctors were not trained to treat dengue patients properly, said Saif Ullah.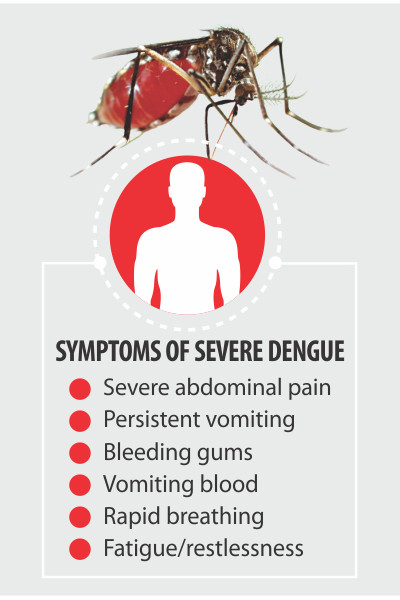 In 2000-2003, DEN-2 serotype was dominant. At that time, fatality rate was very high as doctors were not trained to treat dengue patients properly, said Saif Ullah. But things changed as more doctors and nurses were trained to deal with such patients and immunity to DEN-2 serotype developed among the population, he said. As most patients were infected by DEN-2 serotype in 2000-2003, there were only a few dengue fatalities after 2003, he said. He, however, said they found some cases of infection by DEN-1 serotype this year.
"If anyone, who survived infection by DEN-2 earlier, gets infected by another serotype like DEN-1 this time, the infection is more likely to be fatal," he said, adding this might be the reason why four people died from dengue this year. The World Health Organisation says dengue outbreaks can occur any time if mosquitoes are active. High temperature and humidity favour the insect's survival, increasing the likelihood of transmission. WHO estimates show that three billion people live in around 100 dengue endemic countries, and 50-100 million cases of dengue are reported each year worldwide.
According to Indian media reports, 2,400 cases of dengue were reported in Delhi this year and 11 of the patients died. Both Mahmudur and Saif Ullah said Bangladesh has enough trained doctors who can treat dengue patients. They said it was more important that city corporations as well as people take preventive measures to tackle dengue. Cleanliness in households and surroundings, and disposal of empty bottles, containers and waste are some of the best preventive measures, said Mahmudur.
Adult mosquitoes hide in closets, under beds and behind curtains to protect themselves from wind and rain. In this way, they increase their life expectancy and the probability to pick and transmit virus, he said. In a city like Dhaka, city corporations have much to do regarding the prevention of dengue, said Mahmudur. Talking to The Daily Star, Imdadul Haque, health officer of Dhaka North City Corporation, said they conduct drives once every four days to destroy breeding grounds for mosquitoes. Health Minister Mohammed Nasim had a meeting with officials of the city corporation and the health department yesterday for strengthening such drives and running mass campaigns after the Eid-ul-Azha to create awareness about dengue, he added.
Source
Porimol Palma. 21 Sept, 2015. The daily Star. http://www.thedailystar.net/frontpage/dengue-surge-rings-alarm-bells-146362
Posted by
admin
on Sep 21 2015. Filed under
News at Now
. You can follow any responses to this entry through the
RSS 2.0
. You can leave a response or trackback to this entry