Dhaka Aminbazar landfill threatening the environment and human health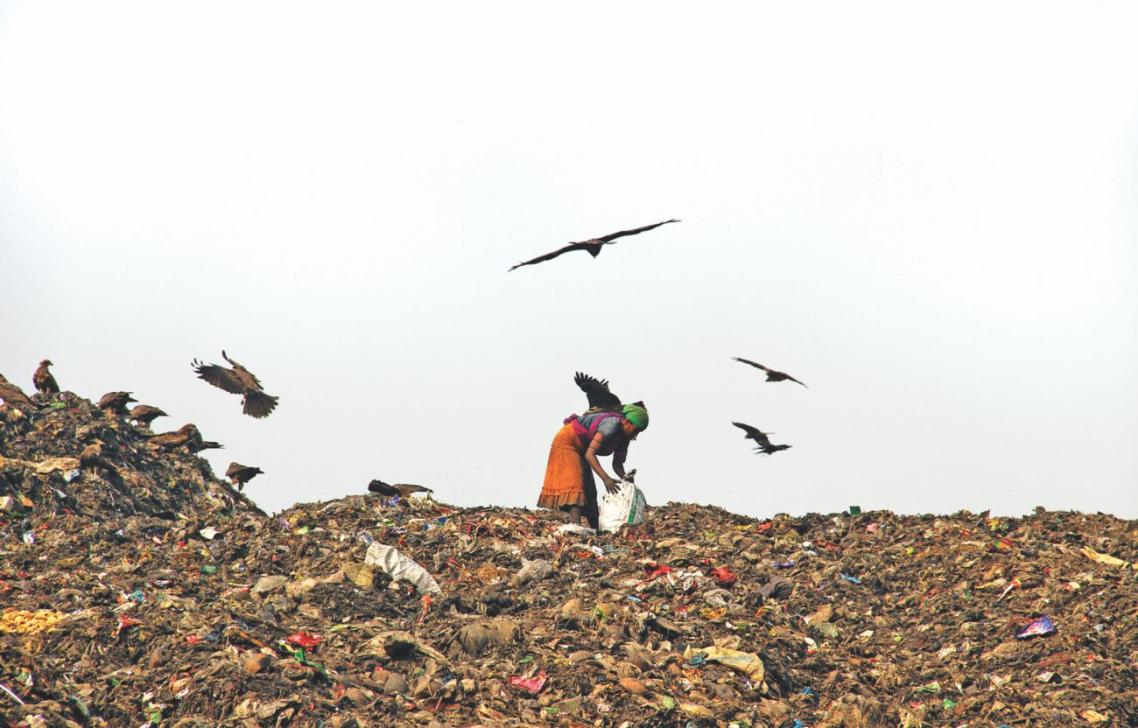 Dhaka, 12 September, 2021: Aminbazar landfill beside the Dhaka-Aricha highway, about 30 kilometers away from the capital Dhaka, was made into a waste dumping site in 2007. A decade later, Aminbazar landfill has become what the villagers of Konda and Baliarpur in Savar feared the most – a threat to their lives and livelihoods.
The pile of garbage in Amin Bazar landfill is 9 meter long, which is equivalent to a two stored building.
The Amin Bazar landfill in Savar is under the authority of Dhaka North City Corporation (DNCC). The environmental clearance of the landfill was expired in 2017. The parliamentary committee of Forest, Environment and Climate Change, Bangladesh, has recommended imposing a maximum fine against Dhaka North City Corporation for environmental pollution through garbage dumping stations. They complained that the DNCC is dumping waste here without environmental clearance.
Since 2007, the Dhaka City Corporation has used this wetland at Aminbazar in Savar as a City waste dumping station. At present, about 3200 tons of waste is dumped here, collected from the 54 wards of North City every day.
Although garbage is supposed dumping across 50 acres of land, in reality, it is spreading in more places. Simultaneously, Dirt from the landfill is overflowing in surrounding water bodies, including Turag River, during the rainy season.
The victims of the landfill are around 50,000-60,000 people from two villages named Konda and Baliarpur. Baliarpur area next to Aminbazar landfill. The life of the people living in this area is unbearable due to the pungent stench of waste. They are also suffering financially.
Before becoming a dumping station, Hamida, a resident of Bilaspur, and her husband regularly fish here. Hamida said the fish in this water is unsuitable for eating since the garbage station is set up. The fish has a pungent stench.
Another resident, Hasra, said, "I sow seeds but no crops grows because of the Dirt in the water. All the Dirt in Aminbazar floats in the water and enters the field."
Hossain Mia used to be the boatman of Baliarpur. Once upon a time, tourists love to come here to ride by boat. But now, no one comes here because of the stench. As a result, the father of two children has quit his job as a boatman and currently works as a daily laborer.
Khalid Mia, a resident, said, "When we were little, we didn't get so sick. Now children suffer from diarrhoea-dysentery every week."
Posted by
admin
on Sep 12 2021. Filed under
Bangladesh Exclusive
,
Blog
,
Environmental Justice & Governance
,
News at Now
,
No Plastic
,
No Toxic
,
Uncategorized
. You can follow any responses to this entry through the
RSS 2.0
. You can leave a response or trackback to this entry