Garbage dumping in the pool next to the hospital at Netrokona, Bangladesh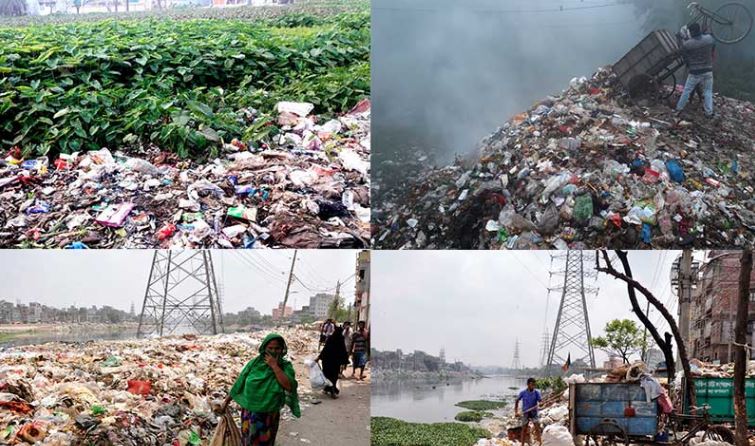 Dhaka, 3 August, 2021: Garbage is dumping into the puddle next to the gate of the Central Hospital, Netrokona. Most of the puddle is already filled up by waste, and wild Taros (Colocasia esculenta) grow. The puddle is situated beside the main gate of Netrokona Modern Sadar Hospital, Joynagar, in the Netrokona Municipal area, and the Upazila Parishad is owner this.
There have many complaints against the local government authority that the surrounding residential areas, including the hospital, are disrupting, as it is not cleaned up and re-habitation. Now, a new 12-storied hospital building is under construction next besides this puddle. The pond has now become a mosquito breeding ground.
It learned, in 2021, the authority also cleaned the puddle, but it again filled up with garbage. Along with the garbage, the medical waste of seven or eight clinics in the vicinity is dumping here also. The puddle is currently abandoned.
As there is no alternative way, Patients have to carry to the hospital by the sides of the dirty puddle. The hospital is located next to this puddle. Many governments and non-government infrastructures such as Upazila Parishad HQ Office, Civil Surgeon's office, and government official quarters are also situated beside this puddle.
Md. Salim Mia, Civil Surgeon of Netrokona, said, "The pond has now converted into a garbage pile. It is not possible to walk by this because of the stench. The stench in the air is causing problems for the patients."
Advocate Kamlesh Chowdhury, a local resident, said, "The daytime somehow passes, but it is worrying about going home at night because of snakes. The Upazila Parishad can clean the weeds of the puddle and stop dumping the wastes if it wants. "
Tanvir Jahan Chowdhury, President of Prokrity Bachao Anolom, Netrokona (Save the Nature Movement, Netrokona), said, "The arrangement for cleaning this Sadar Upazila Parishad's puddle can make locally through volunteer if desire, and it is essential to do it immediately."
About the puddle, Tasir Uddin Khan, Chairman of Netrokona Sadar Upazila Parishad, said, "A proposal regarding for constructing a commercial building by filling some part of the puddle, and digging the rest of the part as pond are sent to the Ministry of Local Government.
But the ministry opposed to constructing the proposed commercial buildings by filling up it." "The puddle will clean and re-habilitate soon and will make it fish farm," he hopped.
Posted by
admin
on Aug 3 2021. Filed under
News at Now
,
No Plastic
,
No Toxic
. You can follow any responses to this entry through the
RSS 2.0
. You can leave a response or trackback to this entry