Govt moves to rein in illegal battery recycling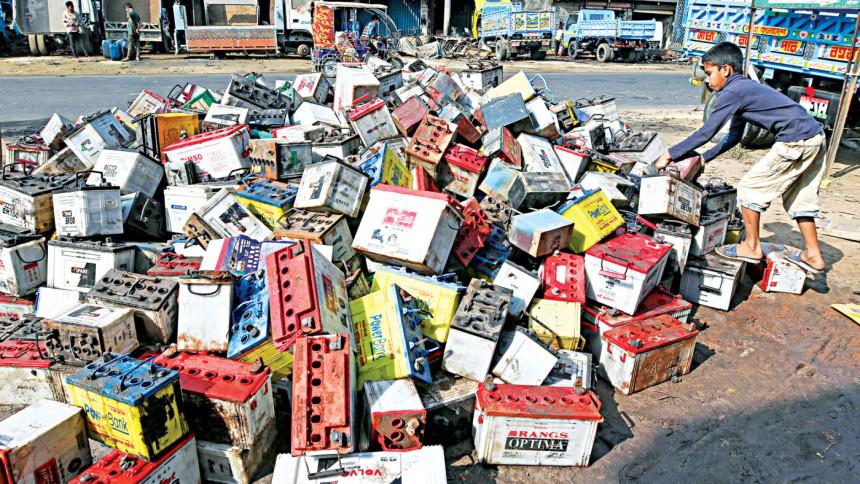 Dhaka, 11 July, 2021: The government has barred the dismantling and burning of batteries for recycling without prior approval from the Department of Environment (DoE).
The restriction comes at a time when battery recycling is running rampant in an unorganised manner.
Industry operators say nearly 80 per cent of batteries are recycled illegally, posing a threat to the environment.
Currently, there are just five firms that are authorised to recycle batteries. But there are more than 1,000 firms engaged in the practice in an unauthorised manner, they said.
Bangladesh's manufacturers require 10,000 tonnes of lead a month to make batteries to meet the burgeoning demand from electric three-wheelers, popularly known as easy bikes.
The recycling of locally available batteries meets up to 70 per cent of the requirement. The rest is imported.
The notification issued by the Ministry of Environment, Forest and Climate Change on February 25 said firms engaged in dismantling and burning for recycling batteries must ensure that workers use protective gears to protect their health.
"This was required," said Munawar Misbah Moin, president of the Accumulator Battery Manufacturers and Exporters Association of Bangladesh.
"We are also trying to see how we can play our roles and collect batteries from all over the country to ensure eco-friendly recycling of batteries," he said.
In its notification, the ministry asked firms involved in lead-acid battery manufacturing and recycling for hiring dealers and agents across the country to collect old or damaged batteries to recycle.
It also directed firms to get no-objection certificates from the DoE to import batteries.
The regulatory measures come at a time when the rapid expansion of electric three-wheelers has opened up substantial business opportunities for battery manufacturers and traders in Bangladesh.
The annual sale of batteries amounts to about Tk 8,000 crore, and electric three-wheelers account for more than 60 per cent of it, according to industry insiders.
They estimate that around 10 lakh electric three-wheelers are currently in operation, requiring nearly 25 lakh to 30 lakh batteries annually.
These vehicles have created jobs for 15 lakh people and carry nearly one crore of people every day, Moin said earlier.
Sayed Samiul Haq, managing director of Japan Solartech (Bangladesh), a manufacturer of Japanese brand Yuasa battery, said the government's decision would help protect the environment.
The government should strictly monitor whether recyclers follow the rules or not, he said, adding that the initiative of the government would turn effective if a proper implementation can be ensured.
Posted by
admin
on Jul 11 2021. Filed under
Bangladesh Exclusive
,
News at Now
,
No Lead Paint
,
No Toxic
. You can follow any responses to this entry through the
RSS 2.0
. You can leave a response or trackback to this entry