Mishandling of Hazardous Wastes:Wal-Mart Is Fined $82 Million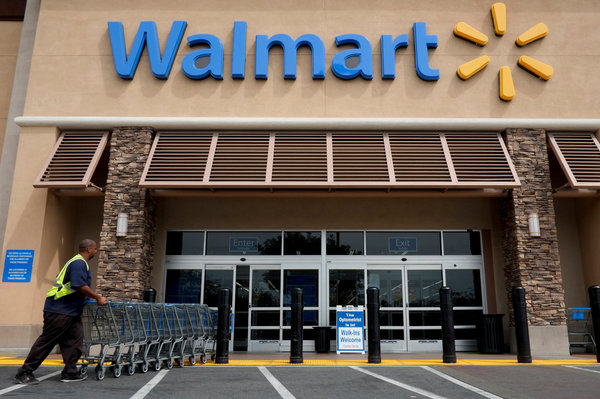 By STEPHANIE CLIFFORD
Published: May 28, 2013
Wal-Mart Stores pleaded guilty Tuesday to improperly dumping hazardous waste in California and Missouri, agreeing to pay almost $82 million in fines.
The retailer was charged with six counts of violating the Clean Water Act in California and one count of violating a federal law related to pesticide disposal in Missouri.
The guilty plea on all counts brings to an end years of investigations and legal wrangling that pitted the nation's largest retailer against government authorities over charges that employees were throwing hazardous products in the trash and into sewage systems.
While the legal issues have not made a significant dent in the retail giant's finances, they have prompted Wal-Mart to revamp its procedures. The company has added training on proper waste disposal for its store employees and created a compliance office consisting of former officials with the Environmental Protection Agency, among other people.
The problems stem from incidents beginning in 2003. At the time, Wal-Mart workers tossed products, like bleach and fertilizer, into the trash or the local sewer system, rather than dealing with them as hazardous waste, according to authorities.
"Retailers like Wal-Mart that generate hazardous waste have a duty to legally and safely dispose of that hazardous waste, and dumping it down the sink was neither legal nor safe," André Birotte Jr., the United States attorney for the Central District of California, said. In Missouri, the company was routing damaged items that its customers had returned, including pesticides, to a facility where the items were processed for resale without proper permits. "Regulated pesticides were mixed together and offered for sale to customers without the required registration, ingredients, or use information," the Justice Department said in a statement.
Wal-Mart "put the public and the environment at risk and gained an unfair economic advantage over other companies," Ignacia S. Moreno, assistant attorney general for the Justice Department's Environment and Natural Resources Division, said in a statement.
Wal-Mart noted in a statement that it had not been accused of any specific environmental damage as a result of the improper handling.
After the allegations of improper dumping came to light, the company in 2006 put into place a program telling employees how to handle the waste and created a compliance office. For instance, an employee must now put returned or damaged items that are classified as hazardous into a special chemical bag.
The employee must then label the bag's contents, put the bag in a bucket liner, seal the liner, and place the liner into a color-coded bucket — red for nail polish, blue for aerosols. A hazardous-waste hauler takes the bucket from the store to a treatment center, along with documentation.
"Once we learned of these allegations, we looked into it, investigated it, and decided to put this program in place," said Wal-Mart spokeswoman Brooke Buchanan, "so they know if something is determined as hazardous waste."
The guilty plea comes after settlements that Wal-Mart reached with California and Missouri in 2010 and 2012 on the same charges. Tuesday's fines include $60 million for violations of the Clean Water Act in California; $14 million for a violation of the Federal Insecticide, Fungicide and Rodenticide Act in Missouri; and a $7.6 million civil penalty to the E.P.A.
In total, Wal-Mart will have paid more than $110 million to resolve all these related cases. Wal-Mart, which had $128 billion in revenues last year, said the payments should not have a material effect on its business.
Posted by
admin
on Jun 4 2013. Filed under
Zero waste
. You can follow any responses to this entry through the
RSS 2.0
. You can leave a response or trackback to this entry