New maps pinpoint neighborhood health risks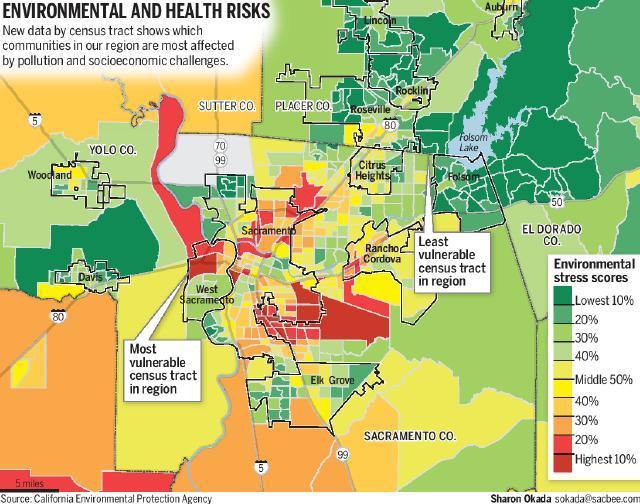 California environmental officials released new data last week ranking neighborhoods based on their vulnerability to pollution, accounting for both demographic factors and environmental risks.
The information, produced on what's called a Cal EnviroScreen map, was broken down by census tract, giving residents a more precise view of their neighborhood's vulnerability than ZIP code information that was previously used. The San Joaquin Valley contained some of the state's most vulnerable communities, due in part to high levels of particulate matter and factors associated with poverty.
The Office of Environmental Health Hazard Assessment, which operates under the state Environmental Protection Agency, provided the data as part of its environmental justice mission. The draft findings are not intended as a pure measurement of environmental hazards, but as an indicator of neighborhoods where pollution and socioeconomic challenges collide in the state. The state uses the information to determine in which areas it should direct greenhouse gas reduction funding, prioritize enforcement of hazardous waste disposal and award community planning grants.
In the Sacramento region, the most vulnerable neighborhood is located in an industrial section of West Sacramento. It sits just east of the Yolo Causeway, housing port operations, shipping companies and truck facilities. The census tract ranked above the state's 90th percentile in groundwater threats, solid waste sites and "impaired" water bodies. Residents are among the state's poorest, while unemployment is high and the education level is low. The tract has a high share of children and elderly, who are considered more susceptible to the effects of pollution.
The least vulnerable neighborhood locally is in Granite Bay and southeast Roseville, just north of the Sacramento County line. The area measures high in water quality, has no groundwater threats and lacks solid waste or hazardous waste facilities. It ranks low in unemployment and poverty, high in education and healthy birth weight.
The agency report suggests poverty is a significant factor in determining vulnerability because low-income people lack sufficient health care, have poor nutrition and suffer from substandard living conditions.
Collected:
http://www.sacbee.com/
Posted by
admin
on Apr 28 2014. Filed under
News at Now
. You can follow any responses to this entry through the
RSS 2.0
. You can leave a response or trackback to this entry