'NEXT YEAR OR THE YEAR AFTER, THE ARCTIC WILL BE FREE OF ICE'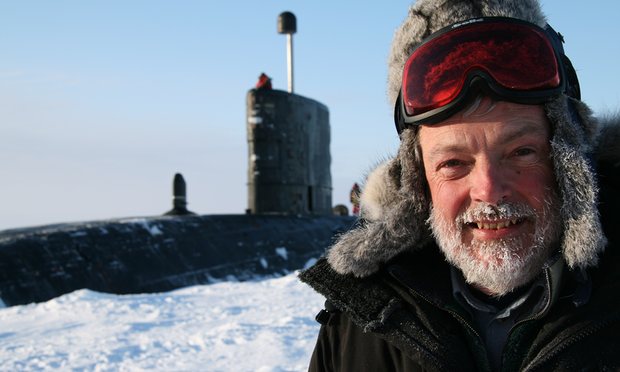 Peter Wadhams has spent his career in the Arctic, making more than 50 trips there, some in submarines under the polar ice. He is credited with being one of the first scientists to show that the thick icecap that once covered the Arctic ocean was beginning to thin and shrink. He was director of the Scott Polar Institute in Cambridge from 1987 to 1992 and professor of ocean physics at Cambridge since 2001. His book, A Farewell to Ice, tells the story of his unravelling of this alarming trend and describes what the consequences for our planet will be if Arctic ice continues to disappear at its current rate.
You have said on several occasions that summer Arctic sea ice would disappear by the middle of this decade. It hasn't. Are you being alarmist?
No. There is a clear trend down to zero for summer cover. However, each year chance events can give a boost to ice cover or take some away. The overall trend is a very strong downward one, however. Most people expect this year will see a record low in the Arctic's summer sea-ice cover. Next year or the year after that, I think it will be free of ice in summer and by that I mean the central Arctic will be ice-free. You will be able to cross over the north pole by ship. There will still be about a million square kilometres of ice in the Arctic in summer but it will be packed into various nooks and crannies along the Northwest Passage and along bits of the Canadian coastline. Ice-free means the central basin of the Arctic will be ice-free and I think that that is going to happen in summer 2017 or 2018.
Why should we be concerned about an Arctic that is free of ice in summer?
People tend to think of an ice-free Arctic in summer in terms of it merely being a symbol of global change. Things happen, they say. In fact, the impact will be profound and will effect the whole planet and its population. One key effect will be albedo feedback. Sea ice reflects about 50% of the solar radiation it receives back into space. By contrast, water reflects less than 10%. So if you replace ice with water, which is darker, much more solar heat will be absorbed by the ocean and the planet will heat up even more rapidly than it is doing at present. Sea ice also acts as an air-conditioning system. Winds coming over the sea to land masses such as Siberia and Greenland will no longer be cooled as they pass over ice and these places will be heated even further. These effects could add 50% to the impact of global warming that is produced by rising carbon emissions.
What will be the effects of this accelerating increase in temperatures?
The air over Greenland will get warmer and more and more of its ice will melt. It is already losing about 300 cubic kilometres of ice a year. Antarctica is adding to the melt as well. Sea-level rises will accelerate as a result. The most recent prediction of the Intergovernmental Panel on Climate Change (IPCC) is that seas will rise by 60 to 90 centimetres this century. I think a rise of one to two metres is far more likely. Indeed, it is probably the best we can hope for. That may not sound a lot but it is really very serious. It will increase enormously the frequency of storm surges all over the world. We may be able to raise the Thames barrier in Britain but in Bangladesh, it just means more and more people will be drowned.
Read More: https://www.theguardian.com/environment/2016/aug/21/arctic-will-be-ice-free-in-summer-next-year
Posted by
admin
on Aug 22 2016. Filed under
Climate change
. You can follow any responses to this entry through the
RSS 2.0
. You can leave a response or trackback to this entry