Obama Announces Plan to Create World's Largest Ocean Reserve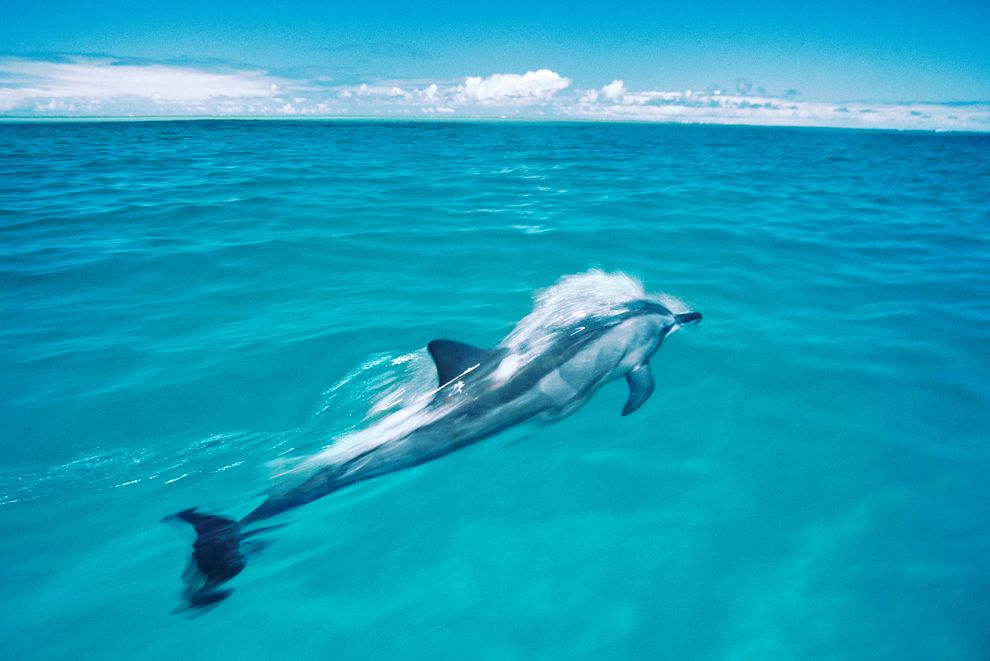 Obama's proposal would expand the Pacific Remote Islands Marine National Monument in the central Pacific from around 87,000 square miles to nearly 782,000 square miles (225,000 to 2 million square kilometers).
It would make the monument the largest protected area on the planet—either on land or in the sea—and two times larger than the currently largest protected area, which is in Greenland. (See: "U.S. Invites Public to Submit Nominations for Marine Sanctuaries.") The sanctuary would cover the full 200-mile (322-kilometer) U.S. exclusive economic zone around seven uninhabited islands and atolls.
"I'm using my authority as president to protect some of our nation's most pristine marine monuments, just like we do on land," Obama said in a taped message to the State Department's Our Ocean conference in Washington on Tuesday.
"We know how fragile our blue planet can be," the president said, pointing to threats like ocean acidification, overfishing, and pollution. "If we ignore these problems, we won't just be squandering one of humanity's greatest treasures, we'll be cutting off one of our major sources of food and economic growth."
The monument expansion is slated to go into effect later this year but may face political opposition from Republican lawmakers.
Obama also said he is directing the federal government to develop a national strategy to combat black market fishing and seafood fraud.
Because seafood makes its way through a long, complex supply chain that often lacks transparency, products often get mislabeled, said Beth Lowell, campaign director for the conservation group Oceana.
A recent study published in the journal Marine Policy in September found that 20 to 32 percent of wild-caught seafood imported into the U.S. comes from illegal, unregulated, and unreported "pirate" fishing.
Details of the new White House initiative are expected to emerge in the coming months.
Lowell said that she hopes the effort will yield guidelines that require clear tracking and honest reporting of seafood from boat to plate.
Big Impact?
Environmentalists cheered Tuesday's announcements.
"This new national monument will be the greatest example of protection of an entire, interconnected ecosystem," said Enric Sala, a National Geographic Explorer-in-Residence, reacting to Obama's plan for the expanded marine reserve.
Less than 2 percent of the ocean is currently protected, and only half of that is protected in areas that ban all fishing. (See: "Pacific Nation Bans Fishing in One of World's Largest Marine Parks.")
The Pacific Remote Islands are home to millions of nesting seabirds and their chicks, some of which become prey for the sharks living in the shallow waters around them.
"This ecosystem is like a giant energy conveyor belt," says Sala, who ledexpeditions to the region that were influential in getting the area protected.
President George W. Bush had first declared the monument in February 2009.
In a 2005 expedition to the Pacific Remote Islands' Kingman Reef, Sala's team had discovered that in an undisturbed coral reef, top predators such as sharks together outweigh their collective prey, which is unusual in the animal kingdom. The phenomenon was named the "inverted biomass pyramid," and Bush cited it in his 2009 Presidential Proclamation justifying the monument's creation. (Kingman Reef was featured in the July 2008 issue of National Geographic magazine.)
"The first time we dived at Kingman, we climbed back on our boats immediately," says Sala. "We were not used to diving with so many sharks around. But soon we discovered that they were just curious; we were probably the first humans they had seen."
Obama's proposed expansion of the monument would cover an additional 241 deep undersea mountains that harbor unique and fragile ecosystems, such as deep corals that are thousands of years old. Twenty-two species of marine mammals and five species of sea turtles use the waters of the monument as migratory and feeding grounds.
Role of Marine Sanctuaries
The United States maintains nearly 1,800 marine protected areas (seepictures), which contain some of the country's most spectacular reefs, underwater archaeological sites, and most valuable commercial fisheries and tourist diving sites.
These areas range in size from less than one square mile (2.6 square kilometers) to over 139,797 square miles (362,073 square kilometers) and spread from the Arctic to the South Pacific, from Maine to the Caribbean, and as far west as the Philippine Sea.
The crown jewels of this far-flung system are 14 national marine sanctuaries and seven national marine monuments. These areas are akin to national parks or monuments in the water, with restrictions on activities like fishing and resource development to protect wildlife.
Well-known examples include the Monterey Bay National Marine Sanctuary in California, and the Hawaiian Islands Humpback Whale National Marine Sanctuary, and the Northwestern Hawaiian Islands National Marine Monument.
John Podesta, Obama's counselor on climate change and environmental affairs, said last week that marine sanctuaries can serve as engines of economic growth, attracting tourism and helping fish stocks recover, leading to better harvests for fishers.
Collected:
nationalgeographic.com
Posted by
admin
on Jun 18 2014. Filed under
Biodiversity
,
News at Now
. You can follow any responses to this entry through the
RSS 2.0
. You can leave a response or trackback to this entry