Subsidies needed for organic fertiliser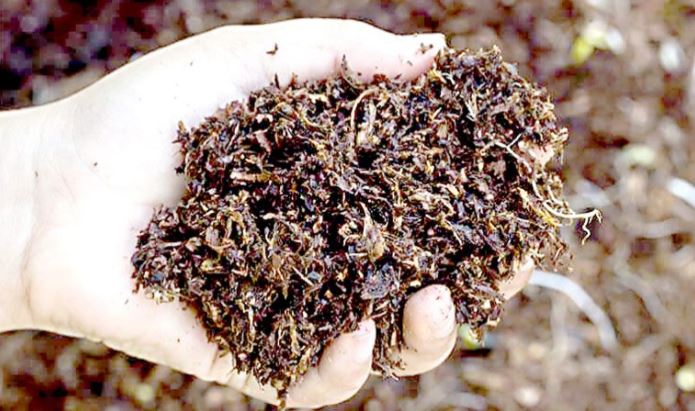 Dhaka, 25 May, 2021: AGRICULTURE is the main driving force of Bangladesh's economy. The contribution of the agricultural sector to the country's gross domestic product is about 14 per cent, but the total volume of agricultural production continues to grow. In order to achieve self-sufficiency and sustainability in the production of the entire agricultural product through creative and innovative development activities in agriculture, about 2.5–3.0 per cent is allocated in the national budget every year. As such, the amount of this allocation in the 2020–21 financial year is about Tk 14,500 crore. Although the amount has increased a little compared with that of the preceding year, it is not enough for the overall agricultural development.
In addition, according to the ministry of agriculture, the lion's share of the allocated budget is spent on subsidies. Of these, more than 75 per cent of the total subsidy is spent on chemical fertiliser management alone. As a result, farmers are able to purchase chemical fertilisers at low price. In the past few decades, the production/yield of all types of crops in the country has increased by 80–200 per cent. This has been made possible because of improved irrigation management, introduction of high yielding varieties, application of modern agricultural technology and, above all, the hard work of farmers.
Seventeen nutrients are required to carry out the normal life cycle of a crop, whereas, three fertilisers — nitrogen, phosphorus and potassium, commonly known as NPK — have been applied to the crop lands, like other countries in the world for the past six decades. The demand for chemical fertilisers has been fixed at around 50 lakh tonnes for land use in the 2020–2021 financial year. Among them, the amount of nitrogen supplying urea is 26 lakh tonnes and 24 lakh tonnes of other fertilisers. Of the required fertiliser in the country, six lakh tonnes of urea is produced in the country, the rest is imported by the government through the Bangladesh Chemical Industries Corporation. Bangladesh Agriculture Development Corporation imports 80 per cent of non-urea, ie 14.4 lakh tonnes, while the remaining 40 per cent is imported and marketed by various private companies. In addition, some micro-nutrient fertilisers, especially sulphur, zinc, molybdenum, etc, are available in the market, most of which are produced in the country. The government provides subsidies at all levels of production or import, supply, up to the retail level. At present, the retail prices of supplied urea, triple super phosphate, muriate of potash and di-amonium phosphate have been fixed at Tk 18, 22, 18 and 22 respectively. As a result, 98 per cent of the country's land is used for chemical fertilisers. Through various experiments an efficient distribution system of chemical fertilisers has been developed which is playing a crucial role in crop production management.
It has already been mentioned that emphasis has been laid on the use of three types of nutrient-based chemical fertilisers in the country, and research and extension on the use of three components in various crops and even crops in 30 agro-ecological zones of the country. It is recommended to increase its amount after certain intervals. The rate of continuous increase has been such that when the use of chemical fertilisers was introduced in the 1980s, about 6.8 kilograms of fertiliser was used per hectare, at present about 600 kilograms of chemical fertilisers are being used per hectare, which means that the use of these three chemical fertilisers has increased 75 times in the past 50 years. Farmers are sometimes using far more than the government-approved levels of chemical fertilisers after falling into the trap of local fertiliser vendors' sales strategies. Although this has increased food production unexpectedly, the fertility of the land has been reduced alarmingly due to this abuse. A Bangladesh Bureau of Statistics analysis of cropland fertility in Bangladesh shows that the amount of organic matter in the 30 agro-ecological zones has dropped dramatically.
Agricultural land is one of the largest carbon reservoirs on the planet and has the potential for increased carbon sequestration and provides a potential way to mitigate the current atmospheric concentration of carbon dioxide. While the post-independence agricultural system has not carbonised agricultural land in Bangladesh, moreover, carbon is at a negative level. As a result, soil organic matter has been reduced and soil health is endangered today. Soil health protection and its overall quality conservation and development are an international goal set by the Sustainable Development Goals 2030. There was a time when work was done to preserve the quality characteristics of the soil that only contribute to soil productivity, the quality standards required for environmental control and human health were considered very low, but today it is proven that soil performs many important tasks related to ecosystem services.
Soil produces safe and nutritious food and protects the environment from pollution. Human health depends on the continuity of soil-water-air interactions, which are strongly integrated by processes in the soil. Soil works as filtering and buffering and helps to protect the environment, including humans, against groundwater pollution and the destruction of food chains. Human activity affects various soil processes including physical (skin erosion, soil degradation, crusting, hardening, and hardening), chemical (nutrient loss and imbalance, acidification, salinisation) and biological (soil organic matter loss), decay. Soil degradation directly affects food security by reducing crop yields, their nutritional value and input utilisation efficiency. Mineral nutrients in the soil are absorbed by plants and are the main source of human mineral supply. So far, 48 nutrients have been identified to perform human physiological functions. The minerals that are absorbed from the soil are either directly absorbed by humans or fed to animals, which are then incorporated into human diet. There are many types of microorganisms in the human gut, these microorganisms are dependent on certain types of micronutrient, and if these microorganisms do not get proper nutrition, their activities are hampered. Long-term acute deficiency affects physiological activities and causes certain diseases. Scientists have been able to identify the direct relationship between soil health and human health over the past three decades. Experts from the United Nations Development Program have cited a number of factors, including soil health, especially the overuse of certain nutrients, and recommended the supply of nutrients to the soil from organic sources and emphasised agro-ecological farming. As a result, conservation of organic matter is one of the strategies of the present time to protect the health of the soil and application of organic fertiliser to the soil is one of the vital steps.
It is often argued that the required organic fertilisers cannot be found in Bangladesh or that it is not possible for farmers to accept them. To answer these questions, here are some examples of exploration of the sources of raw materials for making organic fertilisers and identifying their conversion into and effectiveness as organic fertilisers. According to the ministry of livestock, 140–150 million tonnes of animal manure is produced in the country every year. It is possible to get raw material of fertiliser from it. In addition, about 30–35 million tonnes of household waste, raw market waste, knitting industry waste, sugar mill waste, etc are available as organic fertiliser raw material. From all these elements 45–55 million tonnes of organic manure can be produced (on the basis of 10–12 per cent moisture). In addition, about 24 million cattle (cows, buffaloes, goats and sheep) are consumed in the country every year. From the leftovers of these cattle, it is possible to make different quality organic fertiliser. The cultivation of algae can make an important contribution, and be a potential source of raw materials of organic fertilisers. It is also possible to produce a wide variety of organic manure from the sea from unnecessary weeds.
The composition of all these raw materials is verified from articles published in various international journals. The nutrients (dry samples) in these raw materials are equivalent to nutrients in various commercially produced chemical fertilisers.
Sources and possibilities of organic fertilisers
IT IS imperative to reuse our agricultural lands through national initiatives, and for this an effective measure is required. If the initiative is implemented, the lost health of our agricultural land will be restored. It is an appropriate programme to ensure that the process is brought under the purview of the agricultural budget and applied to the soil. As an implementation strategy, first of all, it is necessary to determine the annual demand of organic fertiliser. For example, in Bangladesh, crops are grown on 8.5 million hectares of land, where about 300 varieties of crops are cultivated (although crop and variety diversity has declined with the modern transformation of agriculture). In the past six decades, the organic matter of all agro-ecological zones in the country has decreased in unimaginable amounts. However, there may not be much need to apply organic fertiliser in all the lands at the moment. The land of 30 agro-ecological zones is divided into high, medium high, medium low, low and very low. If organic manure is applied at the rate of 10 tonnes per hectare (10–12 per cent humidity) of land per year, a total of 60–65 million tonnes of organic fertiliser are required. According to the existing raw material resources in the country, it is possible to meet the demand of organic fertiliser in 60–70 per cent of the land.
At present, the demand for chemical fertilisers in the country is estimated at 5 million tonnes. At the national level, if it is decided that 25 per cent of the demand for nutrients would be applied from organic sources that would require about 10 million tonnes of organic fertilisers. A total of Tk 8,000 crore is subsidised in the country for the production, supply and marketing of fertilisers at affordable prices by the farmers. Adding Tk 500 crore to the fertiliser sector and another Tk 500 crore to the subsidy sector, a total of Tk 1,000 crore is spent on organic fertiliser will be used, 17 nutrients will be applied instead of 3–4 nutrients in the soil, organic matter will increase in the soil along with increasing the microbial functions of the soil. However, the ability to produce and use this huge amount of organic fertiliser may not be possible overnight. However, strategic planning is needed at the moment to encourage this process. In addition, there is a need to create a balanced structure for its production, supply and use, which can play an important role in stabilising the use of organic fertilisers in the long run and in the future.
However, it is also true that the production process of organic fertiliser in the country is still ancient, that is, in most cases processors are left in piles without any care and composted. As a result, the nutrients required for the plants in the raw material of organic fertiliser are lost. However, it is hoped that in recent times about 40–55 small and large enterprises are producing organic fertilisers commercially. New entrepreneurs are coming forward to invest here. There are innumerable earthworm farmers at the rural level in the country and their number is around 20–22 thousands all over the country. These farmers produce about 25–30 thousand tonnes of earthworm manure annually with an estimated market value of Tk 20–25 crore. Large industrial plants have invested heavily in chemical production, but no initiative has been taken to produce and market organic fertilisers. There are three large, medium and small categories of production. Several large companies in the country are already involved in this business. These companies are able to supply only about one lakh tonne of organic fertiliser in the country. To increase their capacity, municipalities may also provide incentives for free bio-waste supply, equity funds, cash, tax exemptions, easy leases to build production plants, etc and for marketing. There are some medium type investors in the country, their investment is very low, it can be said that speculators, with some exceptions, lack technical knowledge. However, their strength can be utilised to increase the use. The third level is very important and effective in setting up small organic manure plants at farmer's house at block level or through self-employed youth to make earthworm manure, compost manure and provide technical assistance and incentives for every tonne of manure production. National programme can be initiated too. For example, four cattle farm programmes can be launched at the rural level to motivate the youth. For a simple calculation, for example, a medium-sized cow may grow around eight tonnes of dung throughout the year. If a farmer has four cows, he can have 24 tonnes of dung and six tonnes of urine per year. If 40 per cent of the wastage is deducted during operation outside the farm, 15 tonnes of dung and five tonnes of urine can be found. After being adequately composted, this amount of dung can produce 200 kilogram of nitrogen, 90 kilograms of phosphorus and 200 kilogram of potassium. Moreover, all types of nutrients and an adequate amount of microorganisms will also be available. In addition, a household produces an average of 2 kilogram of waste per day, which provides an adequate supply of all types of nutrients, including 20 kilograms of NPK per year. There is a misconception about the weight of organic manure, such as 1 kilogram of moisture increases to 10 kilogram per tonne, where organic manure can be sold in volume so that farmers can be deceived. There is another negative idea that organic fertiliser takes time to be effective. It has been mentioned earlier that the raw material of organic fertiliser is less than the requirement, but the supply of raw material will increase further if it is brought under incentives. Because new entrepreneurs will come in animal husbandry, fish farming, weed or marine weed collection. It will become a small industry.
Ensuring the use of organic fertilisers requires active initiatives of various agencies, such as the Department of Agricultural Extension will need to have a permanent programme to motivate farmers, ensure 25 per cent reduction in the use of chemical fertilisers to ensure organic fertiliser use, as well as land use. To do this, it is necessary to upload the GPS of the land to the central server of the Agricultural Information Service. Soil samples of farmers registered with the Department of Soil Resources should be collected and analysed. In addition, research institutes will take initiatives to innovate effective organic fertiliser production technologies. The private sector can be involved in the process. An increased use of organic fertilisers will strengthen the human body's resistance to disease by strengthening the food system. It will have other positive effects on soil health, public health, and will help to recycle urban waste as raw materials, create youth employment, and save the environment.
.
Posted by
admin
on May 25 2021. Filed under
Food security
,
News at Now
,
Organic agriculture
,
Uncategorized
. You can follow any responses to this entry through the
RSS 2.0
. You can leave a response or trackback to this entry