Tangail Sal Forest: Two-thirds gone as greed at play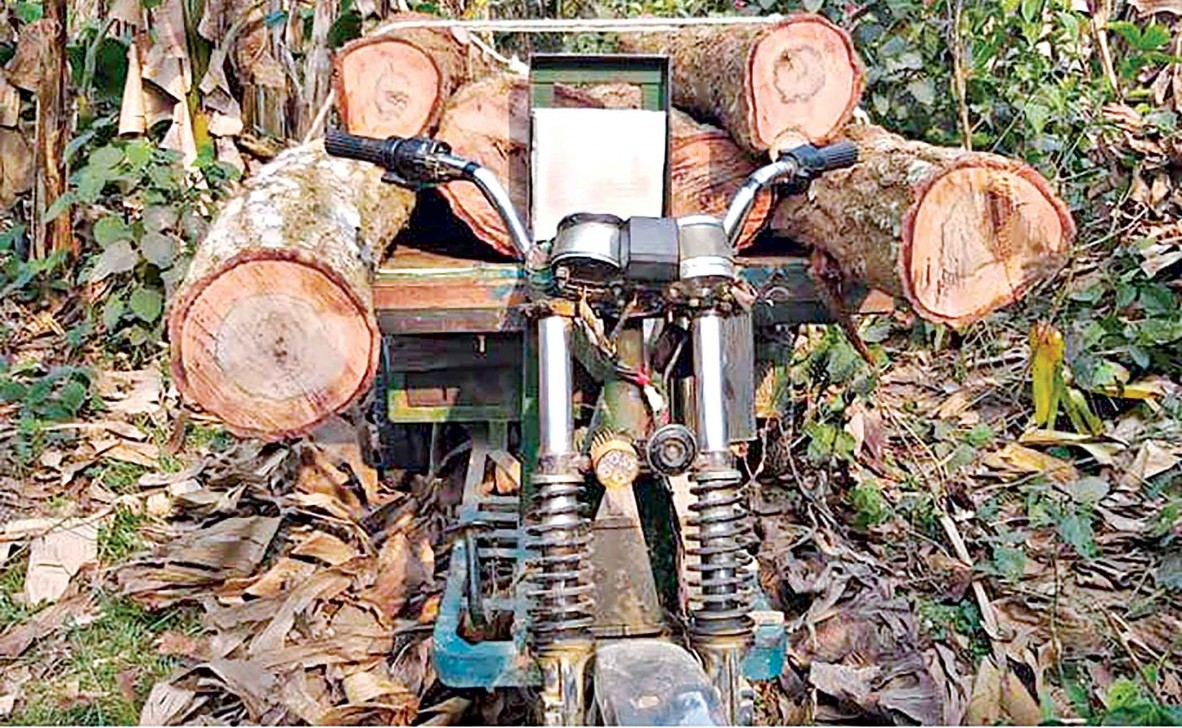 Dhaka, 23 June, 2021: The Sal Forest in Tangail is shrinking fast as mindless grabbing and tree felling continue, threatening the existence of this natural treasure and pushing its flora and fauna towards extinction.
While foresters and locals keep playing the blame game for the destruction of a major forest, almost two-thirds or around 80,000 acres of it has been wiped out, according to Forest Department data.
Once a large, dense jungle and home to a variety of wildlife including tigers, peacocks and langurs, the forest was spread across more than 1,22,876 acres of land in 1925.
Officials say its area is decreasing fast due to years of tree felling and indiscriminate grabbing by both locals as well as influential outsiders who also constructed different structures, including concrete ones, on the forestland.
They get phone calls from powerful people, including top government officials, whenever they take initiatives to reclaim the grabbed land.
Now, natural forest remains on less than 40,000 acres of land while around 38,000 acres of land remains grabbed, said Dr Jahirul Haque, divisional forest officer in Tangail.
The forest now also sees plantations of various fruits and vegetables like pineapple, banana, jujube, guava, mango, lemon, papaya, arum, turmeric and ginger on grabbed land. The growers use excessive insecticides and other chemicals, destroying the ecological balance as well as biodiversity.
WHAT FORESTERS SAY

On May 6, foresters recovered 45 logs of Sal (Gajari) trees felled in Harindhara area under Dokhala Range of Madhupur upazila. Earlier, on April 26, some 200 logs were seized in Gargavindapur under Boheratoil Range in Sakhipur upazila.
Abdul Ahad, ranger of Dokhala Range, said both locals and outsiders have destroyed the forest and occupied vast tracts of it. People from ethnic minority communities leased out most of the grabbed forestland to local Muslims or outsiders.
"A local man alone has kept around 250 acres of forest in Madhupur occupied and also raised a private rubber garden on the land," he said.
"A few months ago, locals vandalised my office, and kept the assistant forest conservator confined to his office in retaliation to a drive by foresters to recover a piece of forestland grabbed by a local Garo woman," he said.
Jamal Hossain Talukder, assistant forest conservator (north) of Tangail Forest Department, said they were failing to save the forest due to various factors, including a shortage of workforce and logistics and interference by influential people.
Syndicates of both locals and outsiders have grown guava, jujube and pineapple after grabbing forestland at different places, he said. "Locals do not want the presence of forest officials here at all."
He added, "When we go for recovery of any grabbed forestland, the vested interest groups take different strategies including highlighting the rights of local ethnic communities. Phone calls also come from powerful quarters."
Jahirul, divisional forest officer in Tangail, said, "The parliamentary standing committee on the forest and environment ministry had asked for the list of forestland grabbers. We already sent it to the committee.
"Afterwards we got directives from the ministry to recover the grabbed forestland but the process is getting delayed because of the pandemic."
He added, "Support from all quarters concerned are needed to save the forest and also recover the grabbed forestland."
Replying to queries over the status of forest areas, he said of the original 1,22,876 acres of forestland, 45,565 acres were in Madhupur, 47,220 acres in Sakhipur, 21,855 acres in Ghatail, 7,576 acres in Mirzapur, and 669 acres in Kalihati.
Of it, 58,206 acres has been declared reserved forest, he said, citing declarations of forest settlement officers.
A social afforestation programme was done on around 28,000 acres and rubber gardening on 10,000 acres of land.
Shaheed Salahuddin Cantonment in Ghatail, Firing Range of Air Force, and Forest Research Institute in Madhupur were established on the remaining 5,000 acres of land, Jahirul added.
WHAT LOCALS SAY

Alik Mree, a local Garo community leader and also general secretary of Bangladeshi Adivasi Chhatra Sangram Parishad, said, "The local indigenous people are not the ones who chop down trees as the forest is like their mother. Yet, hundreds of false forest cases have been filed against them."
He further said, "The poor indigenous people have been cultivating crops on their ancestral land for decades. As many of them are very poor, they leased out their land to others."
He alleged that the foresters were raising an arboretum clearing natural forest at Telki in Madhupur. They were also constructing a guest house and boundary walls on an ancient crematorium of local indigenous people there, he claimed.
Ajoy-A-Mree, president of the United Council of Indigenous Organisations of Greater Mymensingh, said the massive destruction of the forest started in the '80s when the Forest Department initiated rubber plantations there.
"Social afforestation programmes are one of the main reasons behind the disappearance of a large area of natural forest in the region. Many got the plots for social afforestation. This gave outsiders the opportunity to grab land after wiping out natural forest," he added.
Eugene Nokrek, president of Joinshahi Adivasi Unnayan Parishad, said, "Local indigenous communities are not grabbers. Their forefathers started living in the area long before the Forest Act of 1927 was enacted.
"A good number of people, including 25,000 indigenous people, live in 44 villages inside the Madhupur forest, and the authorities should take into account their interest while making any plans regarding the forestland."
Leaders of local ethnic communities also said Garo, Koch and Bormon communities have been living in Madhupur from time immemorial. But it is very unfortunate that their land issues have not been permanently resolved even after 50 years of independence, they said.
Moreover, conspiracies have been hatched during the tenures of different governments to evict the local indigenous people from their land in the name of National Park, Eco Park, Eco Tourism, Firing Range and Reserve Forest, they alleged.
They demanded a separate land commission for the indigenous people of the plains and formal discussions with the communities before undertaking any project in the forest.
WHAT ENVIRONMENTALISTS SAY

Gautam Chandra Chanda, a senior research officer of Bangladesh Environmental Lawyers Association (Bela), said the social afforestation programme is one of the main reasons behind rapid degradation of the Sal Forest.
The government's social afforestation programme is meant to bring monetary benefit to the poor people who contribute to preservation and development of plantations on land allocated by the Forest Department.
The beneficiaries remain involved in the adoption and implementation of afforestation plans, tree planting and maintenance, control and management of forest resources, distribution of dividends and reforestation.
This newspaper in 2007 reported that the Forest Department in the previous seven years had leased out thousands of acres of forestland in the district under the social afforestation programme.
Plots of forestland were supposed to be leased to local landless and poor people under the programme but mostly influential people and outsiders got most of the leases in exchange for hefty sums of bribes, different sources told this correspondent back then.
A section of dishonest forest officials earned a large sum of money from those leases, they added.
Things have hardly changed in the last 14 years as Gautam Chandra blamed negligence as well as corruption by a section of foresters for the wholesale tree felling and forestland grabbing.
The environmentalist recommended creating "Forest Villages" following models in India and Nepal to save existing forests with the participation of locals.
He also called for implementation of the High Court verdict of August 28, 2019 that came following a writ petition of Bela filed in 2010 for protecting the natural Sal Forest in Madhupur and also rights of the people dependent on the forest.
"The nine-point directive in the verdict included demarcating the reserve forest at Madhupur Sal Forest area according to the gazette notifications of 1956 and 1984," he mentioned.
.
Posted by
admin
on Jun 23 2021. Filed under
Biodiversity
,
Eco-tourism
,
Forest & Land
,
News at Now
,
Uncategorized
. You can follow any responses to this entry through the
RSS 2.0
. You can leave a response or trackback to this entry