Tourists are roaming around Tanguar Haor, Sunamganj, Bangladesh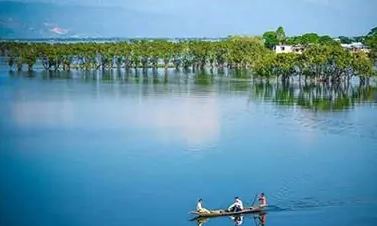 Dhaka, 8 September, 2021: After two months and eight days of its closing, all tourist spots in the Sunamganj area opened. Md. Jahangir Hossain, Deputy Commissioner of Sunamganj, has confirmed the opening of all tourist centres in compliance with health rules on August 19, 2021.
As restrictions were lifted, tourists are rushing to the tourist areas including Tanguar Haor, Niladri Lake, Tekerghat, Barrica Tila in Tahirpur Upazila of Sunamganj District to enjoy the beauty.
Notably, on June 11, 2021, public gatherings were banned in the tourist spots of Sunamganj to prevent the spread of coronavirus. Since then, tourists have not been able to visit the beautiful green land of Tanguar Haor. Although many tried to go there secretly, they fined.
However, as per the announcement of lifting the ban on tourist destinations on august 19, 2021, tourists and their family members started travelling to Sunamganj from different parts of the country. They are staying in different hotels there.
Mohammad Ali, who travelled from Sylhet, said, "After the Fajr prayers, I left for Tanguar Haor with my friends on motorcycles. Now I am in coming to Tahirpur. We are planning to enjoy the beauty of Haor by boat ride."
Sumon, who travelled from Cumilla, said, "I was waiting to visit the Tanguar Haor for last one year. I could not make this happen due to the ban. Since the ban has lifted, finally, I come here to visit the Haor."
Akram Uddin, a tourist who came to Tanguar Haor from Sunamganj, said, "This is the fifth time I am visiting Tanguar Haor with my family. I have been visiting Tanguar Haor with my family five times. We have fallen in love with the beauty of the Haor."
Raihan Kabir, Executive Officer of Tahirpur Upazila, said that all the tourist centres of Sunamganj are now open.
We will try to ensure that the tourists enjoy the Haor's beauty by following the hygiene rules.
Jahangir Hossain Deputy Commissioner of Sunamganj, said, 'Tourists rushing from different parts of the country to enjoy the beauty of Tanguar Haor in Sunamganj. We will keep a close monitoring so that everyone enjoys the beauty of the Haor in compliance with the hygiene rules."
Posted by
admin
on Sep 8 2021. Filed under
Eco-tourism
,
News at Now
,
Water & Wetland
. You can follow any responses to this entry through the
RSS 2.0
. You can leave a response or trackback to this entry