Valuable discussion about mercury-free dentistry and legislation at ESDO consultation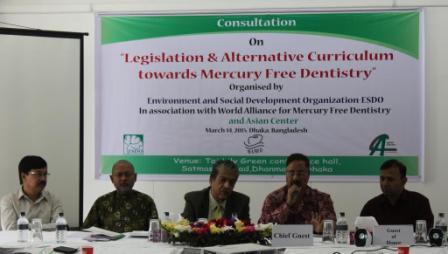 Mercury exposure is becoming a serious health and environmental risks in Bangladesh. The introduction of legislation for banning the use of mercury dental amalgam and development of alternative dental curriculum is demanded by environmentalists and dentists in a consultation program organized by Environment and Social Development organization-ESDO.
Environment and Social Development Organization-ESDO in collaboration with Asian Center for Environmental Health jointly hosted a consultation for the discussion of: alternative dental amalgam curriculum; development of guidelines for the control of, supply and manufacture of mercury amalgam; the management of mercury waste, and for the ultimate elimination of mercury from dentistry on a national scale.
In association with World Alliance for Mercury Free Dentistry (WAMFD) the consultation titled "Legislation & Alternative Curriculum towards Mercury Free Dentistry" was held yesterday, March 14, 2015, Saturday, at 10:30 am at Taj Lily Green, House #751, 11th Floor, Satmasjid Road, Dhanmondi, Dhaka.
The following high-profile guests were present at the event: Major General Md. Jahangir Hossain Mollik, Directorate General of Drug Administration, Ministry of Health & Family Welfare, Gov. of the People's Republic of Bangladesh as Chief Guest; Brigadier General Golum Mohiuddin Chowdhury, Advisor Specialist in Dentistry, Combined Military hospital, Dhaka, as a guest of honour. Syed Marghub Murshed, Former Secretary, Government of Bangladesh and Chairperson of ESDO presided the program. The keynote speaker of the program was Dr. Shahriar Hossain, Secretary General, ESDO; Vice President (South Asia), World Alliance of Mercury Free Dentistry, and UNEP Mercury Expert.
In his address, Brig. General Golum Mohiuddin Chowhury, Guest of Honour, highlighted the importance of national regulation to ban the use, import and sell of mercury amalgam by 2016-2020. He said, "It is a high-time that the Government of Bangladesh thinks about the phase-out of mercury amalgam."
Within the discussion, Assistant Professor, Dr. Mirza Arifur Rahman, Joint Secretary, Bangladesh Dental Society commended ESDO's recommendation to stop the use of mercury amalgam in the treatment of women and children by the end of 2015.
In his closing remarks, Major General Md. Jahangir Hossain Mollik, Chief Guest, said, "We highly support ESDO's drive to develop an alternative dental curriculum. One outcome from ESDO's initiatives in the field of dentistry is that we have prepared a draft standard guideline for the use of restricted drugs and materials, including mercury amalgam, for use in hospitals, chambers and private clinics." Addressing the group, Dr Hossain, keynote speaker, said, "If awareness about mercury in dentistry is created then we can create a momentum for policy and implement mercury-free alternatives in time to fulfil the Minamata Convention by 2020." The Minamata Convention is a United Nations-led global treaty to protect human health and the environment from the adverse effects of mercury.
The session chair, Mr. Marghub Murshed, expressed his pleasure at the active participation of all participants and their willingness to join the various initiatives of mercury free dentistry. He urged for strong steps from all dentists and institutions to put a stop the use of mercury amalgam for fillings.
During the event, all distinguished guests shed light on the issues and praise the efforts of ESDO jointly taken with Asian Center for Environmental Health and WAMFD. Mercury in dentistry is a significant source of environmental contamination and a serious threat to public health. Mercury amalgam is routinely used by dentists as a filling material for cavities in teeth, but it can have major health implications that include memory loss and kidney and brain damage in children. Mercury also leaks into atmosphere and the water supply when it is used during dental procedures, causing mercury pollution, which can be harmful to fish and reduce soil fertility and productivity. As a result, ESDO makes the following recommendations:
Ø Make it an immediate priority to stop the use of mercury amalgam in the treatment of children and pregnant women to be end now.
Ø Develop an alternative dental curriculum with a specific chapter on the dental restoration process of amalgam, its harm to dental staff, patients and the environment and safe removal procedure of existing amalgam filling by the end of 2015.
Ø Ratify Minamata Convention as soon as possible and impose import ban of Mercury.
Ø Pass national regulation to ban the use, import and sell of mercury amalgam by 2016
Posted by
admin
on Mar 16 2015. Filed under
Uncategorized
. You can follow any responses to this entry through the
RSS 2.0
. You can leave a response or trackback to this entry