Bangladesh uses only 8.0pc of mitigation funding for climate change: Study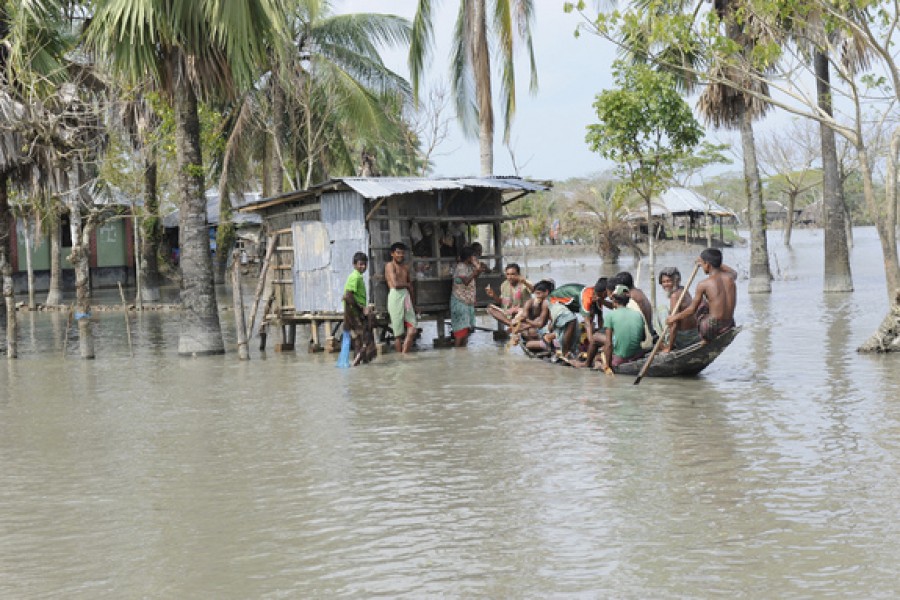 Dhaka, 15 November, 2020: While the lion's share of mitigation funding for climate change in Bangladesh comes from international sources, only 8. 0 per cent of it is spent on mitigation activities, a latest study has found.
Besides, only 15 per cent of the funding from international sources has been disbursed so far, the study revealed.
Transparency International Bangladesh (TIB) conducted the study titled 'Climate Change Mitigation Finance and Project Implementation in Bangladesh: Governance Challenges and Way Forwards'.
The main objective of this study is to review the challenges of good governance in financing for climate change mitigation in Bangladesh.
The research used both qualitative and quantitative methods and collected data from both primary and secondary sources.
Data were collected on the basis of specific indicators using a total of four types of research tools: questionnaire surveys, interviews of key informants, direct observations and group discussions.
By 2020, Bangladesh received climate change mitigation funding from both national and international sources involving over Tk 8.08 billion (808.72 crore) and Tk 120.91 billion (12,091.08 crore), respectively, the study disclosed.
Bangladesh Climate Change Trust Fund (BCCTF) provided the national funding, while the international funding was obtained from Global Environment Facility (GEF), Climate Investment Fund (CIF), Green Climate Fund (GCF) and Bangladesh Climate Change Resilience Fund (BCCRF).
The ratio of national and international funding for mitigation activities is 5:95, according to the study.
It said that the national institutions are playing a major role in planning and implementing mitigation projects in the country, but both national and international agencies are contributing less in monitoring and evaluating mitigation projects.
Bangladesh has set its National Climate Change Mitigation Target 'Nationally Determined Contribution (NDC)' in 2015 in accordance with the Paris Climate Agreement.
In view of the goals, the country has been implementing climate mitigation technologies along with renewable energy, forestry and biodiversity conservation projects in collaboration with national and international partners, emphasising renewable energy as well as increasing coastal forest boundaries.
The Paris Climate Agreement, ratified in 2016, set the target of reducing global warming, by consensus of 196 countries, below 2.0 degrees Celsius above pre-industrial levels, and to pursue efforts to limit the increase to 1.5 degrees Celsius.
.
Posted by
admin
on Nov 15 2020. Filed under
Climate change
,
News at Now
. You can follow any responses to this entry through the
RSS 2.0
. You can leave a response or trackback to this entry