Coastal wetlands excel at storing carbon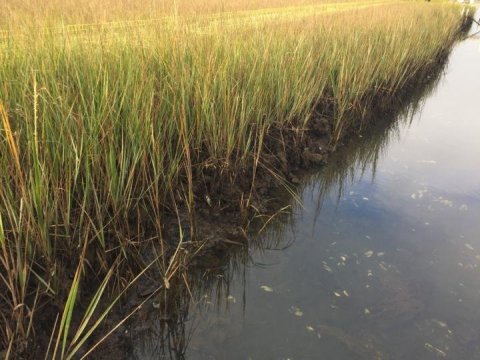 In the global effort to mitigate carbon dioxide levels in the atmosphere, all options are on the table — including help from nature. Recent research suggests that healthy, intact coastal wetland ecosystems such as mangrove forests, tidal marshes and seagrass meadows are particularly good at drawing carbon dioxide from the atmosphere and storing it for hundreds to thousands of years.
Policymakers are interested to know whether other marine systems — such as coral reefs, kelp forests, phytoplankton and fish — can mitigate climate effects. A new analysis co-authored by a University of Maryland scientist suggests that, while coastal wetlands serve as effective "blue carbon" storage reservoirs for carbon dioxide, other marine ecosystems do not store carbon for long periods of time.
The research paper, published February 1, 2017 in the journal Frontiers in Ecology and the Environment, also notes that coastal wetlands can help protect coastal communities from storm surges and erosion. Coastal wetland areas are easier for governments to manage compared with ecosystems that reside in international waters, further adding to the strategic value of coastal wetlands in the fight against climate change.
For more: https://www.sciencedaily.com/releases/2017/02/170201092705.htm
Posted by
admin
on Nov 25 2018. Filed under
Water & Wetland
. You can follow any responses to this entry through the
RSS 2.0
. You can leave a response or trackback to this entry