Fully organic, bio-degradable bags made in Bangladesh can replace polybag, cut pollution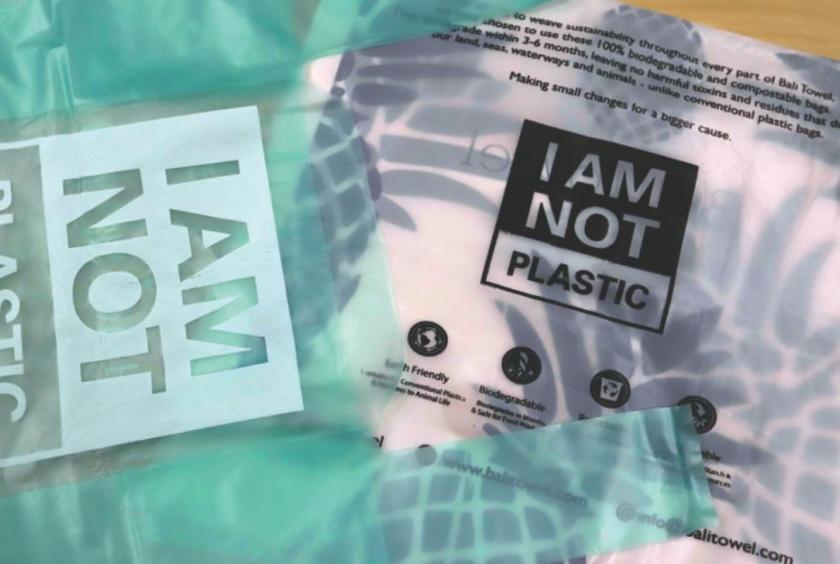 An initiative of a Chittagong-based young entrepreneur, the biodegradable shopping bags dissolve in land or water. In warm water, the material dissolves instantly. After about two years' of trial run, small-scale production and limited export to European fashion brands, the bags are now set to hit the local market in June, said Md Raihan, founder and CEO of Ecospear Ltd.
"Our bags are totally non-toxic and don't cause the environment any harm. No matter how long they take or how irresponsibly they are disposed of, one thing is absolutely certain: they will biodegrade," said Raihan, 36.
Mohammad Raihan, founder and CEO of Ecospear, at his bag factory in Ashulia of Savar. Made of roots of cassava starch, the bio-degradable packaging bags look exactly like polythene bags but do not harm the environment. The photo was taken recently. Photo: Collected Depending on their size and thickness, the bags will cost between Tk 5 and 25 each and can be used for about a month, he added. The cost will drastically fall if the government slashed the import duty on cassava starch, which is 31 percent now.
Currently, production is going on in full swing in Ecospear's first plant at Halishahar in Chattogram. Its second plant, opened recently in Ashulia in Dhaka, is expected to start production soon. Together, the two units can make some 34 lakh bags per month. "Already, we have received orders for 62 lakh bags from home and abroad," said Raihan, adding that most orders come from local fashion houses. Raihan, who graduated from the North South University, launched the project in 2017, a year after he returned form the UAE where he worked in the HR department of a telecom company for about six years.
His current market includes the UK and France. Buyers form Sweden and Spain have also shown interest to buy the bags in bulks. The bags come in two varieties: 30-micron, which takes less than 90 days to completely degrade after being discarded, and 55-micron, which is a little heavier and takes 147 days to degrade, Raihan said. Ecospear also makes disposable cups and straws as well as food containers and surgical aprons. The cups and straws are made from paper and the coating is made from corn starch instead of polyethene or wax, which are injurious to health.
The food containers are made of sugarcane instead of the non-biodegradable Styrofoam, another hazardous element for health. In comparison, all Ecospear products use food-grade colour and have passed the biodegradability test of the Bangladesh Council of Scientific and Industrial Research (BCSIR) in July last year and the stringent oral toxicity tests from Netherlands, said Raihan. The bags also have an Organic Waste Systems (OWS) certification from Belgium.
For More: https://www.thedailystar.net/frontpage/news/bag-full-potential-1688161
Posted by
admin
on Jan 28 2019. Filed under
No Plastic
. You can follow any responses to this entry through the
RSS 2.0
. You can leave a response or trackback to this entry