New Report Ties "Hottest Year on Record" to Human Toll of Disasters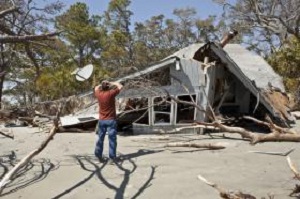 Natural disasters made 2015 a miserable year for many people around the world. According to the United Nations' Office for Disaster Risk Reduction, the statistics were brutal. At least 98.6 million people were affected by natural disasters ranging from droughts to floods, and the economic damage could have been as high as $66.5 billion. Using the data available from the Belgian non-profit Center for Research on the Epidemiology of Disasters (CRED), the UN reports that almost 23,000 people died from the 346 natural disasters reported across the world.
Indeed, the estimated 9,000 deaths in last year's earthquake in Nepal contributed to the number of people who died in natural disasters last year. Previous years witnessed even more dire statistics, so there is a glimmer of hope as new early warning and evacuation systems have reduced the death tool from disasters across Asia. But even better planning is needed as over the past 21 years, storms have killed over 242,000 people, which makes them the deadliest of all weather-related disasters.
Nevertheless, the UN insists that drought and floods was a factor in 92 percent of the natural disasters that occurred globally during 2015. The 32 recorded droughts last year had an impact on over 50 million people alone (though considering the drought in California last year, that number could arguably be even higher). That number is more than double the past 10 years' average of 15 during which the world experienced the El Niño phenomenon.
Those numbers are encouraging, but of course the only thing we can predict about climate-related disasters is that they can be volatile and unpredictable. To that end, the evidence suggests many countries are becoming more proactive on issues related to disaster preparedness and climate mitigation. Countries including India, the Philippines, Malawi and Mexico were able to keep their collective death toll from storms to just over 900 last year—that is less than one-tenth the number from the previous 10-year average of approximately 9,500 fatalities.
Source: Environmental News Network
Posted by
admin
on Feb 18 2016. Filed under
News at Now
. You can follow any responses to this entry through the
RSS 2.0
. You can leave a response or trackback to this entry