No safe level of childhood lead exposure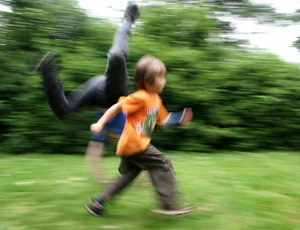 Exposure to lead causes significant and widespread injury to human health. Of all toxic environmental pollutants, harms from lead exposure are probably better understood and better documented than are the affects of any other toxic environmental pollutant.  Children are especially sensitive to lead and the World Health Organization (WHO) has determined that there is no safe level of childhood lead exposure.
Be aware of lead sources and protect your children.
Lead exposure is a particularly serious problem in many developing countries. Since 2002 there has been much progress made in reducing childhood lead exposure through an ambitious international programme that has eliminated lead additives from automotive fuels in most countries. The most widespread remaining source of lead exposure for children, workers and others is lead paints, that is, paints that contain lead pigments, lead drying agents and/or other intentionally added lead compounds. When these paints are used in homes, schools and other applications, a number of childhood lead exposure pathways are created. The greatest sources of exposure are from an increase in the lead content of household dust and soils and the exposure of children through hand to mouth contact. Another source is children ingesting flaking paint chips.
Because of these dangers, most highly industrial countries have for decades severely restricted the lead content of paints, especially those used for applications likely to contribute to childhood lead exposure. Nonetheless, decorative paints containing added lead compounds continue to be manufactured and are widely sold in Asian countries with developing economies. This continues despite the fact that in most of these same countries, similar paints without added lead compounds are on the market, sell for comparable prices, are available in the same range of colours, and have comparable performance characteristics. In most cases, the consumer has no way of knowing which decorative paints on the market contain potentially dangerous lead levels and which do not.
Sources
Lead paint – particularly if the paint is flaking or chipping or is on a surface that children may chew on
Lead contaminated soil – for example soil from near petrol stations that used to sell leaded petrol
Jewellery – some jewellery is made of lead and can cause skin irritation and be dangerous for children who may put it in their mouthes
Batteries
Pottery and lead crystal glassware
Some children's toys
Posted by
admin
on Jun 3 2013. Filed under
Environmental Justice & Governance
,
News Worldwide
,
No Lead Paint
,
No Toxic
,
Slider
,
Uncategorized
. You can follow any responses to this entry through the
RSS 2.0
. You can leave a response or trackback to this entry