Record UK rainfall will not prevent water restrictions, experts warn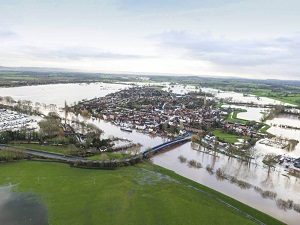 Despite December's record rainfall, which led to thousands of people being flooded and the highest river levels ever seen in England, water restrictions due to drought could still be imposed in some parts of the country by the summer, say Britain's leading hydrologists.
Because nearly all the rain, from a succession of storms, fell in the north of England where water supplies are largely drawn from rivers and reservoirs, and very little fell in the south where supplies come mainly from underground aquifers, it may only need three months of relatively dry weather to create supply problems for millions of people, said Allan Jenkins, deputy director of the Centre for Ecology and Hydrology (CEH), Britain's leading independent water analysts. That could mean hosepipe bans and other restrictions for the south-east and elsewhere.
According to the centre, which holds the historical archive of floods in Britain and advises government, many aquifers were at below average level throughout November and have still not recovered.
"All the rain fell in the north. In the south we depend on rainfall to recharge the aquifers and we haven't had that. A dry next few months and we could be looking at some tension," he said.
The research centre confirmed new Met Office data showing that records had tumbled as rivers in the north of England grew to more than 30 times their normal volume after Storm Desmond hit.
The river Eden, which flows off the north Pennines and normally averages 53 cubic metres per second, saw the greatest flow ever recorded in an English river when it reached 1,700 cu metres per second in the aftermath of the heaviest 24 hours of rainfall ever recorded in Britain in December. Similar flow levels were recorded on the Tyne.
By comparison, the highest flow ever recorded on the Thames, England's longest river, is around 800 cu metres a second.
"Thirty cm of water fell over an area of hundreds of square kilometres. Cubic kilometres of water fell. That's a hell of a lot. Storage capacities were overwhelmed. We have never seen bigger [river] flows," said Jenkins.
But he and other CEH hydrologists said more research was needed to say whether planting the uplands with millions of trees, restoring peat bogs and removing sheep would solve the problem of flooding in all lowland urban areas.
Lord Krebs, head of the government's climate change adaptation committee, has called for peat bogs to be restored and a rethink on how floods can be controlled.
"I am not saying that Lord Krebs is wrong but we have not come across hard evidence that he is right. Restoring upland peat bogs is not necessarily going to protect [places such as Tewkesbury]," said Jenkins.
"There is little evidence that changes in the way we maintain the uplands would have helped reduce the impact of the [rainfall of] the last few weeks. There is little documentation that shows that planting trees or blocking drains or removing sheep would or would not have reduced flooding. We are not saying that everyone everywhere should plant trees or block drains. We just do not have the evidence."
But Jenkins did not dismiss the idea. "It is probably true that there is an impact in the run-off. But rewilding is beneficial, [so] why not [do it]? But it needs to be done carefully and with evidence."
According to Nick Reynard, who leads hazard research at the centre, any attempts to slow the run-off of water from the British uplands would be overwhelmed when such vast volumes of water fell in a short time.
"It depends on scale. What might work in small catchment areas might slow down water in some local areas and could work in less extreme events. The danger is to extrapolate this to catchment-scale areas. The moderation of smaller peaks [of river flow] may not make that much difference on a bigger scale."
Source: the guardian
Posted by
admin
on Jan 7 2016. Filed under
News at Now
. You can follow any responses to this entry through the
RSS 2.0
. You can leave a response or trackback to this entry