Recycling: Where is the plastic waste mountain?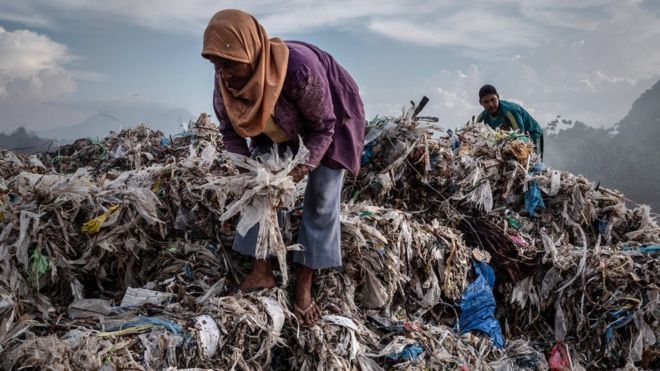 A year ago, experts warned that the UK could face a mountain of waste plastic as China imposed a ban on waste imports.In recent years, the UK has heavily relied on China to take our unwanted plastic packaging. Three years ago, the UK was exporting half a million tonnes of plastic to China and Hong Kong – accounting for almost two-thirds of all our plastic sent abroad.
China introduced its ban on "foreign garbage" as part of a move to upgrade its industries 12 months ago. At the time, the UK recycling industry warned that the decision would be a "game-changer" and that it would be a struggle to deal with the country's waste.
Where is that plastic mountain?

Well, it hasn't appeared – partly thanks to other countries taking our waste plastic instead, and partly because we are burning more of it.In the wake of mass public alarm about plastic pollution we may also be producing less plastic waste, although it's impossible to be sure of the figures
Who has taken our waste instead of China?

In the 12 months to October 2018, our analysis of Environment Agency figures shows that the UK exported a total of 611,000 tonnes of recovered plastic packaging to other countries.In the previous 12-month period (ie to October 2017), the UK exported 683,000 tonnes.
For More: https://www.bbc.com/news/science-environment-46566795
Posted by
admin
on Jan 1 2019. Filed under
No Plastic
. You can follow any responses to this entry through the
RSS 2.0
. You can leave a response or trackback to this entry