Researchers tap rare pristine air to reveal pollution's impact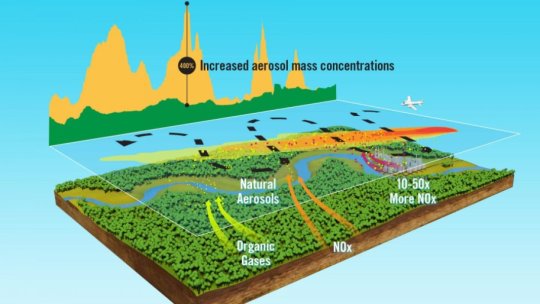 Five years ago, researchers spent three hours packed aboard a steamy Gulfstream-1 research aircraft as it zig-zagged between pristine air over the Amazon rainforest and polluted air nearby. It was like a trip back (and forth) through time, as scientists weaved between the two vastly different settings, snagging air samples characteristic of today's industrial environment as well as samples of unpolluted air, like that before the industrial age.
An international team of scientists led by Manish Shrivastava of the U.S. Department of Energy's Pacific Northwest National Laboratory has analyzed some of the data and found that human-caused pollution spurs the production of climate-changing particles known as secondary organic aerosols much more than previously thought. The team published its results in Nature Communications.
The findings illustrate how pollution from cars, power plants and other sources combines with natural emissions from trees in the Amazon to spur a marked increase in tiny particles that can reflect or absorb sunlight, help create clouds, change rainfall patterns, and determine how carbon flows between the land and atmosphere — all with dramatic effects on our planet.
The result comes from a research campaign, known as GOAmazon, led by the Atmospheric Radiation Measurement Research Facility, a Department of Energy Office of Science user facility. The campaign focused on the region near and around Manaus, a Brazilian city of more than 2 million people that is surrounded by tropical forests for hundreds of miles. Scientists refer to the vast forest canopy around Manaus as a "Green Ocean," giving the campaign's name its first letters.
For More: https://www.sciencedaily.com/releases/2019/04/190402113045.htm
Posted by
admin
on Apr 6 2019. Filed under
Forest & Land
. You can follow any responses to this entry through the
RSS 2.0
. You can leave a response or trackback to this entry