Sabrang Park likely to be ready by this year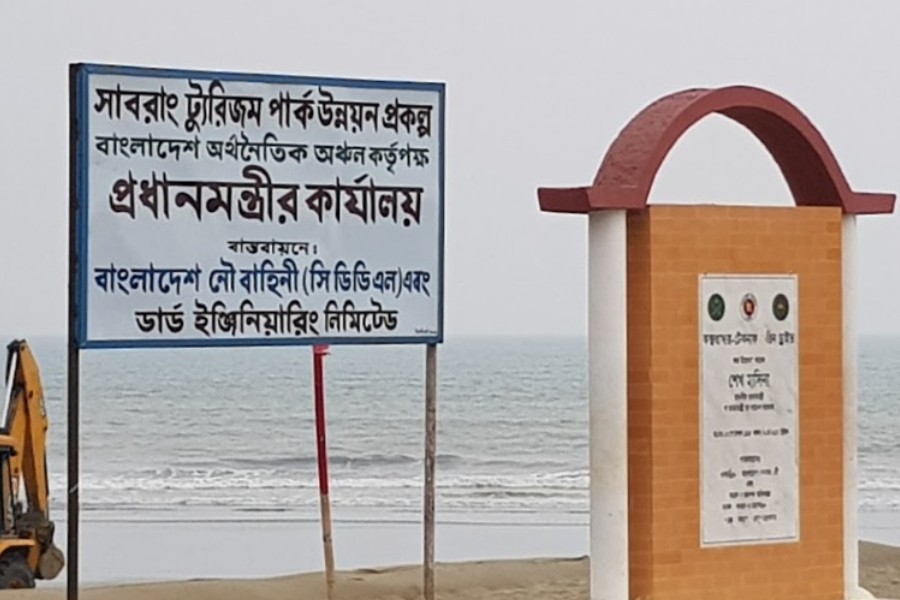 Sabrang Tourism Park, the country's first tourism-based special economic zone (SEZ), is expected to start welcoming visitors within this year, as construction of its key facilities is going on in full swing, officials said.
"Construction of protection embankment, boundary wall and administration building in the SEZ is now at the final stage," Executive Chairman of the Bangladesh Economic Zones Authority (BEZA) Paban Chowdhury said.
The authority has developed its land, whereas a number of local and foreign businesses have got approval from the BEZA for developing hotels, resorts and other required structures in the SEZ, he also said.
Over 100 acres of land have already been allocated to some investors. Within next winter, some of the accommodation facilities, like – cottage, will be finalised to welcome guests initially.
The BEZA chief also said Prime Minister Sheikh Hasina approved the tourism park's master plan last month.
"She gave us green signal to establish some large structures, including a watch tower that could be as high as 300 feet."
A 1.8-kilometre-long jetty for sea cruise will also be constructed in the park.
The park, after becoming fully operational, will be a complete tourism destination for people of all ages, he opined.
Mr Chowdhury expressed hope that the ongoing coronavirus outbreak will not affect its development work, as the work is not so labour intensive.
"The crisis (outbreak) is temporary, but the development work is permanent," he added.
According to data available with the BEZA, the tourism park, spreading over 1,047 acres of land in Teknaf, Cox's Bazar, is one of the three tourism SEZs, being developed by the authority.
The other tourism SEZs are Sonadia Eco-Tourism Park and Naf Tourism Park.
For Sabrang Tourism Park, four companies got approval to invest more than US$115 million for establishing different facilities, which will generate employment for over 7,000 people.
Besides, many investors are about to finalise their deals to join them.
Singapore-based Inter-Asia Group will invest over $90 million in the next few years to establish facilities like cultural centre, open air amphitheatre, amusement park, pool villas, swimming pool and beach club on 83 acres of land there.
.
Posted by
admin
on Mar 25 2020. Filed under
Bangladesh Exclusive
,
Eco-tourism
,
News at Now
. You can follow any responses to this entry through the
RSS 2.0
. You can leave a response or trackback to this entry