Sorting Out the Risks of Fish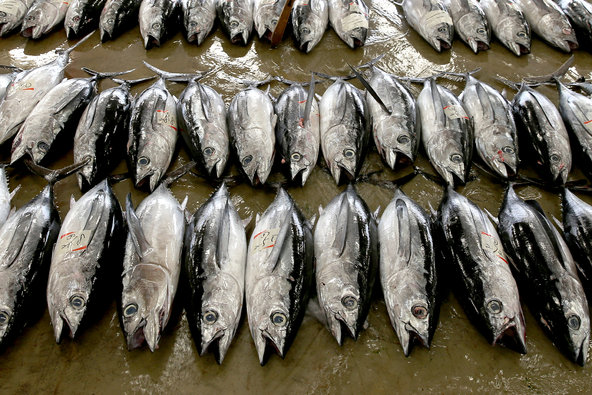 Fish is often called "brain food." It's an excellent source of lean protein, rich in nutrients like omega-3 fatty acids, B vitamins and iodine, and pregnant women are encouraged to eat it. There's just one, ah, catch: Fish also may have mercury, which can harm the developing brain.
Two advocacy organizations sued the Food and Drug Administration last week, demanding that the agency require canned and packaged fish to carry labels informing consumers of the mercury content, and that federal officials force grocery stores and fish markets to display information if they sell fish high in mercury.
The F.D.A. long ago put out information about mercury in seafood, but the groups say it should be at consumers' fingertips when they're shopping for dinner.
"People shouldn't have to do detective work to get this information," said Michael Bender, executive director of the Mercury Policy Project, one of the groups. Agency officials said they could not comment because of the continuing litigation.
But will labels on a can of tuna do more harm than good — scaring people away from eating fish altogether?
That's the concern of fishing industry representatives, who note that consumption of fish and seafood dropped the last time the F.D.A. issued warnings about mercury. They argue that the benefits of eating fish are much greater than the possible harmful effects of mercury.
"When environmental activists suggest that consumers not eat a healthy protein like seafood, they're doing more harm than good," said Gavin Gibbons, a spokesman for the National Fisheries Institutes, a nonprofit organization backed by the fishing and seafood industry. "The benefits outweigh the risks."
Many health experts are also cautious about the way they word their advice on the matter because they don't want Americans to forgo the benefits of fish and seafood in favor of, say, bacon cheeseburgers.
Worries over mercury in seafood stretch back decades, confounding consumers who are told that fish and seafood are healthy, especially for the developing fetus, but hazardous in great amounts. New research has helped tease out the benefits and the harms.
Edward Groth III, an independent food safety consultant who prepared a report on the effects of mercury on fetal brain development for the Mercury Pilot Project, agreed that women of childbearing age shouldn't just quit eating fish.
"If women are eating less fish because they're confused, and there's some evidence that's the case, then we're not getting the result we want," he said. "The secret is to get women to eat more low-mercury fish."
The debate has taken on added urgency because of new studies suggesting that mercury may cause subtle adverse effects at levels lower than those now considered safe by the Environmental Protection Agency, even as they reaffirm the cognitive benefits to children whose mothers ate fish while pregnant.
Dr. Emily Oken and her colleagues at Harvard looked at the association between mothers' fish intake and their infants' cognitive scores at six months. The researchers found that the babies' performance on visual recognition memory tests increased a significant four points with each additional weekly serving of fish that the mother ate while pregnant.
But the researchers also measured mercury levels in the mothers' hair, and found that infants whose mothers had very high levels of mercury scored lower than the others, for a drop of 7.5 points for every one part per million increase in mercury.
The bottom line: The babies who scored highest were those whose mothers were among the top fish and seafood consumers, eating it at least twice a week, but who also had lower mercury levels.
Dr. Oken's study included only 135 pairs of mothers and infants, but several other epidemiological studies in recent years have reported similar associations. Another Harvard study found that children whose mothers ate fish and seafood during pregnancy were at a lower risk for impulsive and hyperactive behaviors, but that prenatal exposure to low levels of mercury increased the risk for those behaviors.
"It's a paradox, but it highlights an important public health message: that eating fish is really important for development, but eating fish high in mercury — swordfish, king mackerel, fresh tuna — does pose a risk to neurodevelopment," said Sharon Sagiv, lead author of that study, now an epidemiologist at the University of California, Berkeley.
Though most studies have examined the effects of prenatal exposure to mercury, the brain continues to develop through childhood, and one study has suggested middle-age adults could also be vulnerable to mercury's effects. In that research, adults who ate a high-fish diet performed well on cognitive tasks, but performance was impaired among those with higher blood mercury levels.
So, what's a health-conscious fish eater to do?
For starters, avoid eating large predatory fish that are high on the food chain. The F.D.A. lists only four fish in this category: swordfish, king mackerel, shark and tilefish. The Natural Resources Defense Council has a more comprehensive list that includes orange roughy, marlin, and both ahi and bigeye tuna.
When it comes to canned tuna, "light" tuna usually is the smaller skipjack, with significantly less mercury than "white" albacore; still, the F.D.A. recommends no more than 12 ounces of light tuna a week and no more than six ounces of white tuna for women — even less for children.
The good news: Many fish and shellfish are low in mercury, including salmon, shrimp and catfish, as well as tilapia, scallops, oysters, herring, sardines and trout.
Collected From:  New York Times
Posted by
admin
on Mar 22 2014. Filed under
News at Now
,
No Mercury
. You can follow any responses to this entry through the
RSS 2.0
. You can leave a response or trackback to this entry