'Stop evil plastic bag, Protect city, Save life'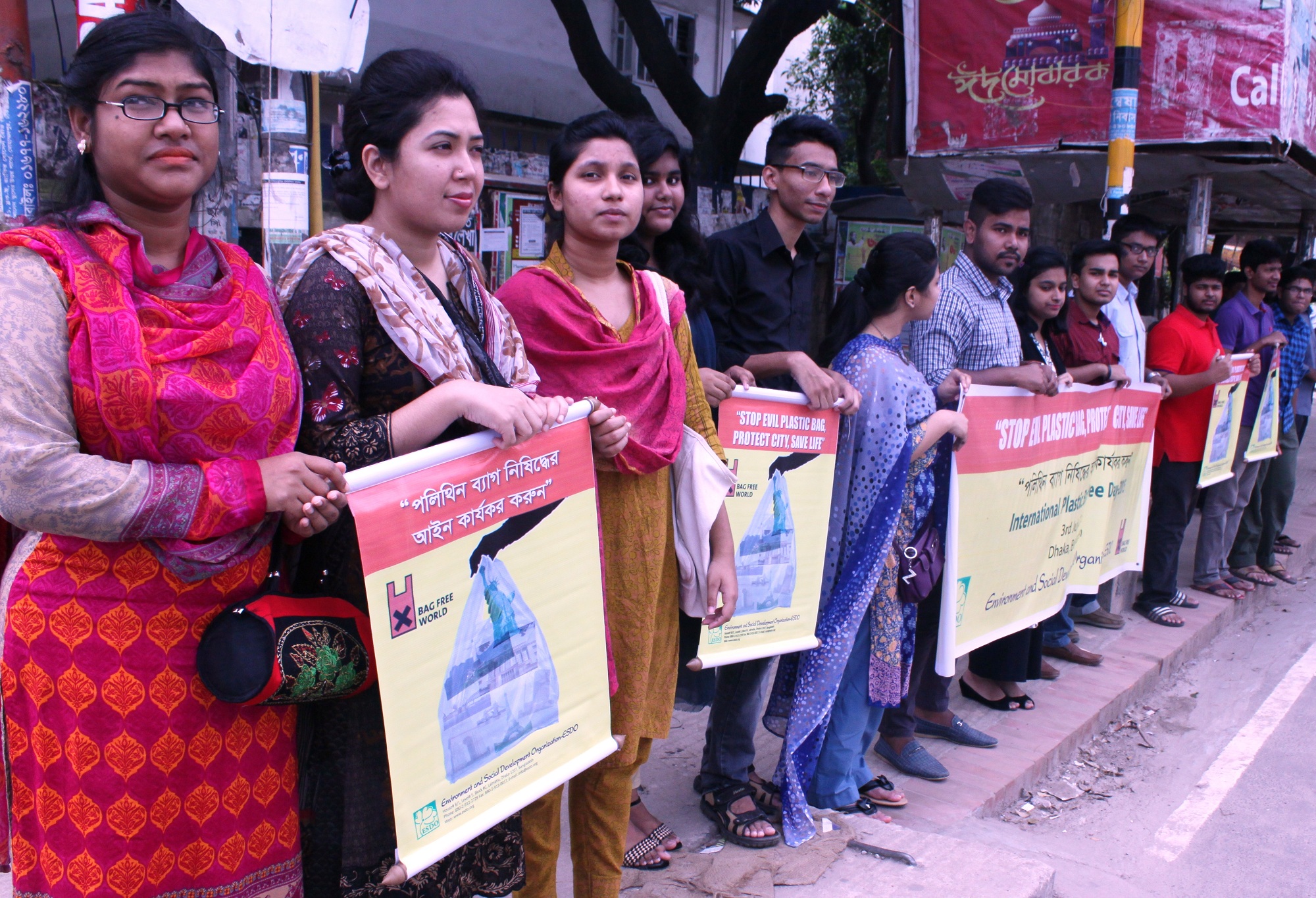 Green Youth activists demanded to enforce the ban on plastic bags to protect environment and human health. As a part of the "International Plastic Bag Free Day, 2015" of July 3rd, Environment and Social development Organization- ESDO organized a Human Chain yesterday at Dhanmondi, Dhaka to create public awareness.
Global Alliance for Incinerator Alternatives/ Global Anti-Incinerator Alliance (GAIA) has been organizing this day since the last three years around the globe to raise public awareness and to ban the use of plastic bag. To promote a 'Zero Waste' world in which people will not use single-use plastic bags, GAIA has invited individuals and organizations for observing the International Plastic Bag Free Day. It aimed at promoting the use of reusable bags and reducing the use of disposable bags. ESDO, as a leading partner organization of GAIA in Bangladesh, celebrated this day. For more information please check the following links:
http://www.no-burn.org/july-3-is-2012-international-plastic-bag-free-day?key=0
http://www.plasticbagfreeday.org/
ESDO is the first organization in Bangladesh to conduct comprehensive research into the adverse effects of the production and use of polythene in 1990. Environmental consequences stemming out from commercial production, to the effects on: soil, water (chemical contamination and drainage), the atmosphere, plant and animals, agriculture, health, and the economy, have been successfully researched and documented, and was employed as the basis for ESDO's nation-wide anti-polythene campaign.
ESDO organized a nation-wide anti-polythene campaign in 1992. Local and foreign organizations, and midea supported this campaign. Then in 1999, the Ministry of Environment and Forest, Bangladesh Government,recognisedESDO's anti-polythene campaign to be the most important national movement, in line with this, the Ministry of Environment and Forest selected ESDO as the principle task force representative in pushing to accomplish a complete ban of polythene bags. Thus, the decade long efforts of ESDO, with its extensive anti-polythene campaign since 1990, succeeded in banning the production and use of polythene in Bangladesh. ESDO also received world-wide recognition for the commitment and success of the campaign – Australia, India, Pakistan, United States of America, Japan, and European countries, have either recognized or followed ESDO's initiative.
Also, ESDO has been encouraging people for using jute bags instead of plastic bags.As a part of its continuous supervision on keeping the country polythene bag free, ESDO conductsregular awareness campaign.
Dr. Shahriar Hossain, Secretary General, ESDO, expressed his deep concern"Plastic shopping bag is a threat to life and environment. Be responsible! Stop plastic bag! Go for Jute bag!"
Posted by
admin
on Jul 3 2015. Filed under
News at Now
,
No Plastic
. You can follow any responses to this entry through the
RSS 2.0
. You can leave a response or trackback to this entry