4,000-year-old termite mounds found in Brazil are visible from space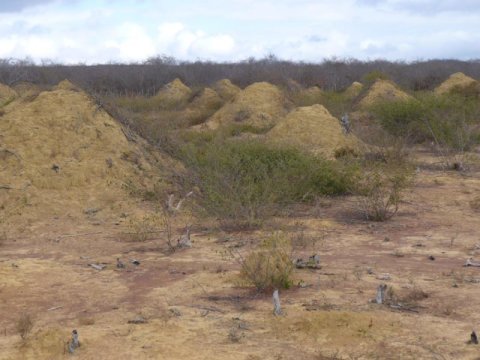 Researchers reporting in Current Biology on November 19 have found that a vast array of regularly spaced, still-inhabited termite mounds in northeastern Brazil — covering an area the size of Great Britain — are up to about 4,000 years old.The mounds, which are easily visible on Google Earth, are not nests. Rather, they are the result of the insects' slow and steady excavation of a network of interconnected underground tunnels. The termites' activities over thousands of years has resulted in huge quantities of soil deposited in approximately 200 million cone-shaped mounds, each about 2.5 meters tall and 9 meters across.
"These mounds were formed by a single termite species that excavated a massive network of tunnels to allow them to access dead leaves to eat safely and directly from the forest floor," says Stephen Martin of the University of Salford in the UK. "The amount of soil excavated is over 10 cubic kilometers, equivalent to 4,000 great pyramids of Giza, and represents one of the biggest structures built by a single insect species."
For More: https://www.sciencedaily.com/releases/2018/11/181120073648.htm
Posted by
admin
on Nov 26 2018. Filed under
Forest & Land
. You can follow any responses to this entry through the
RSS 2.0
. You can leave a response or trackback to this entry