Sreemangal tourism on the mende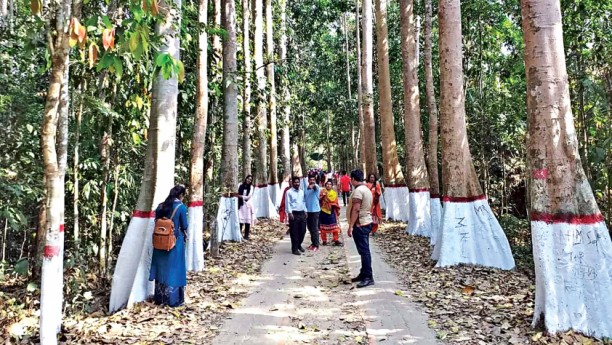 Dhaka, 6 March, 2021: Tourism in Sreemangal upazila of Moulvibazar has started to bounce back after suffering massive losses from the coronavirus pandemic that has affected almost all sectors of the economy.
Traders in the area are very pleased with the increasing number of tourists and believe that business in the sector will continue to improve if people follow the health regulations to steer clear of infections.
Even though the unprecedented pandemic lingers, almost every nook and cranny of the upazila is already crowded with tourists.
The arrival of a large number of vacationers has increased the workload on photographers and auto rickshaw drivers in the tea garden area.
At the same time, retailers at Manipuri market are enjoying benefits as well due to a huge turnout of shoppers.
The hotels, motels and resorts in Sreemangal are already packed to the rafters with guests but hope that even more tourists will arrive in the days ahead.
Arman Khan, assistant general manager of Grand Sultan Tea Resort, said their hotel was closed for about nine months due to Covid-19.
"But now customers' queries are increasing every day. Our business is getting back to normalcy. We are now receiving more guests than before," Khan said.
Motaher Ahmed, a retired government official, said that the rows of tea gardens in the area are what attract tourists.
Both domestic and foreign tourists visit the various tourist centres, such as the Tea Research Institute, Wildlife Service Foundation, Hail Haor, Bird Park and numerous other attractions.
Nipa Singha, a trader in the Monipuri clothes market in Sreemangal's Radhanagar area, said sales are booming thanks to the large volume of tourists.
"We incurred huge losses due to Covid-19 but we are now recovering thanks to the return of tourists," Singha added.
Sadek Mia, a tomtom driver in the area, echoed the same, adding that the daily fare has increased ten times with the return of tourists.
Rajon Hazra, a tea trader in Sreemangal, said thousands of families that are involved in tea selling are now busy with tourist arrivals.
There are at least 200 tea leaf shops in Sreemangal, where tourists are the main buyers, he added.
"I built my resort keeping foreign clientele in mind but they stopped coming during the peak pandemic period. Now though, they have started to return," Shamsul Haque, owner of the Nishorgo Eco Resort, told The Daily Star.
From small drink shops to automated rickshaw pullers, everyone is benefitting from the return of tourists.
Abu Siddique Musa, president of Sreemangal Tourism Services, said there are 75 hotel and resorts in Sreemangal upazila.
"Tourist arrival is on the rise. Hopefully there will be even more tourists after the pandemic ends," he added.
ASM Yahia, president of the Sreemangal Traders Association, said that if they can overcome the situation in a timely manner by complying with health rules, they will be able to keep the economic wheel turning.
Ashrafuzzaman, Moulvibazar's senior assistant superintendent of police (Sreemangal and Kamalganj), said that police have been deployed at various tourist spots to ensure their safety.
"We are working to ensure that tourists can visit without hindrance," he said.
Nazrul Islam, upazila nirbahi officer (UNO) of Sreemangal, said that they conducted a survey and found that 5,000 tourists visit Sreemangal every day.
"That's why the economy of Sreemangal is dependent on these tourists," Islam added.
If for some reasons, tourists do not come here for six months, then 40 per cent of the agricultural products will remain unsold. The local industry directly employs about 15,000 people. There are many businesses, including tea leaf and handicraft shops, whose 99 per cent customers are tourists.
"Now our plan is rural development through tourism," Islam said.
"We are working on a plan so that tourists can buy goods directly from farmers without any intermediaries," he added.
They also plan to bring a variety of authentic products directly into the hands of customers, which will bring the traders economic prosperity.
"And although now they are benefitting in different ways, we want to make that field a little bigger," Islam said.
Meer Nahid Ahsan, deputy commissioner of Moulvibazar, said that as a tourist area, Sreemangal plays a vital role in the country's economy.
.
Posted by
admin
on Mar 6 2021. Filed under
Eco-tourism
,
News at Now
. You can follow any responses to this entry through the
RSS 2.0
. You can leave a response or trackback to this entry