Amid Pipeline and Climate Debate, Energy-Efficiency Bill Is Derailed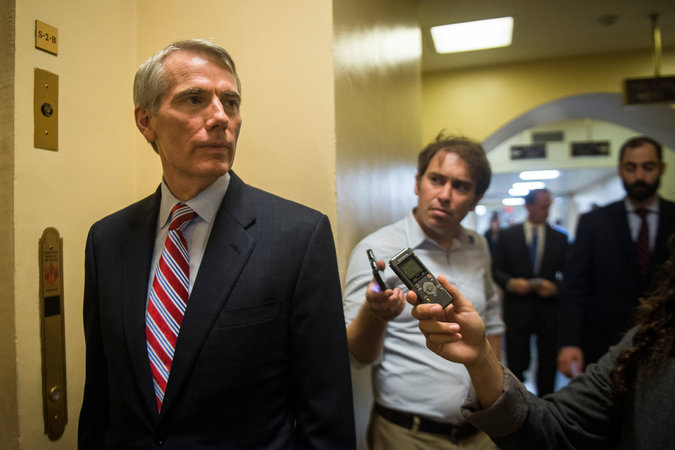 A bipartisan bill to encourage energy efficiency in buildings died in the Senate on Monday, derailed by the contentious debate over the Keystone XL pipeline and President Obama's plans to issue new climate change regulations.
The bill's end came as the Senate voted 55 to 36 on a procedural motion, falling five votes short of the 60 required to bring the bill to a final vote.
The measure, sponsored by Senators Rob Portman, Republican of Ohio, and Jeanne Shaheen, Democrat of New Hampshire, was a rarity in today's political environment: Until last week, it had widespread support from members of both parties in both chambers of Congress. A companion bill in the House, sponsored by Representatives David B. McKinley, Republican of West Virginia, and Peter Welch, Democrat of Vermont, has also drawn strong bipartisan backing.
Congressional staff members have been working behind the scenes for nearly a year to draft a consensus version of the bill that party leaders in both chambers could endorse. Just a few weeks ago, leaders of both parties were optimistic that the Senate bill would show that bipartisan agreement is still possible in a gridlocked Capitol and pave the way for a broader energy bill.
Mr. Welch, in talking about the unusual agreement on the bill, said, "It was like a snowstorm in July in Vermont." And it was an issue that had united Mr. Welch, a New England liberal, and Representative Eric Cantor, the conservative House majority leader from Virginia.
But partisan differences emerged last week as the bill came to the Senate floor for debate and Republicans pushed for amendments, including one that would approve the Keystone XL pipeline from Canada to the Gulf Coast and another to block Mr. Obama's efforts to issue climate change rules without congressional action.
The majority leader, Harry Reid of Nevada, refused to let the amendments come up for a vote, leading to a standoff from which neither side backed down.
"Today's failure to move forward on a bipartisan energy-efficiency bill is yet another disappointing example of Washington's dysfunction," Mr. Portman said in a statement.
It has been seven years since Congress has passed a major energy bill, and a variety of energy issues have become top concerns since then. There is the push to combat global warming, which scientists say is made worse by the burning of coal, oil and gas, and the debate over hydraulic fracturing, or fracking, which environmentalists fear will contaminate water supplies but which also has led to a boom in oil and gas. The crisis in Ukraine, which depends on Russia for its energy supplies, has also raised questions about whether the United States should export its gas and crude oil to achieve its foreign policy goals.
The modest energy-efficiency bill would not have addressed any of those issues. It was a bundle of small-bore provisions aimed at cutting homeowners' energy use, utility bills and carbon footprints by, among other measures, making it easier for consumers to buy "smart metered" water heaters and making it cheaper for manufacturers to build energy-efficient cooling and heating systems.
"These aren't huge, bold things. But this is larger than losing this energy-efficiency bill," said Margot Anderson, executive director of the Bipartisan Policy Center's Energy Project. "What gets lost is any momentum on energy. People are worried that if we can't even pass that, we're not in good shape to tackle the bigger stuff. We can't even get warmed up."
Continue reading the main storyContinue reading the main story
Advertisement
By late last week, it had become clear that the fight over the Keystone pipeline and Mr. Obama's climate change regulations, both of which have become issues in the 2014 elections, had overshadowed the debate over energy efficiency.
Mr. Obama has repeatedly delayed a decision on whether to approve the proposed 1,700-mile pipeline, which would carry 830,000 barrels a day of carbon-heavy crude from Canada's Alberta oil sands to Gulf Coast refineries. The pipeline has become a political weapon for Republicans, who say it would create jobs and help ensure energy security for the United States.
Four vulnerable Senate Democrats — Mary L. Landrieu of Louisiana, Mark Begich of Alaska, Kay Hagan of North Carolina and Mark Pryor of Arkansas — have sought to distance themselves from Mr. Obama by supporting the pipeline.
Republicans have also sought to use the climate change regulations that Mr. Obama is expected to announce soon — which will target coal-fired power plants, the nation's largest source of carbon pollution — for political purposes by accusing Democrats of waging a "war on coal."
Even if the Republican amendments had failed, party leaders had hoped the votes would put some incumbent Democrats on the spot. Republicans also argued that it was appropriate to offer energy-related amendments to an energy bill — especially given that it was the first such legislation on the floor in seven years. After a week of negotiations, the two sides reached an impasse, and the energy-efficiency bill was the casualty.
Senator Lisa Murkowski of Alaska, the ranking Republican on the Senate Energy Committee, was a co-sponsor of the legislation, and her spokesman, Robert Dillon, said, "It's embarrassing that even an energy-efficiency bill can't get past the floor."
"We used to have hundreds of votes on amendments. Now it's all politics all the time. It's all rhetoric," Mr. Dillon said. "It's frustrating to Republicans, and it's frustrating to Democrats. There's a lot of pent-up demand to have a real debate on energy."
Collected:
http://www.nytimes.com/
Posted by
admin
on May 15 2014. Filed under
News at Now
. You can follow any responses to this entry through the
RSS 2.0
. You can leave a response or trackback to this entry