Arable soil health in our country in jeopardy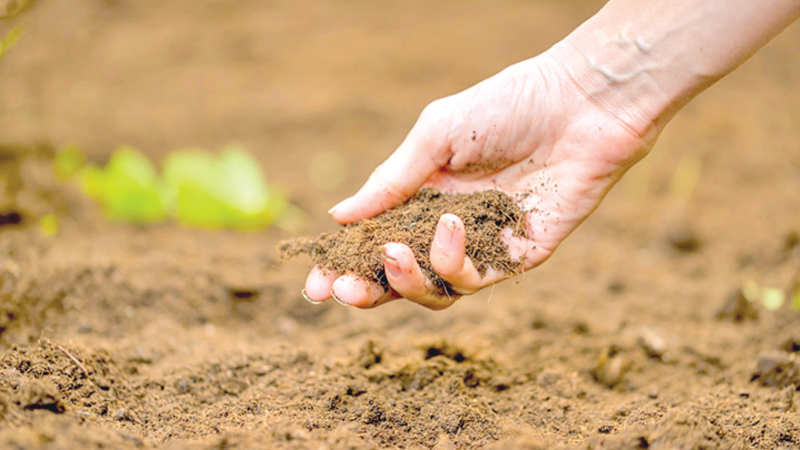 soil research finding shows that over two-third of the country's agricultural lands lack essential organic elements because of the indiscriminate use of chemical overdoses and over-exploitation of lands for year-round farming. As per the findings of a just published government's Soil Resource Development Institute (SRDI) report, almost 62 percent of the country's arable lands are in critical state having organic matters as low as below 1.74 percent. Whereas there should be ideally 5.0 percent of organic matters in soil but over 21 percent of lands possess organic elements in between 1.74 to 3.5 percent.
The SRDI reports that fertile lands of the country contain up to 45 percent minerals, 25 percent each of water and air, and the remaining 5.0 percent organic elements. But 61.6 percent of the 8.75 million hectares of farm lands in the country is currently witnessing a lack of organic substance due to the effects of excessive applications of chemical fertilizers and pesticides. The amount of chemical fertiliser use in arable land is gradually increasing. While in 2005-2006 financial year the use of chemical fertiliser in arable land was 3.68 million tonnes, within ten years the amount stood at 4.8 million tonnes. The additional reason is for not giving the land enough time to rest and factors relating to global warming and climatic changes. Md. Delwar Hossain Mollah, immediate-past SRDI Director who oversaw the report entitled "Bangladesh's Soil and Organic Agriculture", noted that over-exploitation of soil for augmenting per unit crop production is causing the soil to lose its fertility in the long run.
For More:http://www.theindependentbd.com/post/173762
Posted by
admin
on Nov 26 2018. Filed under
Organic agriculture
. You can follow any responses to this entry through the
RSS 2.0
. You can leave a response or trackback to this entry