BARI sees success in hydroponic farming in Chittagong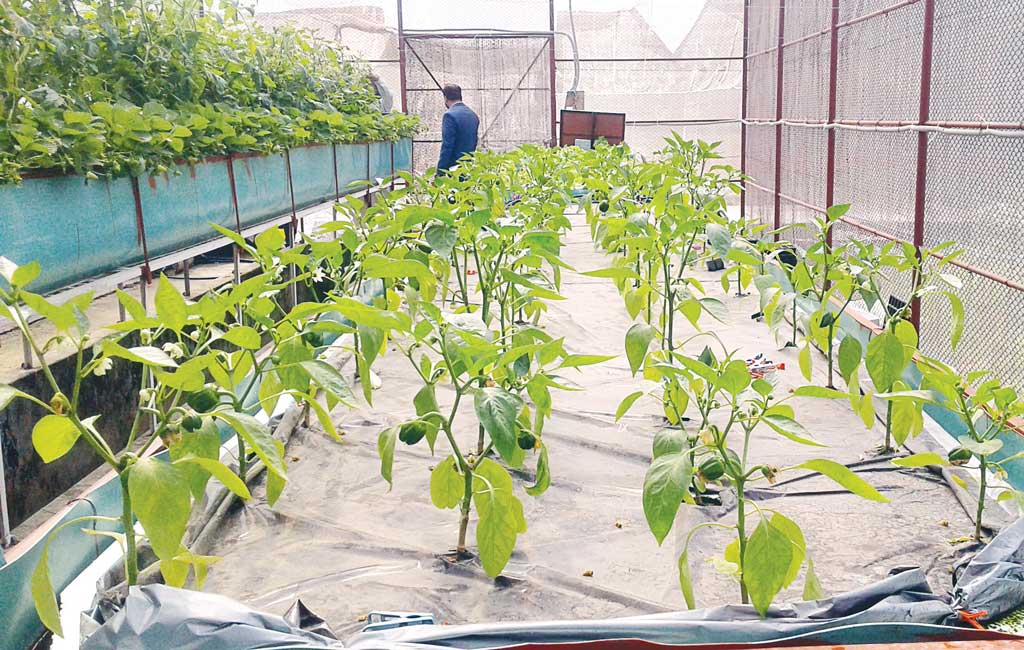 Dhaka, 7 May, 2020: During a recent visit to the research station, it was found that strawberry, tomato, capsicum and lettuce were being farmed in a netted house using the hydroponic method
Bangladesh is a densely populated country where arable land is shrinking gradually, due to conversion of agricultural land for non-agricultural use.
Under such circumstances, hydroponics or soilless agriculture can help in a big way by bringing arid or fallow land, homestead, and rooftop under agricultural use.
Recently, the Chittagong research station of Bangladesh Agricultural Research Institute (BARI) has found success in hydroponic farming.
During a recent visit to the research station, it was found that strawberry, tomato, capsicum and lettuce were being farmed in a netted house using the hydroponic method.
According to agriculturists, hydroponic farming is a method to grow plants without soil. In a traditional garden, plant roots have to seek out nutrients in the soil. In hydroponic gardens, nutrients are dissolved in the water that surrounds the roots, so plants have easier access to the nutrition they need.
Traditional agriculture farming uses around 80% of surface and groundwater compared to hydroponics, which uses only 10% of that under controlled conditions.
Water keeps circulating within the system, allowing plants to absorb the necessary water for active metabolism, while surplus water moves to the reservoir or storage tank to be recycled. There is no leaching or harmful runoff, and there is little evaporation of water.
Talking to Dhaka Tribune, Chittagong BARI's Principal Scientific Officer Dr ASM Harunor Rashid said the hydroponic method was gaining popularity in many countries around the world.
"However, this is the first time that we have achieved success in hydroponic farming here.
"Hydroponics is an environment-friendly agriculture. The produce is organic and hydroponic farms can be situated in yards, and on rooftops. Hydroponically grown crops require no pesticides or irrigation," said Dr Rashid.
The research station's Scientific Officer Golam Azam also said, using this method, they had successfully grown cauliflower, tomato, capsicum, broccoli, lettuce, bitter melon, beans, cucumbers, strawberries, roses, and marigold.
"Hydroponic farming uses less water and less nutrient supplies compared to soil-based farming. Both water and nutrients are fed directly to the root structure of the plants and recycled through the hydroponic system.
"In the absence of the soil medium, the likelihood of soil-borne disease is largely reduced. Traditional farming involves the tilling and cultivation of the soil. Both of these activities are time consuming and labour-intensive," Azam added.
.
Posted by
admin
on May 7 2020. Filed under
News at Now
,
Organic agriculture
. You can follow any responses to this entry through the
RSS 2.0
. You can leave a response or trackback to this entry