BDS & ESDO in association with Asian Center for Environmental Health organized a workshop on "Mercury Free Dentistry: Way Forward"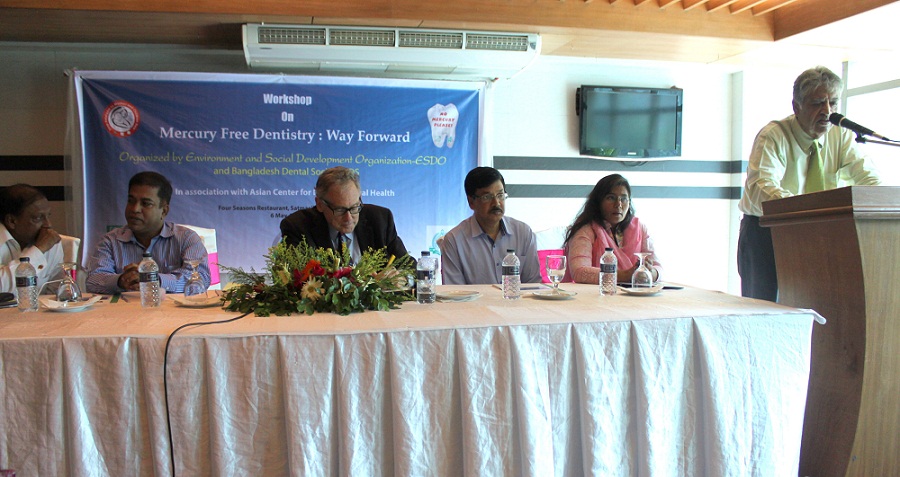 Dentists, dental professionals, Government representatives and environmental leaders urged the Government for phasing out mercury from dentistry sector by 2018. Yesterday at a workshop, they demanded to take immediate step regarding this issue. Bangladesh Dental Society(BDS) and Environment and Social Development Organization-ESDO in association with Asian Center for Environmental Health organized this workshop entitled, "Mercury Free Dentistry: Way Forward" at Four Seasons Restaurant, Dhanmondi at 12.00 pm.
The session was chaired by Syed Marghub Murshed, Former Secretary, People's Republic of Bangladesh and Chairperson of ESDO. Charles G Brown, head of the American National Counsel of Consumers for Dental Choice and President of the World Alliance for Mercury-Free Dentistry, was the Special Guest of the program.
Mr. Charlie Brown, is the pioneer to address environmental and health risk by mercury dental amalgam and the key personality of the global campaign for "Mercury-Free Dentistry". He is passionate about the Environmental health and welfare of the Bangladeshi people. He is a graduate of Yale Law School. He was twice elected as the Attorney General of the state of West Virginia, and he has argued a case before the US Supreme Court. Mr. Brown
Experts in the meeting said, Dental amalgam is a filling material used to fill cavities caused by tooth decay. It is the known health risk for children, pregnant women, nursing infants and people with impaired kidney function. Due to mercury exposure from amalgam in the workplace, dentists, students, the technician and patients may suffer from the problems of elevated mercury level in blood. Amalgam pollutes air, water and soil via dental clinic release. Many alternatives such as glass ionomers, resin composites are now available.
In 2013, the United Nations Environment Program (UNEP)'s Intercessional Negotiating Committee formalized a global, legally-binding mercury treaty named "Minamata Convention on Mercury" which has now been signed by over 128 countries, including the U.S. Bangladesh is signatory to the Minamata Convention.
"I urge the Government to implement law against the dental amalgam in order to protect mass health and environment from Mercury pollution" said Mr. Syed Marghub Murshed, Former Secretary, Govt. of Bangladesh and Chairperson of ESDO .
Amongst other Dr. Humayun Kabir Bulbul, Secretary General, BDS; Dr. A.K.M. Shariful Islam, Vice President, BDS; Dr. Shahriar Hossain, Secretary General; Siddika Sultana, Executive Director of ESDO; Executive members of BDS and dental professionals were present at the meeting.
At the end of the event, all the invited dental professionals, Government representetives expressed their willingness to work and assist ESDO and BDS to ensure mercury free dentistry and ultimately a mercury free environment.
Posted by
admin
on May 16 2017. Filed under
Bangladesh Exclusive
. You can follow any responses to this entry through the
RSS 2.0
. You can leave a response or trackback to this entry